You know, insect attacks can freakishly turn your Dahlia into a dead one. As a gardener, you always have to be ready with the perfect insecticide to defend them without risking your health.
But the question is- Which insecticides are perfect for dahlias?
In short, organic or synthetic insecticides that contain Potassium salts, Pyrethrin, Piperonyl Butoxide, Spinosad, etc as active ingredients. All the ingredients are effective against common insects of Dahlia like aphids, whiteflies, leafhoppers, earwigs, etc.
And for your help, I have researched and listed the 6 best insecticides for Dahlias that work like fire.
So, without wasting your valuable time, let's dive into-
Best Insecticide for Dahlias- Comparisons
| Insecticide | Active Ingredient | Form | Type | Price |
| --- | --- | --- | --- | --- |
| Safer Brand Insect Killing Soap | Potassium salts of Fatty acids | Concentration | Organic | |
| Bonide- Garden Insect Spray | Pyrethrin & Piperonyl Butoxide | Concentration | Organic | |
| Natria Insecticidal Soap | Potassium salts of Fatty Acids | Ready -To-Use | Organic | |
| Monterey Garden Insect Spray | Spinosad | Concentration | Organic | |
| Natria Neem Oil | Clarified Hydrophobic Extract of Neem Oil | Concentration | Organic | |
| BIOADVANCED Insect, Disease & Mite Control | Imidacloprid, Tau-Fluvalinate & Tebuconazole | Ready -To-Use | Synthetic | |
Best Insecticide for Dahlias- Reviews
1. Safer Brand Insect Killing Soap Concentrate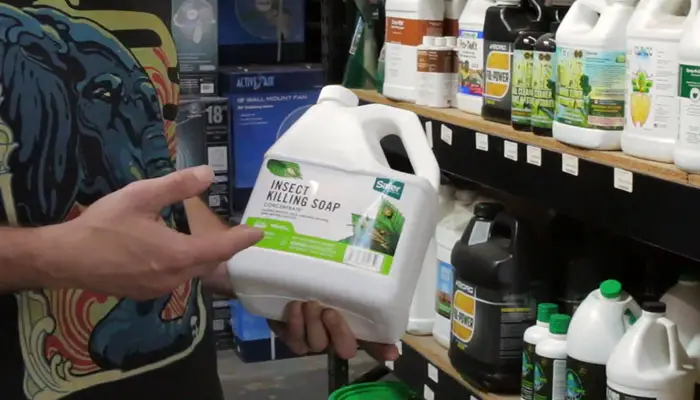 This OMRI & NOP listed product is one of the best organic Insecticides for Dahlias. You might be wondering why it is the best. Well, several facts are working behind this. Let me explain those to you briefly-
Active Ingredient
It is a special formulation of Insecticidal Soap & Seaweed Extract. It uses 49.52% Potassium salt (from fatty acids) to protect your Dahlias from pests.
Now the question – How does the mixture affect the insects?
Potassium salt & Seaweed Extract mainly targets soft-bodied insects. The active ingredient disrupts the insect's outer cell membrane which leads to the removal of cellular contents. And this phenomenon causes the cell to dehydrate and die.
The only drawback is- it is a contact insecticide. So you may have to reapply if rain washes away the insecticide immediately after Applying.
Features
Along with Dahlias. if you have fruits, vegetables. House plants, shrubs & ornamentals, then relax. Safer Brand insect-killing soap will cover everything. How?
It protects your garden members from a wide range of insects like aphids, earwigs, grasshoppers, harlequin bugs, leafhoppers. Mealybug, psyllids, sawfly, Soft scale, spider mite & whiteflies.
Good news –
The insecticide does not last long in the soil to affect the environment negatively
Why For Dahlia
Do you know what pests attack Dahlias the most? Aphids, Whiteflies, Mites, Thrips, Earwigs, etc are the most common visitors of Dahlia. And this insecticide kills each of them effectively.
Moreover, it doesn't have any bad odor to lessen the fragrance of your Dahlias.
Applying Method
To treat your Dahlias Organically, mix 4 tablespoons of the concentrated insecticide with 1 gallon of water & spray thoroughly.
2. Bonide- Pyrethrin Garden Insect Spray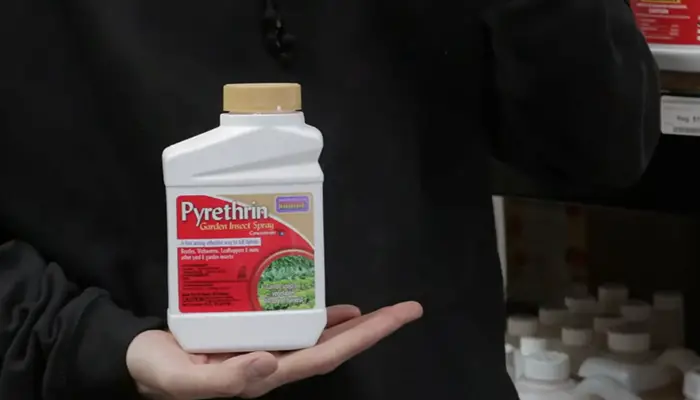 You can't make a list of ideal insecticides for your Dahlias without this one. Though the spray is not OMRI approved, it has been a popular choice for a long time. But why?
 Let's know the reasons-
Active Ingredient
Bonide Pyrethrin Insect Spray contains two active Ingredients & they are- 1% Pyrethrins & 10% Piperonyl Butoxide.
But Pyrethrin is the center of attention. Why?
Because it is a biodegradable natural substance extracted from Chrysanthemum & the killing process is the finest.
So, how do Pyrethrins & Piperonyl Butoxide kill insects?
Pyrethrins & Piperonyl Butoxide attacks on contact basis. Whenever insects come into contact with the insecticide, Pyrethrins interrupt the nervous system.
And at the same time, Piperonyl Butoxide provides backup by stopping Pyrethrins breakdown & inhibiting the natural defense of the insect. And the sequel is instant paralysis & death of the insect.
Features
The Bonide brand manufactured the insecticide to protect your garden plants like Vegetables, Trees, Flowers & Ornamentals against aphids, beetles, webworms, leafhoppers, and many more.
It is a first-acting concentration with no objectionable residues.
An Interesting fact-
The insect spray contains Petroleum distillates to delay the wash away process by rain & to lessen the evaporation rate.
Why For Dahlia
Aphids irritate Dahlias the most. They cause diseases like Dahlia leaf curling, leaf dropping & so on.
Good news- Bonide Pyrethrin insect spray can be the best choice for you to kill aphids on your Dahlia as this insecticide is highly effective against aphids.
Apart from aphids, it will protect your Dahlias from leafhoppers too.
Applying Method
Carefully mix 3 tbsp of the concentration with 1 gallon of water. Spray thoroughly over & under your Dahlia leaves. For more details, have a look at the product label.
3. Natria Insecticidal Soap Organic Miticide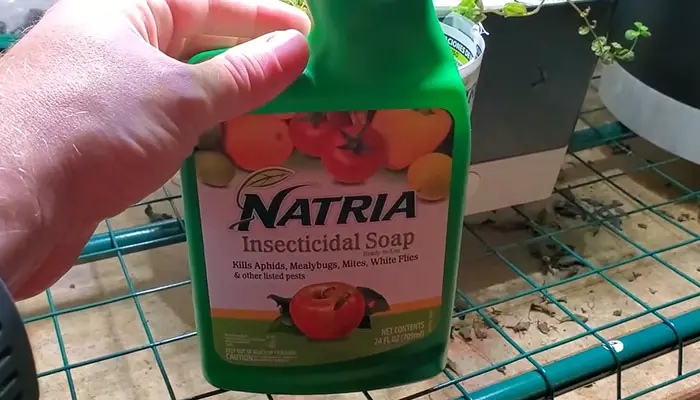 Alongside Dahlias, Natria insecticidal soap is an excellent pesticide for your whole garden. It is OMRI approved & trust me, insect coverage is pretty high.
Active Ingredient
If insects like bugs & others are eating your Dahlia leaves & you want to kill them in a minute, then Natria insecticidal soap is for you.
Its fast-acting capacity eliminates the insects instantly after coming into contact. And behind all this, 1% Potassium salts of Fatty Acids are mainly responsible.
You already know, Potassium salts kill soft-bodied insects by disrupting their outer protective shell & thus the soap acts so fast.
Features
Natria insecticidal soap is a multipurpose insect killer. It protects indoor & outdoor flowers, fruits, vegetables & houseplants from nearly 17 insects.
They are-  Aphids, Mites, Leafhoppers, Grasshoppers,  Whiteflies, Earwigs, Adelgids, Lace Bugs, Mealybugs, Scale Insects, Plant Bugs, Sawfly Larvae, Psyllids, Tent Caterpillars, Thrips, and Spider Mites.
Moreover, its ready-to-use formulation won't put you in any mixing trouble.
Why For Dahlia
Dahlia growers often ask a question that- How do I stop caterpillars eating my dahlias? Well, here is the solution.
Along with adults, the insecticidal soap kills Larvae, Nymphs, Caterpillars very effectively.
Interestingly, among the common insects of Dahlia, this insecticide cares for mites the most.
Good news- you can also use it to control thrips, earwigs, or capsid bugs on Dahlias.
Applying Method
As I said, No mixing troubles. Just shake well & spray. Repeat after every 7-14 days if needed.
4. Monterey Garden Insect Spray, Insecticide & Pesticide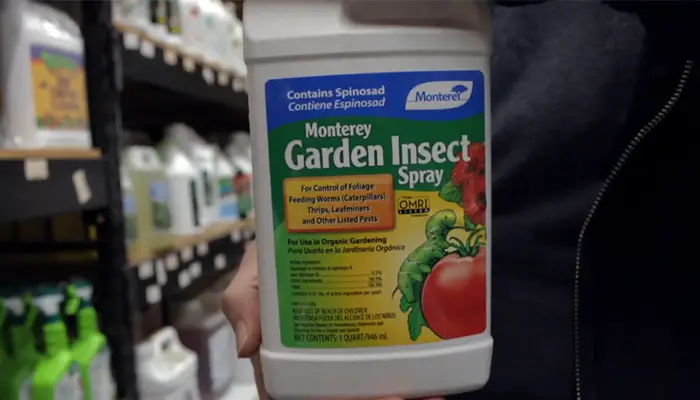 Monetery brand has released a unique insecticide for gardeners. Your Dahlias will love it for its mode of action & additional features. Want to know more? Follow me-
Active Ingredient
Guess what? The insecticide is a residual one. That means it is a systemic insecticide of Dahlia which protects them for a sustained period.
It contains 0.5% Spinosad as the Active Ingredient. Now, what is Spinosad?
Spinosad is a natural substance made by a soil bacterium called Saccharopolyspora Spinosa. It is the mixer of two chemical compounds- spinosyn A and spinosyn D.
Spinosad is best acknowledged for its novel style of action. So, how does spinosad work?
Spinosad causes uncontrolled flex of muscles by interrupting the nervous system of the target insect. And the result is instant paralysis & death.
Features
Monterey garden insect spray is a biological insecticide- a new addition to the home gardening arena.
This first acting insecticide defends your outdoor flowers, ornamentals, Lawns & vegetables against insects like caterpillars, leafminers, codling moths, tent caterpillars, thrips, fire ants & many more.
A unique fact is, it can relieve you from weeding by controlling broadleaf weeds too
Why For Dahlia
The insecticide is highly recommended to stop caterpillars from eating your Dahlia leaves. Moreover, it takes care of some other common insects of Dahlia like thrips, Leafminers, etc.
Additionally, its odorless nature doesn't cover your Dahlia scents.
Applying Method
For the best result, Mix 4 Tb. Sp. of concentrated solution with 1-gallon water. And then, spray on the entire foliage and soil thoroughly.
5.Natria Neem Oil Concentrate Pest Control and Organic Fungicide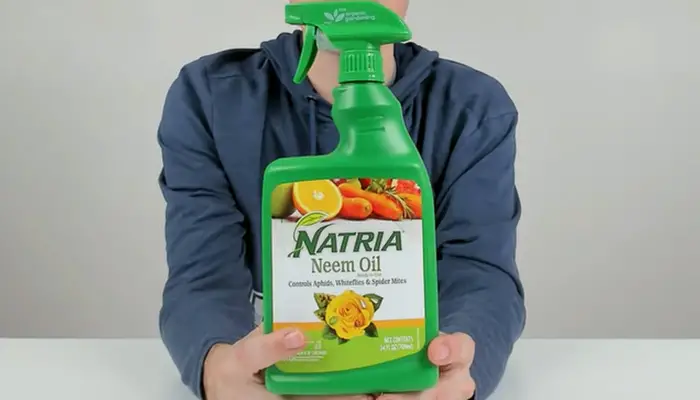 You might be wondering why I am suggesting fungicide for insect control, right? Well, once you discover this OMRI-approved product, you will know why. Let's dive into it-
Active Ingredient
Are you familiar with clarified hydrophobic extract of neem oil? It is the residue after removing azadirachtin from neem oil. This product has 70% of it as the Active Ingredient. Now the question is how it kills insects?
Because of its contact nature, insects must have come into contact with the solution. Once contacted, it bars insects breathing pores & causes on-the-spot death. Interesting, right?
Features
Do you remember that question (why I am suggesting fungicide for insect control)? Let me reveal the secret here.
The product is well recognized for its multipurpose activity as fungicide, insecticide & miticide. So basically it is a 3 in 1 product.
You can use it unhesitatingly to your flowers, fruits & vegetables against insects like aphids, leafhoppers, mealybugs, thrips, whiteflies, mites & many more.
Why For Dahlia
I think you already know why it is the most recommended organic insecticide for dahlias. It works against all the common insects of Dahlia like aphids, whiteflies, thrips & mites.
And additionally, it will protect your Dahlias from severe fungal diseases like black spot, powdery mildew, leaf spot & so on. I must say it is quite a catch!
Applying Method
Spray the insecticide properly on the upper side and underside of Dahlia leaves. The mixing ratio is 2-4 tablespoons/gallon of water.
6.BIOADVANCED 3-in-1 Insect, Disease, and Mite Control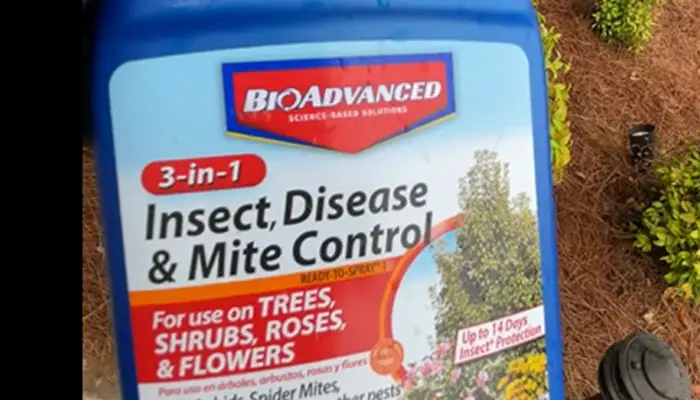 Again I am suggesting a 3 in 1 product. Because of its triple care ability, it is considered the best inorganic insecticide for Dahlia. Let's see what else it has-
Active Ingredient
Bioadvanced is well known for its science-based formulas. To make the product effective against insects, mites & fungi, they have used 0.47% Imidacloprid, 0.61% Tau-Fluvalinate & 0.65% Tebuconazole as active ingredients.
Want to know how these ingredients work?
Well, Imidacloprid & Tau- Fluvalinate are effective against insects & mites respectively. They attack the nervous system of insects & mites which leads them to death.
On the other hand, Tebuconazole is a fungi defender. It disrupts the fungal cell wall & reduces fungal spore germination & growth.
And lastly, though it is inorganic, its systemic action provides up to 30 days of insect protection.
Features      
Surprisingly it protects 768 plants including flowers, trees & shrubs from insects like Aphids, Beetles, Caterpillars, Earwigs, Japanese Beetles, Leafhoppers, Thrips, Whiteflies & many more.
It covers Mites & fungal diseases like Anthracnose, Black Spot, Petal Blight, Powdery Mildew, Rust & Scab.
Good news- Its systemic nature ensures both prevention & cure of pest attacks & beneficial rainproof facility.
So, what are you waiting for?
Why For Dahlia
You might be impressed to know that all the common insects, mites & fungal diseases are on the coverage list of this perfect formulation.
Applying Method
It is a ready-to-spray formula. So no premixing is needed. Just shake well & spray thoroughly over your Dahlias.
How To Choose The Best Insecticide For Dahlia?
Choosing the best is always a bit tricky. You have to go through several case studies before making a perfect choice.
Most of the time we depend upon public reviews. But didn't you find both positive & negative reviews for the same product?
Well, to avoid this obvious dilemma, you can follow my path & choose the best for your Dahlias.
Step 1: Organic Or Synthetic
This is a tough call because both types of insecticides offer irresistible facilities. That is why I am living it to your ideology.
Step 2: Concentration Or Ready-To-Spray
If you like to spend more time gardening, concentrated formulas may not trouble you. But if you want to avoid the pre-mixing, go for RTS.
Step 3: Systemic Or Contact
Both types of insecticides have their positive sides. But I am telling you the negative ones so that you can decide easily.
Many don't prefer systemic fungicides because some can repel or kill beneficial insects for a long period or the pest can get resistant.
On the other hand, many don't like contact insecticide because it gets washed away easily and protects only from outside. So, it's up to you.
After these 3 steps, your choosing list will be shorter than before. And now the most important step-
Step 4: Active Ingredient
Most of the insecticides contain Potassium salts, Pyrethrin, Piperonyl Butoxide, Spinosad, Neem oil extract, Imidacloprid, Tau- Fluvalinate, etc as an active ingredient.
Each of them has a specific mode of action and targeted pests.
To choose a particular one-
List insects that attack or attacking your Dahlias the most

Choose which mode of action you prefer
The rest is easy. Look for the ingredient that matches your preferences. And boom! You have your insecticide.
Last but not the least
Step 5:  Single-purpose or Multi-purpose
Apart from single-purpose insecticides, several products offer 3 in 1 deal which means it acts as insecticide, miticide & fungicide. And my mate, the decision is totally up to you.
How To Apply Insecticide On Dahlias?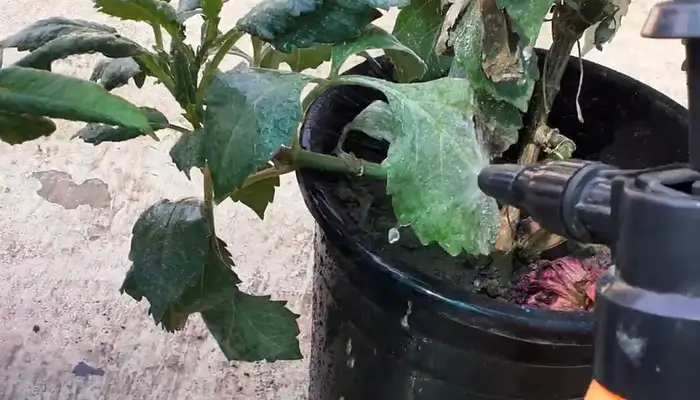 You already know that mostly two types of formulation are available as insecticide.
Concentration

Ready-to-Spray
For Concentrated Insecticides-
Mix the concentrated solution with water according to the direction of the packet label & spray all over your dahlias properly.
For Ready-To-Spray Insecticides-
You won't have to do the premixing for RTS insecticides. All you need to do is proper shaking before spraying all over your Dahlias.
You know, one application remains effective mostly for 14 days(Check Packet Label). So you may have to re-apply if necessary.
Homemade Bugspray For Dahlias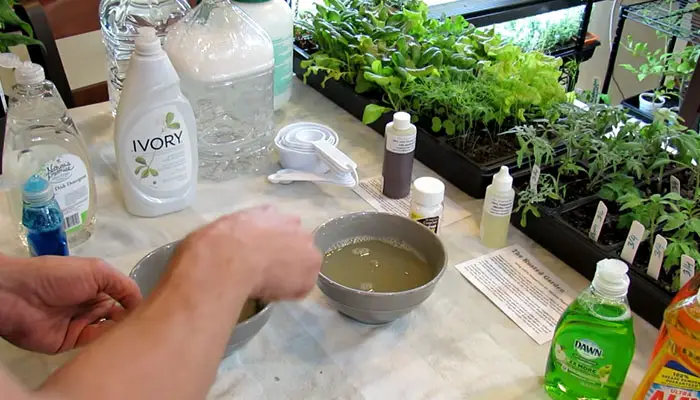 The best fact about homemade recipes is that the ingredients are from your home & you can control what to use & what not to. Let me share some amazing easy-to-make homemade bug sprays for your Dahlia.
1#Liquid Soap Formulation
Required Ingredient
     

Liquid soap

     

Water

     

Vinegar
Mixing Ratio
Mix half tablespoons of liquid soap with 1 tablespoon vinegar & 2 liters of water.
Your homemade Bugspray is ready.
2#Neem Oil
Home-made neem oil is the best that you can arrange because neem oil is very safe for Dahlias & acts as insecticide, fungicide & miticide. let's talk about the formulation
Required Ingredient
Neem oil( Either you buy from stores or make at home from neem leaves)

Liquid Dish Soap

Water
Mixing Ratio
Mix 1.5 teaspoons of neem oil with 4 cups of water and half a teaspoon of liquid dish soap. Shake well for proper mixing & there you are.
3#The MIRACLE solution
This is the most effective one. It is an all-purpose solution. I recommend this to you & I wish you will try this at least once.
Required Ingredient
Water

Curd

Molasses

Boiled rice

Yeast Powder
Mixing Ratio
Take 5 liters of water into a bowl. then add the following-
100 gm curd

200 gm molasses

100 gm boiled rice

50 gm yeast powder
Stir it well & keep it in shade for a week. But remember to stir the solution at least once every day.
After a week, filter the liquid & you have your MIRACLE solution.
Conclusion
We live in a world where 80% of its living organisms are insects. So it is hard for us to avoid them, let alone our beautiful Dahlias.
However, I have researched most of the insecticides in the market & gone through plenty of reviews. After all that, I have listed these 6 best insecticides for Dahlias. And I believe you can depend on this review for a wise purchase.
Hope you get the best. Happy Gardening!