The most prevalent issue with lawn grass is that it requires continual maintenance. St. Augustine is in the same boat.
St. Augustine's large leaves are an advantage since they may completely cover our grass. But if you believe differently, you should know that fungal disease signs in broad leaves are more clearly visible than in narrow leaf grasses. That's why, when it comes to fungicide use, lawn owners don't skimp. They are on the lookout for the greatest.
The question now is, which fungicide is best for St. Augustine grass? To summarize, fungicides with active ingredients such as Propiconazole, Myclobutanil, Azoxystrobin, and others are particularly efficient against the prevalent fungus of St. Augustine.
The good news is that this article includes a well-researched list of the finest fungicides for your St. Augustine. I hope it will assist you in selecting the appropriate product. Let's have a look at them-
Best Fungicide For Saint Augustine Grass- Comparisons
| Fungicide | Active Ingredient | Form | Type | Price |
| --- | --- | --- | --- | --- |
| BioAdvanced Fungus Control Fungicide | Propiconazole | Granular & RTS | Synthetic | |
| Scotts DiseaseEx Lawn Fungicide | Azoxystrobin | Granular | Synthetic | |
| Spectracide Immunox Fungus | Propiconazole | Ready-To-Spray | Synthetic | |
| Propiconazole Fungicide | Propiconazole | Concentrate | Synthetic | |
| Bonide Infuse Systemic Disease Control | Propiconazole | Granular | Synthetic | |
| Heritage G Fungicide | Azoxystrobin | Granular | Synthetic | |
| DOW AgroSciences Fungicide | Myclobutanil | Liquid | Synthetic | |
Best Fungicide For Saint Augustine Grass- Reviews
1. BioAdvanced Fungus Control Fungicide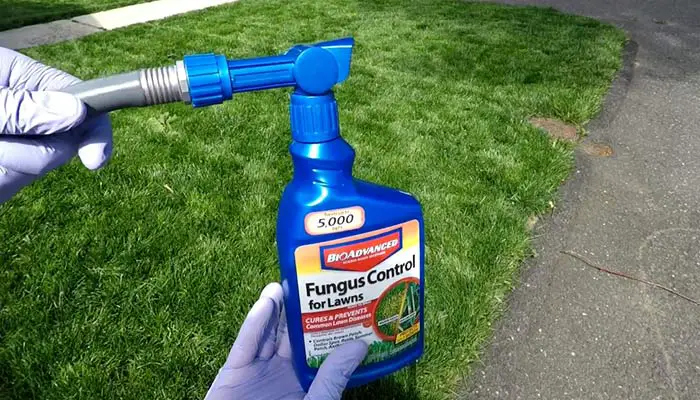 BioAdvanced Fungus Control Fungicide For Lawn has been developed by SBM Life Science Company. Without a doubt, it is a market leader in the pesticide sector. And, based on customer feedback, St. Augustine loves it for sure.
Active Ingredient
Propiconazole, the product's driving power, is why it's so popular (0.51 percent ). It's a compound that stops the 14-alpha demethylase enzyme from converting a precursor to ergosterol.
Now, what exactly is Ergosterol?
It is the most abundant sterol in the membranes of fungal cells, where it affects permeability and fluidity. Therefore, it compromises the integrity of fungal cells, as well as their reproduction and dissemination.
Form & Type
When you open the package, you'll find grey to tan synthetic granules that are ready to sprinkle on your St Augustine.
Mode of Action
Fungicides are categorized into two groups. Contact and systemic. This medicine has a systemic effect since it not only prevents but also heals fungal infections when they are caught early on.
The granules are dissolved by watering, uptaken through the root, leaves, and stem, and battle the fungus cells that destroy the plant tissue inside.
Features
I could go on and on about the benefits of this fungicide. Let me give you a quick rundown: first, 10 pounds of granules may treat up to 5000 sq ft of lawn, and this isn't only for St. Augustine. It is also highly suggested for Fescue, Zoysia, Centipede, Kentucky, and other common lawn grasses.
Second, the list of disorders covered is rather extensive. It can treat and prevent almost 15 common lawn diseases, including Anthracnose, Brown Patch, and Dollar Spot.
Third, it is rainproof and can last up to a month due to its systemic activity. As a consequence, after each application, you can unwind for the entire month. Furthermore, the granule structure of the product remains stable throughout the year. As a result, you may use it any time of year, whether it's Spring, Summer, or Fall.
Anyway, with all these features, I feel it is the best systemic fungicide available for your St. Augustine right now.
Applying Method
Treated with BioAdvanced at a preventive rate of 2 pounds per 1,000 square feet. And the curative rate is 3/5 pounds per 1,000 square feet.
2. Scotts DiseaseEx Lawn Fungicide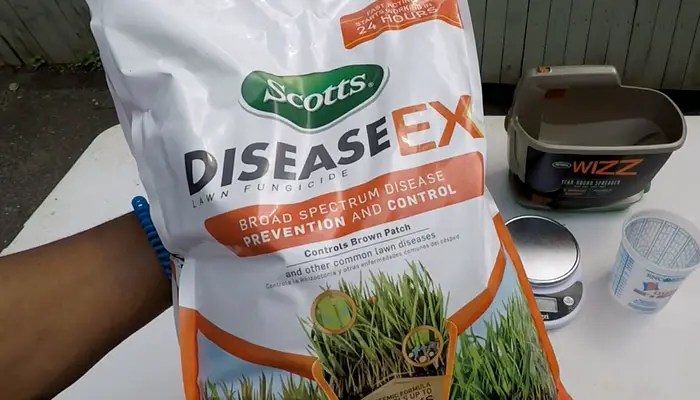 Scotts DiseaseEx is known for its rapid effect, and who doesn't appreciate being surprised the next morning? Let's take a closer look at the details.
Active Ingredient
The active component in Scotts DiseaseEx Lawn Fungicide is Azoxystrobin (0.31 percent). It's a chemical substance that is used to treat and prevent fungal infections in plants.
However, Azoxystrobin inhibits the germination of fungal spores and halts the fungus' development process by interrupting the electron transport chain's activity.
Form & Type
Scotts DiseaseEx Lawn Fungicide comes in a bag of brown granules that should be applied to dry St. Augustine and common lawn grasses. It's also a synthetic method of maintaining your grass.
Mode of Action
Scotts DiseasesEx is a systemic fungicide. That means it is preventative when used on lawns to eliminate brown spots and rings before they appear, and curative when applied after displaying signs of infection. Now, it's your duty to use it at the right time.
Features
For a nicer and greener lawn, the fungicide provides a first-acting broad-spectrum control and preventive service of fungal infections.
Powdery Mildew, Brown Patch, Red Thread, Anthracnose, Leaf Spot, Pink Patch, and other lawn diseases may all be cured with it. But one thing to mention is that, according to user feedback, Scotts Disease Ex is the perfect fungicide to control the brown patch in St. Augustine.
Furthermore, its systemic action prevents it from being washed away by rain and provides full-proof protection for up to four weeks.
Applying Method
To prevent or cure the disease, adjust the spreader to the needs of your St. Augustine. The preventative rate for Scotts Drop Spreader is 4 and the curative rate is 5.5.
3. Spectracide Immunox Fungus Plus Insect Control For Lawn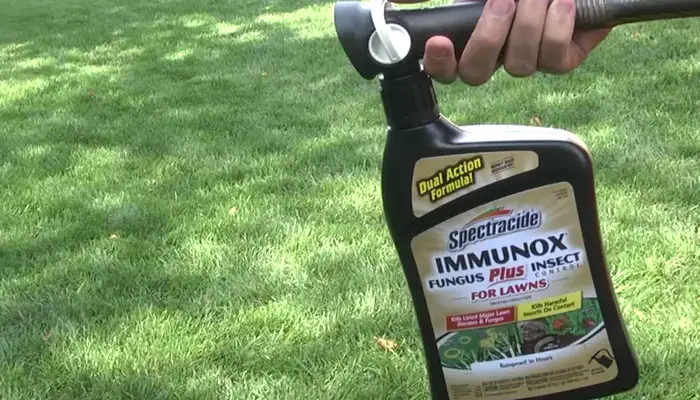 Have you noticed that some of our Facebook friends are common friends with practically everyone we know? Something along those lines comes to mind when I think about Spectracide products. There is no need for a further introduction.
Active Ingredient
1.45% Propiconazole is the main chemical that drives this spectacular fungicide.  As I previously stated, it is a DMI (Demethylation Inhibiting) chemical that prevents the synthesis of ergosterol in the fungal cell membrane.
Therefore, the fungal cell does not live for long and finally dies owing to cell disintegration and decreased fungal spore germination. But that's not all. It also contains 0.08% Lambda-cyhalothrin. It works as an insecticide & kills several harmful insects by attacking their central nervous system.
Form & Type
This product was created by Chemisco, who created a bright yellow ready-to-spray liquid for your lawn grasses. Isn't it true that ready-to-spray fungicides are always welcome?
Mode of Action
Spectracide Immunox protects St. Augustine via fungal prevention and elimination. Following application, it is absorbed by leaf blades, killing the interior occupants while protecting the exterior from infection and insect attack.
Your lawn will be safeguarded for up to two weeks as a consequence. However, using it more than 14 times a year is not suggested.
Features
The finest aspect of this medicine is its dual-action composition, which protects against both fungus and insects.
Anthracnose, Brown patch, Dollar spot, Fusarium patch, Leaf spot, Take-all root rot, and other major St. Augustine diseases are completely treated and prevented by this medication.
Not only that, but it also destroys over 20 common lawn pests such as ants, brown dog ticks, crickets, and others. As a result, this product truly provides you with a St. Augustine lawn that is clean, green, and consistent.
Applying Method
It is a ready-to-spray fungicide. Thereby, just plug the hose & apply.
4. Propiconazole Fungicide
Propiconazole is a top-rated fungicide for usage in home gardens, regardless of ornamentals, turfs, or other plants. That's why Propiconazole is the active ingredient in the majority of the fungicides on my list. Let's see what more it has to offer-
Active Ingredient
The fungicide is named after its active ingredient- 14.3% Propiconazole. It is a Demethylation inhibitor that prevents the synthesis of ergosterol and causes the fungal cells to die.
Form & Type
The white container of Propiconazole fungicide contains a synthetic amber-colored liquid. As it is concentrated, you have to mix it with a sufficient amount of water before application.
Mode of Action
For lawn grasses like St. Augustine, it is broad-spectrum systemic disease management. When it comes to combat, the term "broad spectrum" refers to the fact that it is not discriminating. It kills whoever is in front.
In addition, because of its systemic nature, it offers both preventative and curative benefits, as well as rainproof protection for up to one month.
Features
Quali-Pro Propiconazole Fungicide controls nearly 20 major fungal diseases of lawn grasses like Brown Patch, Dollar Spot, Fusarium, Gray leaf Spot, etc. Therefore your St. Augustine would remain in great care for sure.
But it is not only limited to the lawn. you can use it for ornamentals & even for trees through flare root injection technology. So, it is clear that you can make 100% use of it.
Applying Method
Different diseases require a different amount of application. But normally, 1-2 fl. oz. per 1000 sq. ft. of lawn is ideal to use.
5. Bonide Infuse Systemic Disease Control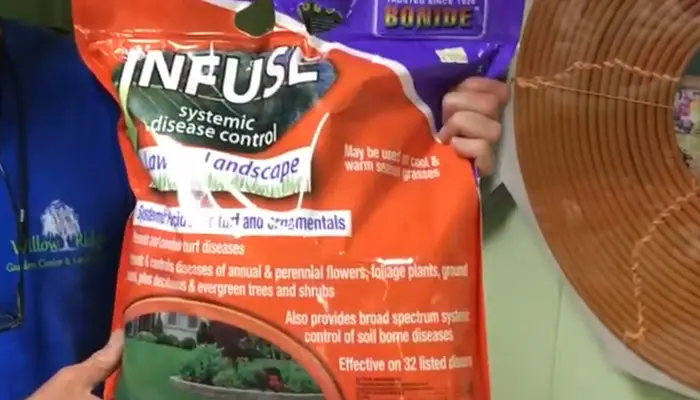 "Bonide- trusted since 1926," this statement is found in all of Bonide's goods, and that is the beauty of the experience. Bonide has maintained our lawn and garden disease-free for years. Hopefully, this premium fungicide will protect your St. Augustine as well.
Active Ingredient
To preserve our grass, ornamentals, and other greens, the fungicide relies on 2.08 percent thiophanate-methyl. It prevents fungus from spreading by preventing mitosis. As a result, spore production and germination suffer significant setbacks.
Form & Type
When you open the package, you'll find homogeneous tan granules that are synthetic in origin and have a subtle sulfurous odor.
Mode of Action
It's a systemic fungicide, as you would have guessed from the name. Following application, it establishes a strong exterior control in the first place, and then it is absorbed and moved via the xylem of the plants after a period of time. Thus, it also cures internal infections.
Features
Brown Patches and Gray Leaf Spots are two main diseases that affect St. Augustine. Bonide Infuse efficiently manages both disorders.
But it isn't the entire list. The entire list of diseases it treats includes Dollar Spot, Leaf Blight, Fusarium Patch, and 29 other common lawn diseases.
Furthermore, this fungicide's use isn't limited to turf. You may use it on your ornamentals along with St. Augustine. Because of its broad-spectrum nature, it fights against a wide range of soil-borne pathogens.
Additionally, it goes rainproof after some time of application. Therefore, irrigation or rain won't do any waste.
Applying Method
Apply 3 lbs per 1000 sq ft of yard & repeat after every 3-4 weeks. Irrigation within 24 hours of application is suitable for better action.
6. Heritage G Fungicide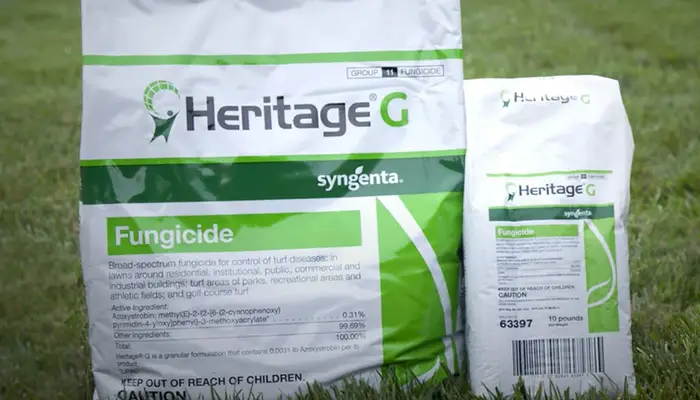 In practically every way, Heritage G Fungicide appears to be the perfect fungicide for St. Augustine. Two important factors that compel me to enlist this medicine are its formulation flexibility and disease coverage. More details-
Active Ingredient
Azoxystrobin(0.31 percent) has been used by Heritage G Fungicide to combat key grass fungi. This drug targets mitochondrial respiration, which is a critical function of fungal cells. It stops the fungus from respiring by blocking the electron transport chain in the inner mitochondrial membrane. Thus, this pesticide kills fungus invisibly.
Form & Type
This fungicide comes in a white packet, inside of which, you will get brown-colored granules of synthetic origin. But it is also available in ready-to-spread, sprayable & dry formulations.
Mode of Action
Heritage G is involved in both prevention and treatment. You are okay to go if you haven't observed any fungal infection but wish to use it as a preventative measure. Again, fungi are surfacing & you wish to exterminate them. Heritage G would take care of that too. I'm sure you've figured out that it's a systemic fungicide by now.
Features
The main aspect of this fungicide, in my opinion, is that it protects against over 25 diseases, including the most frequent St. Augustine diseases such as Take-All Root Rot, Nigrospora Stolon Rot, Brown Patch, Gray Leaf Spot Disease, Fairy Ring Disease, and so on.
Another feature of this fungicide is that it can be taken by the grasses in a variety of ways, including the leaf, stem, and root.
As a result, maximum efficiency is guaranteed. It may also be used at any stage of the St. Augustine grass's life cycle, including seedling and dormant stages.
Lastly, this fungicide's DG lite technology guarantees quick and uniform granule dispersion, which can back your grass for up to one month.
Applying Method
You can get specific measures for a particular disease from the product label. For example, to combat brown patches, use 2-4 lbs per 1000 sq. ft.
7. DOW AgroSciences Fungicide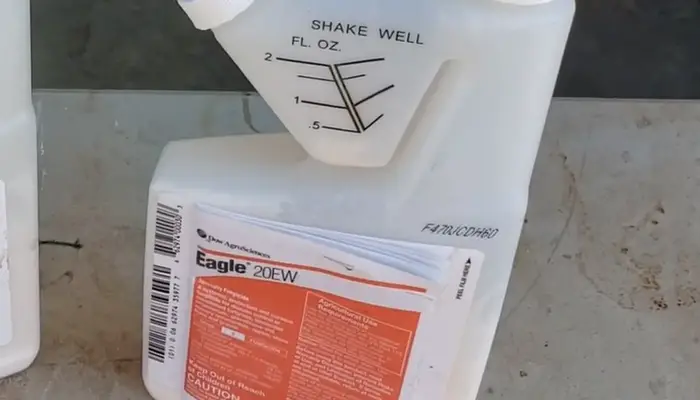 This incredible product was created by DOW AgroSciences LLC, and its superior quality is apparent.
I've been seeking effective products throughout my study, and DOW AgroSciences Eagle 20EW fungicide is one of them.
Active Ingredient
The quick action of Dow AgroSciences Fungicide is due to its active component, Myclobutanil. If you build a list of the most effective fungal chemicals, Myclobutanil will undoubtedly be towards the top.
It works by blocking a key enzyme involved in the manufacture of fungal cell membranes, resulting in abnormal cell growth and ultimately the death of the fungal pathogen.
Form & Type
The concentrated liquid of this fungicide is just like the color of the container, white. Interestingly, It has an aromatic scent. Therefore, after application, you won't have to stay away from your lawn.
Mode of Action
It is also a systemic fungicide that ensures both preventive & curative protection for St. Augustine. This fungicide, which contains the antifungal component Myclobutanil, provides temporary protection against new fungal infections while also curing current fungal growth inside plant tissue.
Features
This product's continuous protection is a stunning feature. Because of its systemic nature, the fungicide also protects the infant leaves. That implies that even if a St. Augustine leaf sprouts after the treatment, it will be protected for up to one month.
In addition, Eagle 20EW controls approximately 40 lawn diseases, including Gray Leaf Spot, Brown Patch, Powdery Mildew, Dollar Spot, Take All Root Rot, and others, the majority of which are prevalent St. Augustine diseases.
The fungicide is also approved for use on over 100 ornamental plants often found in nurseries, greenhouses, and landscaping.
Applying Method
Use 1-2 fl. oz. of Eagle 20EW for 1000 sq. ft. of lawn.
How To Treat Fungus In St Augustine Grass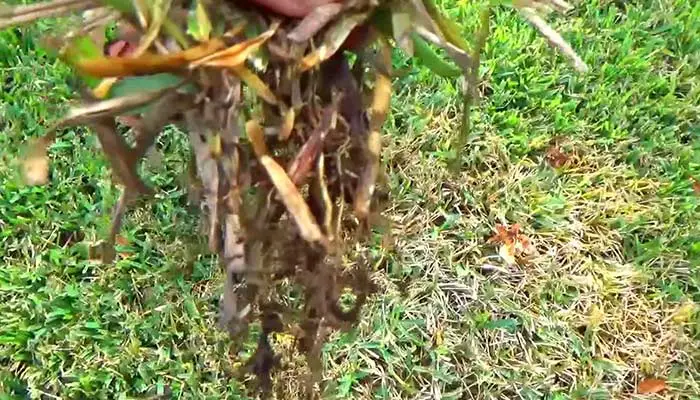 Fungicide treatment is the most popular and successful technique for combating St. Augustine's disease. However, there are also additional steps you may take, such as taking care of your lawn to avoid getting a fungal infection in the first place. So, let's take a ride toward the fungus treatment of St. Augustine. Grass-
The first thing to keep up with is regular mowing. Cutting, not turning, is the definition of mowing. A torn leaf is far more susceptible to fungal disease than one that has been clipped.

Watering, fertilizing, and other general maintenance tasks should not be delayed, overdosed, or underdosed. The most important thing is to maintain your lawn healthy so that it can fight off the fungal infection before it becomes a problem. By this time, I'm hoping you'll have come to the rescue with the right fungicide.

Keep your lawn & lawn care instruments clean so that new fungal cells can not get spread all over the lawn.

Because St. Augustine is a warm-season grass, you should be aware of the temperature range where the fungal infection is most likely. That way you'll be able to take precautions.
St. Augustine Fungus Identification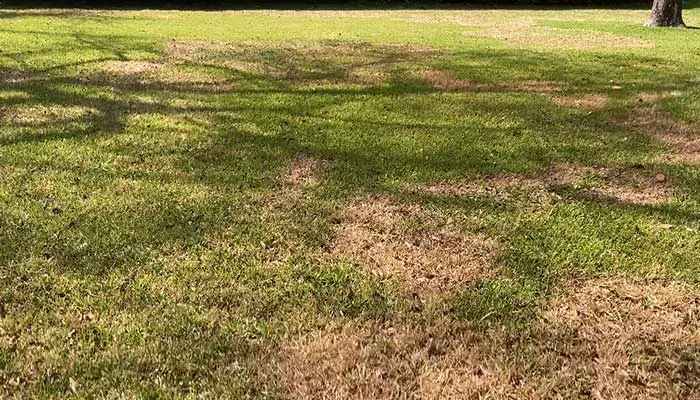 Take-All Root Rot, Nigrospora Stolon Rot, Brown Patch, Gray Leaf Spot Disease, and Fairy Ring Disease are the most frequent fungal diseases of St Augustine.
Let's have a look at how you can spot them.
Take-All Root Rot
This disease thrives in the spring, particularly after a couple of days of rain. In severe circumstances, the soil of your St. Augustine will show up with brown-colored dead leaves around it.
Nigrospora Stolon Rot
This time, you must examine the stolons. The horizontal thick stem of St. Augustine grass is known as stolon. The brown spores on the stolons are the first signs. It becomes more harmful day by day, causing stolon girdling, which prevents water and nutrient circulation to the leaves.
Brown Patch
As early as spring green-up, a brown patch may appear. Sunken, circular areas of dead, tan grass develop, with a diameter of up to 3 feet.
The spots can be up to 20 feet broad and are surrounded by smoky, grayish grass with wilted, black, dying borders.
Gray Leaf Spot
Gray leaf spot on St. Augustinegrass begins as little brown dots on the leaves and stalks. The spots soon grow to a quarter-inch in length, turn bluish-gray in hue, and take on an oval or elongated form. However, the mature lesions have sunken cores with uneven purple-to-brown borders and are tan to gray in color.
After prolonged periods of damp and warm weather, the core of the leaf spot may appear as a gray, velvet-like development of spore production. The lesions may also have a golden border. The lawn seems thin during severe outbreaks.
Fairy Ring Disease
To diagnose Fairy Ring Spot on your St. Augustine lawn, look for these three signs. To begin with, it turns into a dark green color, but not consistently. Second, there are necrotic circles, and third, there are mushrooms on the lawn.
Final Words
It's not easy to keep a lawn in good shape. Because the consistency of color or greenery of our lawn is such an important component of our home's outward appearance, it deserves a lot more attention.
St. Augustine is susceptible to a number of fungal diseases, and you don't want to spoil the beauty of spring or summer by having some brown or dead leaves on your lawn, do you?
So, based on my study on the best fungicide for St. Augustine Grass, you'll be able to purchase the exact product you need to keep your lawn green and uniform. Hopefully, my investigation will provide you with a clear picture. Best wishes.