Let me ask you something. Name a single fungal disease that you don't want in your garden. I bet it would be Anthracnose. If your answer is something else, then either you are lucky or you haven't faced it yet.
I am saying this because not only does it damage your plant quite severely, but also it seriously destroys the external beauty. And I think that's why, when it comes to Anthracnose, gardeners don't compromise with fungicides. They look for the perfect one.
Well, this time you will get the perfect one too. Just follow my lead towards the review of the best fungicides for Anthracnose. But before that, you must know, what fungicides are best to be used for Anthracnose?
Shortly, take any fungicide that contains Copper Octanoate, Tebuconazole, Neem Oil, Myclobutanil, Propiconazole, etc as an Active Ingredient.
However, let's go-
Best Fungicide For Anthracnose- Comparisons
| Fungicide | Active Ingredient | Form | Type | Price |
| --- | --- | --- | --- | --- |
| Bonide Copper Fungicide | Copper Octanoate | Concentrate | Organic | |
| BIOADVANCED Fungicide | Tebuconazole | Ready-To-Spray | Synthetic | |
| Garden Safe Brand Fungicide | Clarified Hydrophobic Extract of Neem Oil | Ready-To-Spray | Organic | |
| Spectracide Immunox Fungicide | Myclobutanil | Concentrate | Synthetic | |
| Bonide Fungal Disease Control | Mancozeb | Concentrate | Synthetic | |
| Bonide Infuse Disease Control | Propiconazole | Concentrate | Synthetic | |
| Serenade Garden l Effective Fungicide | Bacillus subtilis | Suspension | Organic | |
Best Fungicide For Anthracnose- Reviews
1. Bonide Copper Fungicide
Normally, gardeners pick the product just by seeing the brand name "Bonide." Well, it is kind of obvious but, I prefer to read the full name first & that is BONIDE CAPTAIN JACK'S COPPER FUNGICIDE CONCENTRATE. However, let's concentrate on it-
Active Ingredient
Have you already figured out the chief chemical from the name? Yep, it is Copper, more specifically, 10% Copper Octanoate with a metallic Copper equivalent of 1.8%.
Now, Copper acts as a denaturing agent for fungal cell membrane & internal enzyme activity.  Due to Copper application, fungus loses its structural integrity & internal growth system. Therefore, eventually, it leads to death.
Form & Type
The product comes in a white bottle containing blue-colored concentrated liquid. That's why before applying, you have to dilute it with the appropriate amount of water.
Additionally, Bonide Copper Fungicide is totally okay for organic use. Thereby, it is icing on the cake for organic product lovers.
Mode of Action
Bonide Copper is a contact fungicide. Such fungicides remain on the surface of the plant & block any fungal infection in the first place.
Generally, the fungus that causes Anthracnose spreads systemically. That means it penetrates the plant tissue, makes a suitable home there, starts sucking fluids & damages plant cells. But Bonide Copper won't cure the infections that are inside the plant tissue. The bottom line is, it is more of a protective measure than a curative one.
Features
The best thing to mention about this fungicide is the range of plants that it covers. You can prevent Anthracnose from your evergreen, tail flower, croton, dogwood, liriope, philodendron, basil, rosemary, lavender, mint, hop, apple, pear, avocado, berries, tomato, bean, pea, cucumber & many more by applying the fungicide properly at the right time.
Not only that, it controls powdery mildew, downy mildew, black spot, peach leaf curl, rust, and many other diseases of your garden plants. And lastly, due to its organic nature, you can use this poison till the day of harvest.
How to Apply
Different plants require different mixing ratios but normally, 0.5-2 fluid ounces per gallon of water & repeat again in 7-10 days for complete protection against Anthracnose.
2. BIOADVANCED Insecticide Fungicide Miticide 3-in-1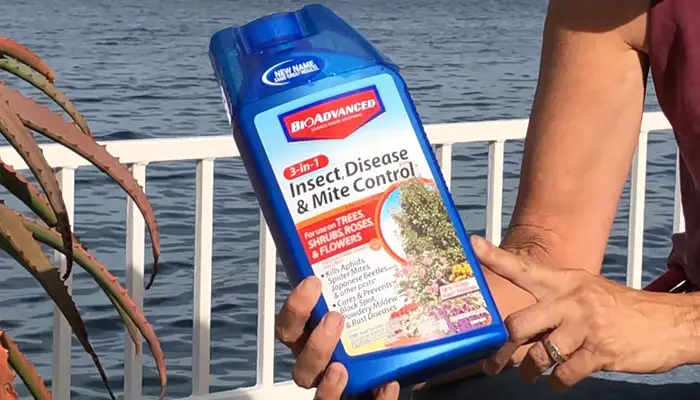 Insects & mites accelerate the spreading of fungi to garden plants to a great extent. Therefore, a fungicide like BioAdvanced 3-in-1 that kills all 3 of them would definitely come in handy.
Active Ingredient
Since the product is a multi-tasking formula, it also contains multiple toxic chemicals as active ingredients. Such as, 0.012% Imidacloprid for insect control, 0.014% Tau-Fluvalinate for mite control & 0.015% Tebuconazole for fungal control.
Here, Imidacloprid & Tau-Fluvalinate, both crack the central nervous system of insects & mites & lead to death. On the other hand, Tebuconazole hinders the fungal spore germination & ergosterol production of fungal cell membranes. Since ergosterol is an extensive compound for fungal cell growth & stability, lack of it becomes lethal for fungi.
Form & Type
BIOADVANCED SCIENCE-BASED SOLUTIONS 3-in-1 INSECT, DISEASE & MITE CONTROL is a blue bottle that contains white to light beige liquid in a Ready-To-Spray formula. Since it is an RTS Formula, all you have to do is hook the bottle to a hose and turn it on.
But the good thing is, the product is also available in concentrated form for users. However, it is a synthetic fungicide that does not put a major threat to the adjacent environment.
Mode of Action
It is a systemic fungicide. Therefore, it works as both a preventive & curative one. After application, it provides preventive action at the surface of the plant & then, it enters into the plant tissue to clean up the internal shits.
Since Anthracnose fungus is also systemic, this fungicide could be a perfect choice to make.
Features
Firstly, its systemic nature provides a rainproof action for up to 30 days & that allows using it any time of the year, spring, summer, or fall.
Secondly, it kills insects, mites & fungi effectively & keeps your non-edible plants like roses, flowers, houseplants, ground covers, vines, ornamentals, shrubs, and trees protected & alive.
And lastly, along with Anthracnose, it also prevents & cures Black Spot, Petal Blight, Powdery Mildew, Rust, Scab, etc.
How to Apply
Hook the hose & apply properly.
3. Garden Safe Brand Fungicide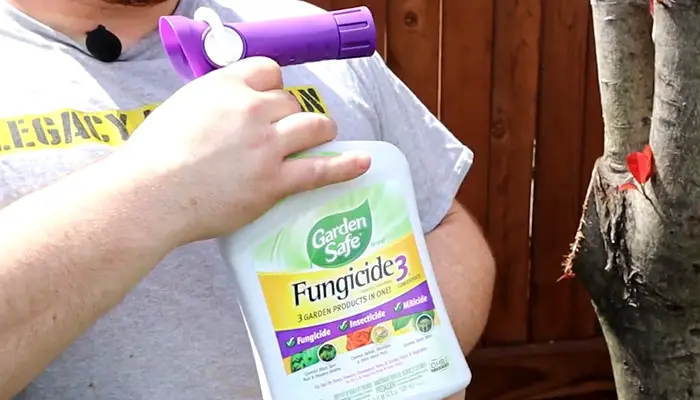 According to many horticulturists, gardeners often ask a question about Anthracnose & that is, "How do you treat Anthracnose organically?" And by this, mostly they ask for an organic homemade remedy for Anthracnose.
Well, check out this product. Though it's commercial, you will get a clear idea of what an organic homemade remedy should have.
Active Ingredient
What ingredient do we use mostly in homemade recipes? I think everyone would agree about Neem oil. And, this fungicide also uses 0.90% clarified hydrophobic extract of neem oil to fight against insects, mites & fungi. That's why the label said, "3 GARDEN PRODUCTS IN ONE."
Now, what neem oil extract does is, it comes into contact with the fungus, insect, or mite, covers them, creates suffocation & leads to death. What a simple but effective way to kill those problems!
Form & Type
It is a white bottle that carries brown-colored liquid in the Ready-To-Spray formula. So, as I said, just hook the hose & you are good to go.
Additionally, Garden Safe Brand Fungicide3 is OMRI approved for organic use. So, triple action, ready-to-spray, neem oil- I think it has all the characteristics to be considered as the best organic fungicide for Anthracnose.
Mode of Action
The fungicide plays through contact mode of action. That means it only works as a preventive measure, not curative. It kills the funguses that reside on the surface, not the fungus of Anthracnose that dwells inside.
That's why you have to apply it before or just immediately after the fungal attack. That way, we would get your expected result.
Features
It is a multipurpose fungicide with triple care action that kills pests of any age- egg, larva, or adult. As it is an organic fungicide, along with houseplants, ornamentals, flowers, etc, you can also use it in edibles like fruits & vegetables.
As a fungicide, it prevents diseases like powdery mildew, downy mildew, anthracnose, rust leaf spot, botrytis, etc. As insecticide & miticide, it kills whiteflies, mealy bugs, armyworms, aphids, spider mites, etc.
Plus, for preventive purposes, it can protect your garden for up to 14 days.
How to Apply
3 steps only- shake the bottle, hook the hose & spray gently.
4. Spectracide Immunox Multi-Purpose Fungicide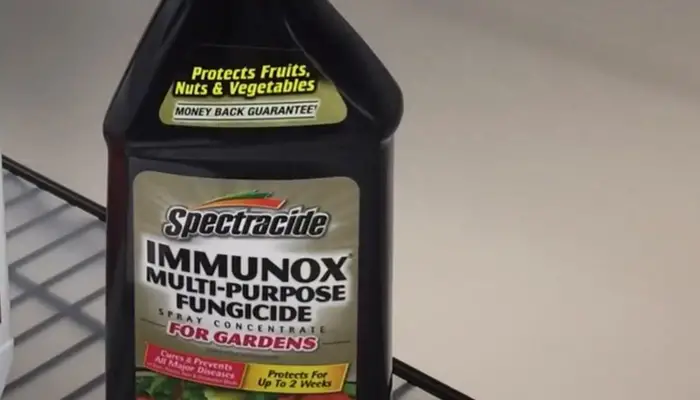 What characteristics should a perfect remedy have? Well, firstly it should have the ability to prevent & cure the existing disease & if it also boosts immunity, that's a bonus. I hope now you understand why this product is Multi-Purpose.
Active Ingredient
Spectracide fungicide has used one of the finest & killer ingredients to safeguard your garden plants & that is 1.55% Myclobutanil. Spectracide has also used 4.25% 3-ethoxypropanoic acid & ethyl ester, which are best known for their anti-fungal capability.
Now, Myclobutanil suppresses the formation of Ergosterol, a sterol found in the fungal cell membrane that regulates fluidity and permeability. As a result, this fungicide disturbs the fungal body cells and finally destroys them.
Form & Type
The company has used an attractive black-colored bottle that carries light yellow-colored liquid. The product is in concentrated formula & thereby, it needs dilution before application.
Furthermore, it is a synthetic fungicide that does not cause any remarkable aquatic toxicity. So, it's good to use.
Mode of Action
The action mode is systemic. After spraying, it immediately comes into contact with the fungi that remain on the surface & kills them. After that, the liquid gets absorbed inside the plant tissue & once again, Myclobutanil does its job efficiently.
So, the essence is, the fungicide works both as a preventive & curative measure. And guess what? That is exactly what you need to fight against Anthracnose.
Features
Spectracide Multi-Purpose fungicide covers all kinds of plants like fruits, nuts, vegetables, roses, flowers, trees, ornamentals & many more. According to users, the product is very effective for different berries like strawberry, blackberry & other fruit plants like grape, mango, etc.
Additionally, it also takes care of your lawn & turf by eliminating brown patches, powdery mildew, black spots, rust, blights & many other fungal diseases.
And the best thing is, once dried, it can't be washed off by rain due to systemic action & thus, it can protect for 2 weeks straight.
How to Apply
The general mixing ratio is 1 fl oz/gallon of water. But for lawns, Use 7 fl oz/gallon of water to treat 500 sq ft.
5. Bonide Fungal Disease Control
Bonide's product hits again. Well, why won't that be? A brand that has been trusted since 1926, is bound to occupy multiple spots on your list. And, I didn't bother suggesting the same branded product several times. Because it is the quality that matters.
Active Ingredient
The full name of the product is Bonide Mancozeb Flowable with Zinc Concentrate & it carries 37% Mancozeb as an Active Ingredient. Now, you may ask, what is Mancozeb? Mancozeb is a coordination product of 7.4% Manganese ion, 0.9% Zinc ion & 28.7% Ethylenebisdithiocarbamate ion.
However, Mancozeb disrupts various metabolic processes in the cytoplasm and mitochondria of fungal cells by interfering with enzymes that contain sulfhydryl groups. Thus it interferes with the growth & survival of fungal cells.
Additionally, the Zinc present in this product is an important nutrient for plant growth also. It stimulates enzymes involved in the manufacture of essential plant proteins.
Form & Type
Almost all the products of the Bonide brand are contained in a white bottle or container. It is the same this time except the product color is yellow. And if you are looking for an organic product, sorry to say, it's synthetic.
Mode of Action
It is a contact fungicide. That means it will protect your plant from Anthracnose only from the outside. That's why the best time to apply this fungicide is before the infection or immediately after the symptoms come out.
Features
Bonide Mancozeb is a broad-spectrum fungicide that eliminates a wide range of pathogens to keep all garden plants safe. If we talk about benefits, tomatoes, potatoes, onions, cucumbers, melons, maize, grapes, apples, azaleas, geraniums, roses, zinnias, and a range of other plants can all benefit from it.
In addition, it guards against anthracnose, leaf spot, downy mildew, early and late blight, rust, botrytis, and other diseases.
How to Apply
First of all, check the product label & further directions. There you will find the exact mixing ratio plantwise. Mix the concentrate accordingly & apply.
6. Bonide Infuse Systemic Disease Control
Once again, I have chosen quality without any hesitation. Bonide Infuse Disease Control is a widely used fungicide for its premium quality & multiple super effective features. Let's check them out.
Active Ingredient
This item includes 1.55 % of propiconazole, which is one of the most widely used triazole fungicides. Propiconazole is also known as DMI fungicide or DeMethylation Inhibiting fungicide. Want to know why?
Well, for fungus cell development and reproduction, the synthesis of Ergosterol is a prominent stage. Ergosterol, if not integrated into the cell membrane, has the potential to kill fungus by inhibiting cellular growth.
However, there is a critical process termed demethylation that occurs before Ergosterol production, and Ergosterol creation would not occur without this precursor phase.
Now, the demethylating agent, on the other hand, is an enzyme called 14-alpha demethylase. And guess what? Propiconazole, our active component, prevents the enzyme from completing its job & thus, inhibits fungal growth and reproduction.
Form & Type
Like the previous one, concentrated yellow liquid in a white bottle & is also a synthetic one.
Mode of Action
You can guess it from the name. It is a systemic fungicide. As Anthracnose is a systemic disease, Bonide Infuse is just the remedy it needs. It works both as a preventive & curative measure & therefore, it comes with a 100% effective package.
Features
Along with Anthracnose, the fungicide protects and cures a variety of fungal infections in flowers, lawns, trees, shrubs, bearing and non-bearing fruit, and nut trees.
Powdery mildew, rust, black spot, leaf blight, brown patch, dollar spot, necrotic ring spot, scab, brown rot, and other diseases are only a few examples.
Additionally, as it is incorporated into the plant tissue, it will not be rinsed away after drying & it also can improve the color of the plant.
How to Apply
Like the previous one, read the product label and any additional instructions. Plant-wise, you'll find the correct mixing ratio there. Apply the concentrate after mixing it properly.
7. Serenade Garden Disease Control Effective Organic Fungicide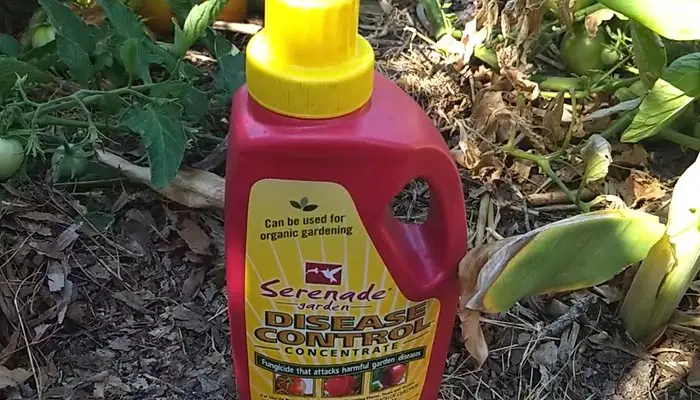 This is the first bio fungicide that I am suggesting to you. No chemical ingredients, no ions, it contains bacteria to check fungal attacks. Let's check it out-
Active Ingredient
Interestingly, the fungicide uses the QST 713 strain of Bacillus subtilis (1.34%) as the main weapon against fungal infections. So what is it actually?
Well, Bacillus subtilis is a common bacterium that resides in soil, water, and the atmosphere. Now, how can bacterium damage fungi?
Amazingly, it inhibits the growth of some plant bacteria and fungi by competing for resources like nutrients, growth sites, etc, and also by colonizing and adhering to fungal pathogens directly.
Form & Type
You can see an attractive red color bottle but what is inside is a brown colored suspension. Therefore, all you have to do is dilute it before spraying. And good news, it is OMRI approved for 100% organic use.
Mode of Action
QST 713 strain of Bacillus subtilis induces plants' natural systemic resistance or systemic acquired resistance (SAR) against bacterial pathogens.
Additionally, it can prevent fungal spores germination & germ tube growth disruption. The best thing that it does is inhibit the attachment of the Anthracnose causing fungi to the leaf.
Features
The best feature is the active ingredient obviously. Bacteria is safe for you & it is not harmful to the environment. Additionally, this special strain makes the fungicide a broad spectrum one because it can eliminate a wide range of plant pathogenic bacteria & fungi.
As it is a bio fungicide, you can use it on both non-edibles like flowers, ornamentals, shrubs & edibles like fruits & vegetables without any doubt.
This fungicide effectively eliminates several fungal & bacterial diseases like Anthracnose, bacterial leaf blight, powdery mildew, Downy mildew, leaf blight, late blight, etc.
How to Apply
The general mixing ratio is 4 tablespoons per gallon of water.
What is Anthracnose?
Anthracnose is a plant disease that comes with an extended level of tension. Anthracnose ruins the exterior appeal of a plant like no other disease. The meaning of anthracnose probably can tell you the reason why anthracnose is so unwanted.
Anthracnoses, meaning blackenings, are mainly diseases of the leaves, stems, or fruits that typically emerge as dark-colored spots or immersed lesions with a somewhat raised edge.
What Causes Anthracnose?
Anthracnose is a fungal disease caused by a wide range of fungi belonging to the genus Colletotrichum. The pathogen survives the winter in seeds, soil, and garden waste & develops rapidly under optimum conditions. It thrives in cool, moist conditions, and the ideal temperature for spore growth is between 24 and 28 degrees Celsius.
Furthermore, as well as for the plant's infection, moisture is essential for the fungus growth and germination. And, wind, rain, insects, and garden equipment are the ways through which the pathogen spreads to the plants.
How To Identify Anthracnose?
Anthracnose comes with the worst looking symptoms & sadly, the damage is equally disturbing. So, what are the symptoms of Anthracnose? Well, symptoms can develop in leaves, branches, flowers & fruits of a plant. Let's identify individually-
Leaf Symptoms
The spots that appear on fresh leaves are the most common symptom of Anthracnose. These patches are tan, brown, or black in hue and unevenly shaped.

These dots can occur all over the leaves of certain trees, or they might appear along the leaf veins of others.

Leaves that have been affected may get wilted and fall prematurely.

Trees that are severely impacted, may lose their leaves.

Anthracnose can develop tan to dark brown patches on adult leaves, although they do not cup or distort the leaves. Leaf spots on adult leaves are common in areas where small lesions, such as insect feeding, have occurred.
Branch Symptoms
Similar spots like leaves in young or green branches.

Necrotic lesions may show up.

Dieback of young branches

New branches are infected with blight. Branch color changes from red to dark brown, becoming dry and brittle.
Flower Symptoms
Dark injuries in flowers cause death and abortion of fruits.

Necrotic lesions in flowers.

Injuries in inflorescence, abortion, and drought.

Aqueous, dried, and coalescing lesions in flowers.

Death of pointer branches.

Deep dark spots
Fruit Symptoms
Dark, depressed spots & isolated injuries in fruits. Soft rots may also show up.

Dark & circular lesions.

Cracks & decay in the fruit bark.

Premature falling of fruits.
How to Treat Anthracnose?
Preventive Measures
Make sure the soil is well-drained around your trees.

Anthracnose-resistant plant varieties should be grown.

Water your trees using drip irrigation.

When the fruits are mature, make sure they don't contact the ground.

Keep the gardening equipment & the garden 100% clean.

In the spring, spray your trees with a suitable fungicide
Control Measures
To prevent the spores from spreading, prune the affected branches and make sure they are destroyed and disposed of properly.

When the affected leaves fall from the tree, gather them and dispose of or destroy them.

Apply the perfect fungicide for Anthracnose.
DIY Anthracnose Treatment
Ingredients
Wood Charcoal

Turmeric powder

Cinnamon

Cloves
Mixing
Take one part of each ingredient & grind it in a grinder or blender. You are good to go.
Application
It is a fungicide of dust formulation. Take the powder in a cloth & shake it over the plants. Try to make an even spread. That's all.
Frequently Asked Questions
Does Neem Oil Get Rid Of Anthracnose?
Neem oil mostly works as a preventive measure. So, yeah, it can get you rid of any new Anthracnose infestation. But, it may not be 100% effective for an already established infection.
Is Anthracnose Curable?
Yes, it is curable during the early stage of its development. But, once the damage is huge, you may be able to stop the infection but won't get back what was lost.
Is Anthracnose Harmful To Humans?
No, Anthracnose fungus is a parasite for plant cells, not human cells. And therefore, it is not harmful to humans.
Final Words
Well, the plan was to review the best fungicides for Anthracnose & here I have ended up giving something more.
It's just that Anthracnose irritates me more than it troubles me. My garden is mainly of flowers & I hope you understand how hard it was for me when Anthracnose spread rapidly.
That's why I took the responsibility to share the things that I know about Anthracnose, along with the reviews. I hope my work comes in handy for you.
So, don't waste your time & take good care of your plants. Best of luck.