Want to make your bougainvillea the envy of the neighborhood? It all comes down to the right fertilizer. But with so many options out there, how do you know which one will bring out the best in your plant?
The answer lies in understanding its nutritional needs. Nitrogen, phosphorus, and iron are essential for healthy foliage and vibrant blooms, and the perfect fertilizer will provide these in abundance, along with a range of other macro and micronutrients.
Don't settle for lackluster flowers – give your bougainvillea the boost it deserves with the right fertilizer!
For your convenience, in this article, I have listed and reviewed the best fertilizer for Bougainvillea blooms.
Top 7 Fertilizer For Bougainvillea-Comparisons
| Fertilizer | NPK | Type | Form | Price |
| --- | --- | --- | --- | --- |
| Nelson Bougainvillea Food | 17-7-10 | Inorganic | Granular | |
| BGI Bougainvillea Fertilizer | 6-8-10 | Inorganic | Granular | |
| Fertilome Bougainvillea Food | 17-7-10 | Inorganic | Granular | |
| Espoma Flower-Tone Plant Food | 3-4-5 | Organic | Granular | |
| EarthPods Plant Food | Not specified | Organic | Spike | |
| Miracle-Gro Plant Food | 28-8-16 | Inorganic | Granular | |
| Dr. Earth Flower Girl Fertilizer | 3-9-4 | Organic | Granular | |
Top 7 Fertilizer For Bougainvillea-Reviews
1. Nelson Bougainvillea & All Flowering Vines Granular Fertilizer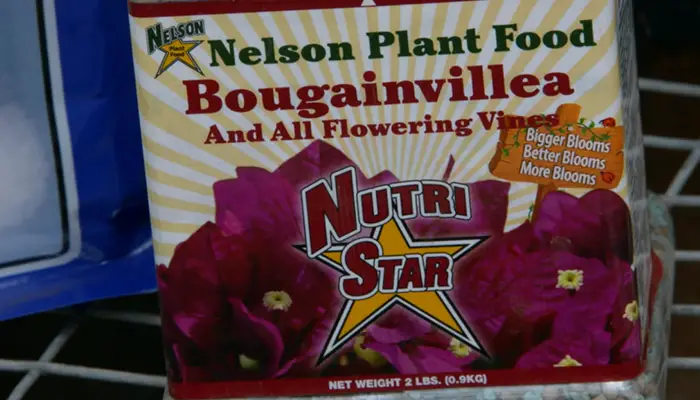 Nelson is a well-known brand of plant fertilizer. They produce fertilizer for the specific plant.
Now I am going to introduce the special fertilizer for Bougainvillea called Nelson Bougainvillea & All Flowering Vines Granular Fertilizer. It is a formulated fertilizer for Bougainvillea from the safest inorganic ingredients.
According to the NPK formula, it contains 17% nitrogen, and the best part of this, it has both slow and quick release nitrogen. You will be happy to know, the quick released nutrient feeds your most hungry Bougainvillea quickly, and slow-release nutrient feed slowly up to a certain period.
Also, this fertilizer has 7% phosphate,10% potash,10% sulfur,0.8% magnesium,2% iron,0.05% copper,0.15% manganese, and 0.2% zinc.
As you saw, this fertilizer has all the essential nutrients for Bougainvillea to promote healthy growth and produce beautiful long-lasting blooms.
This is an inorganic plant fertilizer. But you will be happy to know the nutrients are derived from some safe inorganic chemicals such as ureaform, ammonium sulfate, potassium sulfate, magnesium sulfate, etc.
So, you can feed your in-ground and potted Bougainvillea to increase the tolerance of the plant without any risk of leaves burn and other damages. Besides Bougainvillea, this fertilizer also can be applied to other flowering vines including Allamanda, Coral Vines, Diplandenia, Honeysuckles, Mandevilla, Passion Vines, and Trumpet.
To get a better result, Sprinkle 1 cup of granular fertilizer per 20 sq. feet or 1 tablespoon for a gallon container. Mix into the soil and water the plant. Repeat the application after 2 weeks. Read the fertilizer label for more specific dosages.
2.BGI Bougainvillea Fertilizer
BGI Bougainvillea Fertilizer is specially formulated only for the Bougainvillea and it is my favorite fertilizer for Bougainvillea. Of course, some reasons behind it. Let's see what are the reasons-
The best thing about the BGI brand is, they always test the fertilizer on their own garden. That's why you get quality products from them.
The NPK number of this fertilizer is 6-8-10. And you know; that means it contains 6& nitrogen,8% phosphate, and 10% potash. According to the expert's opinion, this is the perfect ratio for Bougainvillea.
And the best part; it also contains 2.4% water-insoluble nitrogen that can dissolve with water slowly and feed your plant continuously. Sounds good, right? But there's more-
This fertilizer contains some other macro and micro nutrients for your Bougainvillea, including chelated iron, magnesium, and copper. It is a granular inorganic fertilizer that is formulated from some non-toxic chemicals.
3. Fertilome Bougainvillea & Flowering Vine Food
Here is another best NPK fertilizer for Bougainvillea from Fertilome. Fertilome has been producing quality organic and inorganic products for almost 53 years. So, you can pick the Fertilome fertilizer for your Bougainvillea to promote the quantity and quality of your blooms. Now let's see what's inside the bag-
According to the product label, 17-7-10 is the NPK number of this fertilizer and this is the perfect ratio for Bougainvillea and other flowering vines to promote healthy growth and flowers.
This fertilizer has 13.40% urea nitrogen out of 17%. Remember; urea fertilizer feeds the plant aggressively. As a result, you must get a better result quickly but there is enough chance to damage the plant because of overdosages. So, if you pick this fertilizer you must follow the dosages strictly to prevent overeating.
Also, this fertilizer contains all other essential plant nutrients to complete the lifecycle of your Bougainvillea successfully.
It is an inorganic fertilizer and from my research, I have seen there are no harmful chemicals for the plants. All the nutrients of the Fertilome fertilizer are derived from ammonium sulfate, urea, ammonium phosphate, muriate of potash, magnesium sulfate, copper sulfate, ferrous sulfate, manganese sulfate, and zinc sulfate.
Apply 1 tablespoon for 8 inches container or 2 tablespoons for an inground individual plant. Mix into the soil and water the plant. Repeat the application after 2 weeks to promote flowering.
4. Espoma Flower-Tone Plant Food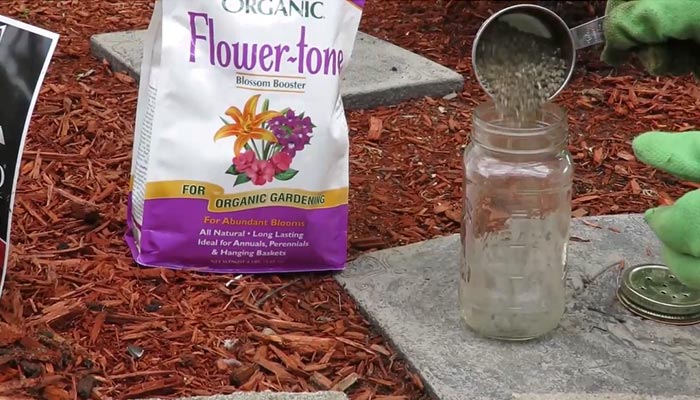 Are you looking for the best organic fertilizer for Bougainvillea? Here is the 100% organic fertilizer from Espoma.
This fertilizer comes with the 3-4-5 NPK ratio. That means it contains 3% nitrogen,4% phosphate, and 5% potash as the primary plant nutrient.
Good news; it contains 2.2% water-insoluble nitrogen out of 3%.And you know the water-insoluble nutrients are released slowly and feed the plant continuously up to a month without any risk.
As the secondary nutrients, it also contains 5% calcium,0.5% magnesium,1% sulfur.
All the nutrients of this fertilizer are formulated from some natural and organic ingredients such as feather meal, poultry manure, bone meal, alfalfa meal, greensand, sulfate of potash, and sulfate of potash magnesia
As you saw, all are natural and organic ingredients that are completely safe for your Bougainvillea and other annual & perennial flowers.
The best part of this fertilizer is the Bio tone formula. That means it has some colony-forming healthy blend of some beneficial microbes that improve soil structure and make your plant healthy and resistant.
To feed your Bougainvillea, sprinkle 1/2 cup around the in-ground individual plant and 1.5 tsp. for 4 inches pot. Work on the soil gently and water the plant to start feeding. Repeat the process after a month.
5.EarthPods Premium Hibiscus & Tropical Flower Plant Food
Next is another best blooming fertilizer for Bougainvillea named EarthPods Premium Hibiscus & Tropical Flower Plant Food. It is mostly popular for Hibiscus but it is also perfect for Bougainvillea.
It comes in a spike or capsule form and you will be happy to know; spike fertilizer is popular nowadays because of its easy-to-apply and slow-release features.
You don't need to measure before applying and there is less chance to wash out the nutrients with the surface runoff. Actually, I like the spike fertilizer for potted bougainvillea because of those features.
Earthpods is the brand that produces the product strictly in an organic way and even their fertilizer comes with a biodegradable and eco-friendly package.
So, there is no doubt that the fertilizer is formulated from natural and organic sources. This fertilizer contains all the macro and micronutrients, trace minerals, soil life & humates that can make your plant healthy, resistant, and promote flowering.
To feed the plant-
Puah 1-2 spikes into the soil for the small plant and 2-4 spikes for the medium plant. Water the plant and repeat the feeding after 7 to 14 days.
6. Miracle-Gro Water Soluble All Purpose Plant Food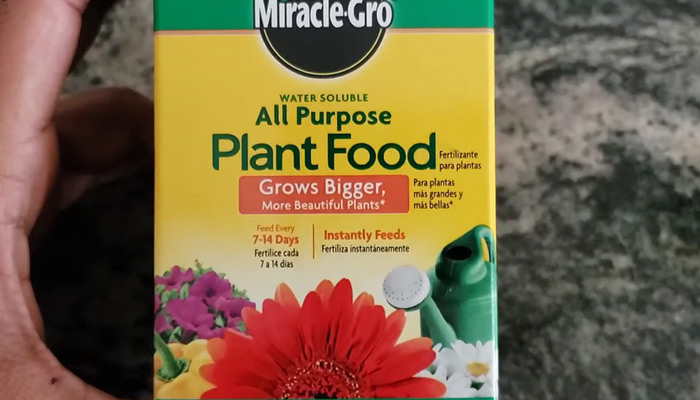 If you are looking for a quick-releasing fertilizer, then here is the best water-soluble fertilizer from the Miracle-Gro brand. It comes in a water-soluble form that can dissolve the water quickly and start feeding the plant instantly.
According to the label of the fertilizer, It has 24% nitrogen,8% phosphate, and 16% potash as the primary nutrients. Also, it has 0.02% boron, 0.07% copper,0.15% iron, 0.05% manganese, and 0.06% zinc as secondary plant nutrients.
Do you need more nutrients for your bougainvillea? I don't think so. Another good news; is that most of the micronutrients have an organic coat(chelated) that can protect the nutrients from other soil reactions and make them always available for the plant.
It is an inorganic fertilizer and it is formulated from ammonium sulfate, potassium phosphate, potassium chloride, and some other non-toxic chemical.
If you pick this fertilizer, you should consider that it also contains some urea nitrogen that can feed the plant aggressively and quickly. That has advantages and disadvantages. The advantage is you can get quick results. The disadvantage is it can burn the leaves if you don't follow the dosages strictly.
You can apply this fertilizer to your indoor and outdoor Bougainvilleas. To apply-
Mix ½ teaspoon into a gallon of water for indoor plants and 1 ½ tablespoon (not a teaspoon) into a gallon of water. Pour the water around the plant and repeat after 14 days.
7. Dr. Earth Flower Girl Fertilizer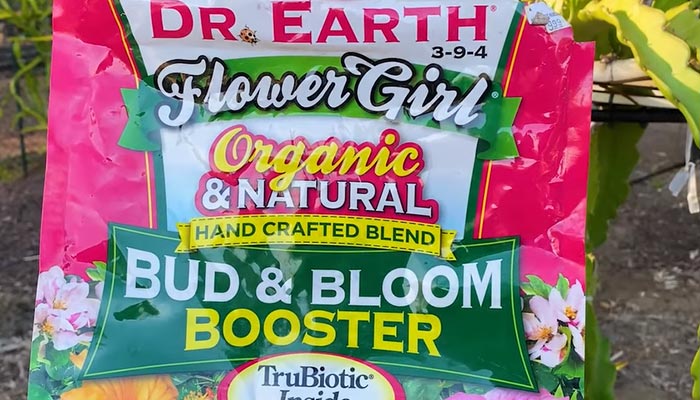 I am going to introduce the last but not least fertilizer named Dr. Earth Flower Girl Fertilizer. It is an OMRI-listed organic fertilizer for flowering plants.
The Flower Girl Fertilizer has 3 % nitrogen and 9% phosphate and 4% potash. It may contain other micronutrients but the manufacturers didn't mention the ratio.
All the 3% has been coated for slow releases. That's why if you like slow-release fertilizer, you should pick this one.
It is an 100% organic fertilizer and the nutrients are extracted from fishbone meal, bone meal, alfalfa meal, potassium sulfate, feather meal, kelp meal, and kelp flour. As you saw, it doesn't contain any inorganic chemicals that are also certified by OMRI.
Like other organic fertilizers, it also contains a healthy blend of soil bacteria that increases soil fertility and makes the plant strong.
Apply 2 cups for every inch of trunk diameter or 1 tablespoon for a 6 inches container. Work gently on the surface soil and water the plant. Feed again a month later.
Homemade Fertilizer For Bougainvillea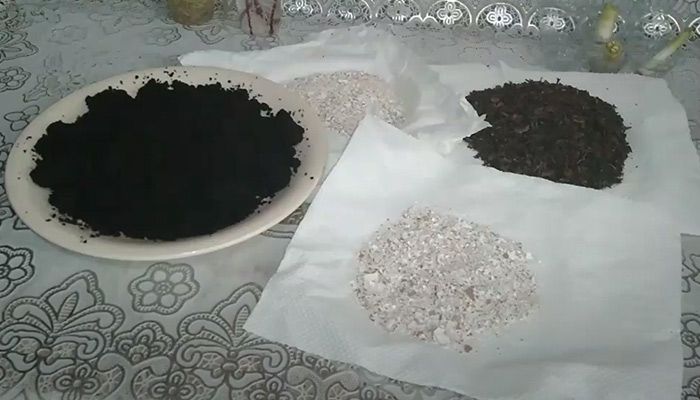 You can apply orange peel, banana peels fertilizer to your Bougainvillea to get better results. Here I will give  NPK fertilizer recipe for your Bougainvillea–
Items Required-
1 tablespoon of coffee grounds

2 tablespoons of dried banana peels powder

1 tablespoon of blood meal
Procedure-
Mix them all properly.

Apply 1-3 tablespoons according to the plant and container size.
When to Fertilize Bougainvillea?
You should apply fertilizer in spring and mid-summer after 7-14 days. The interval period may vary depending on the type of your fertilizer. And apply fertilizer in the afternoon when the plant remains cool.
How to Fertilize Bougainvillea?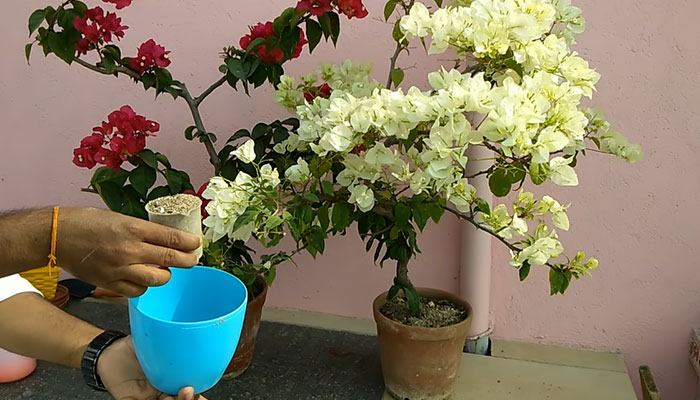 There is no hard and fast rule to fertilize the Bougainvillea. But it is the best idea to follow the expert's opinion about fertilizing. For your better understanding, here I will tell the process of fertilizing step by step-
Measure the fertilizer according to the label directions of the Bougainvillea fertilizer.
Mix the premeasured fertilizer into premeasured water(this step only for water-soluble fertilizer)
Sprinkle the granular fertilizer or pour the liquid solution around the plant.
Apply some water to the plant.
But If you pick spike fertilizer, then take the spikes according to the plant sizes and push them into the soil near the plant root and add water.
Frequently Asked Questions
1. How do you increase Bougainvillea flowering?
Only the proper care can help you to get the desired blooms. First, you have to make sure your plant gets at least 3-4 hours of sun in the day and consider the right container in the case of an indoor plant.
Now choose the right fertilizer and feed the plants. Remove some leaves to accelerate the flowering.
Don't apply over fertilizer and more water. Apply a little amount of water only when the soil feels dry.
2. Can I use Miracle Grow on Bougainvillea?
Yes! You can feed Miracle-Grow fertilizer. Miracle-Gro is a popular brand that has been producing quality fertilizer for a specific plant. For Bougainvillea, you should pick flowering vines fertilizer or all-purpose fertilizer from Miracle-Gro.
3. Are coffee grounds good for Bougainvillea?
Coffee grounds are a natural source of nitrogen. And like all other plants, Bougainvillea needs nitrogen in the vegetative stage. Nitrogen helps the bougainvillea to produce dark green leaves.
So, you may apply some coffee grounds to your Bougainvillea but don't apply in flowering stages.
4.Is Epsom salt good for bougainvillea?
Epsom salt can supply magnesium to the Bougainvillea. And it is the essential plant nutrient for plants. Bougainvillea also needs a little amount of magnesium. So, you can apply ½ teaspoon of Epsom salt after 2-4 weeks.
5. Is bone meal good for bougainvillea?
Bone meal can provide calcium and potassium to the bougainvillea and both are important for the plant. So, you can add bone meal to the bougainvillea.
6. Can Bougainvillea grow in shade?
In full shade, Bougainvillea can't grow successfully but partial shade is okay for the Bougainvillea.
Conclusion
Everyone loves Bougainvillea with beautiful and long-lasting blooms. But to get this you must provide good food to the plant.
I hope you got the best fertilizer for your Bougainvillea. Now feed them properly and enjoy the beauty of your Bougainvillea.