Irises are truly mesmerizing. They show up in almost every color we are familiar with. Besides, I am so attracted to these flowers that sometimes bearded Irises remind me of lovely butterflies that only don't fly.
But, sadly, those gorgeous colors are not easy to get. Growers often experience poor blooming or faded colors of their Irises due to inappropriate & low-quality fertilization. Therefore, if you want to avoid or get rid of such problems, then get the best fertilizer for your Irises.
The good news;
In this article, I have reviewed the top 8 fertilizers for your Irises & I believe my hours of research will help you with a clear-cut purchase. Hopefully, your Irises will make this summer brighter than ever before. So, let's start-
Top 8 Fertilizers For Irises- Comparisons
| Fertilizer | NPK | Form | Type | Price |
| --- | --- | --- | --- | --- |
| Dr. Earth Bud & Bloom Fertilizer | 3-9-4 | Granular | Organic | |
| Miracle-Gro Plant Nutrition | 5-7-10 | Granular | Organic | |
| Espoma Bulb Tone | 3-5-3 | Granular | Organic | |
| Scotts Plant Food | 10-12-10 | Granular | Synthetic | |
| Earthpods Flowering Plant Food | .2-.2-.4 | Capsule | Organic | |
| Jobe's Organics Fertilizer | 3-5-6 | Spike | Organic | |
| Jobe's Bone Meal Fertilizer | 2-14-0 | Granular | Organic | |
| Lilly Miller Bulb & Bloom Food | 4-10-10 | Granular | Semi-organic | |
Top 8 Fertilizer For Irises- Reviews
1. Dr. Earth Organic Bud & Bloom Fertilizer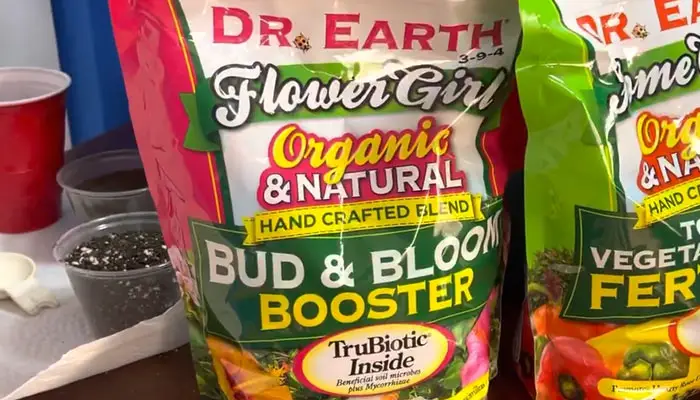 100% hand-crafted blends are the unique specialty of Dr. Earth plant food company. Like its other premium quality products, this bud & bloom booster is also a blend of exact nutrients that your Irises need to bloom abundantly.
Nutrient Composition
OMRI, OIM, CCOF & NOP only certify the products that are acceptable for organic use. And guess what? This bloom booster has all these certificates for its natural & organic sources like fish bone meal, bone meal, alfalfa meal, potassium sulfate, feather meal, kelp meal & kelp flour.
Anyway, these sources supply both macro & micronutrients such as N, P, K, Ca, Mg, S, Na, etc. The NPK ratio is 3-9-4. That means the fertilizer contains 3% N, 9% P & 4% K.
Nutrient Analysis
The high P content is the very first noticeable part of this fertilizer. You know, phosphorus transfers the necessary energy for flowering throughout the plant & thereby, the 9% P will definitely boost your Iris flower production.
Moreover, the fertilizers supply nitrogen for a long time as all 3% of the N is water-insoluble. The Slow-release of N will keep up the growth of roots & leaves constantly.
Exclusive Highlights
Multiple exclusive features make this fertilizer one of the best plant food for Irises. First of all, this fertilizer contains a special blend of beneficial soil microbes & Mycorrhizal fungi to keep the soil alive, nutritious, fertile & well-drained.
Secondly, 6% humic acid is present to increase the microbial activity of the soil, nutrient uptake & drought tolerance of the plant. And finally, along with Irises, you can use it for your other flowering plants, vines & fruit trees too.
Oh, wait. I forgot to mention that, the company marked the product safe for people & pets & ensured no presence of GMO-infested products.
Applying Method
For potted Irises, sprinkle 4 cups of granules onto the soil of a 12″ pot. After that rake the soil a bit & water utterly. For more detailed directions, check the product label & apply again after 2 months.
2. Miracle-Gro Organics Blooms Plant Nutrition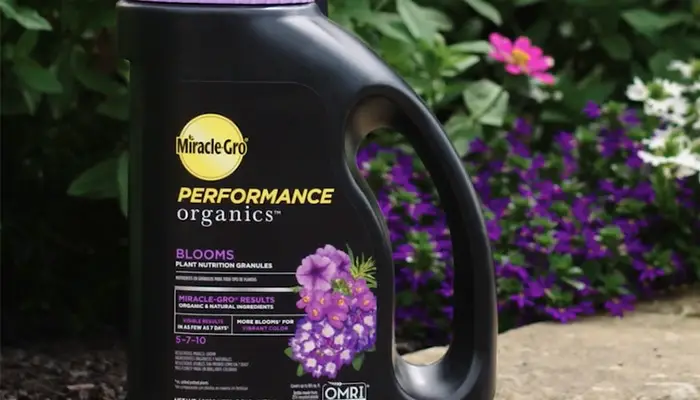 I haven't seen a fertilizer jug that attractive before. It even seemed more elegant when I found out that it is recyclable & made from 25% recycled plastic. Hopefully, it will keep surprising us like this. Let's see-
Nutrient Composition
Miracle-Gro has used relatively unique products to manufacture these plant foods. The fertilizer is a blend of organic & natural products, such as feather meal, soybean meal, nitrate of soda, bone meal, sunflower hull ash, phosphate rock & sulfate of potash.
And these products together supply 5% N, 7% P, 10% K, 7.32% Ca, 1% Mg, 1.20% S & other micronutrients like B, Fe, Na, Mn, Mo, Co, etc.
Nutrient Analysis
The fertilizer is OMRI approved for organic gardening. Its NPK ratio(5-7-10) tells us that it is a miracle food for flowering plants.
You know, Irises do not require much N immediately. And guess what, only 1.90% N would be instantly available to feed your Irises. The rest 3.90% is water-insoluble to feed your Irises slowly & constantly for up to 4-6 weeks.
Moreover, the fertilizer contains 0.80% water-insoluble Mg so that your Irises never get lagged in producing chlorophylls.
Exclusive Highlights
Miracle-Gro performance organic blooms plant nutrition food is an example of a perfect natural fertilizer for Irises. With its highly maintained premium blend, Irises start showing positive changes within a week.
Interestingly, this fertilizer carries sunflower hull ash as a major component. It is a great source of potassium & other nutrients to make your Irises sturdy & helps to enhance hardness to environmental stresses.
Applying Method
Shake 4 tablespoons of the granules evenly over the soil of a 10″ Iris pot. After that, slightly work on the soil & water entirely.
3. Espoma Bulb Tone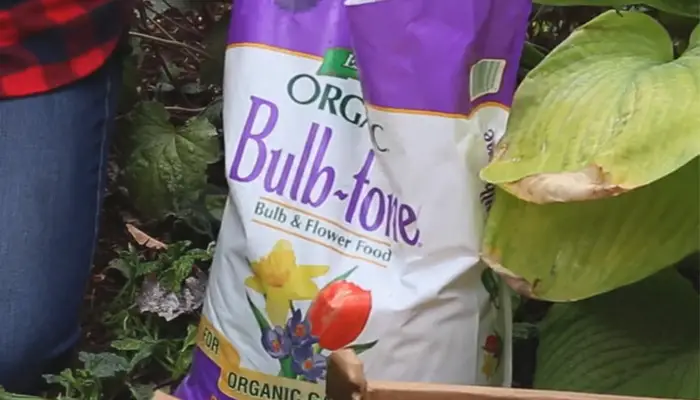 Espoma Bulb Tone is an exclusive fertilizer suitable for Bulbous Irises, such as Dutch Iris, Spanish Iris, African Iris, etc. Many gardeners have marked this fertilizer as an excellent organic fertilizer for Irises. Let's see why-
Nutrient Composition
The fertilizer has a simple but very effective NPK ratio & that is 3-5-3. It also carries other macronutrients like 6% Ca, 1% Mg & 1% S.
Even so, the fertilizer company hasn't mentioned the presence of any other micronutrients, organic sources like feather meal, poultry manure, bone meal, alfalfa meal, greensand, sulfate of potash & sulfate of potash magnesia supply some other micronutrients too.
Nutrient Analysis
You know bulbs are food reservoirs for Irises & this fertilizer has the perfect nutrients to keep the bulbs healthy. With a dominant 5% P, the fertilizer supplies 2.4% slow-release N for a long-lasting feeding.
Exclusive Highlights
Along with Irises, you can use this fertilizer for spring & fall bulbs like Tulips, Daffodils, Gladioli, etc. But the most attractive part is, the fertilizer contains a blend of colony-forming beneficial soil Microbes called BioTone- a special formula of Miracle-Gro company. This formula breaks down the organic matter of the soil & keeps it nutritious for Iris plants.
Applying Method
For individual Iris bulbs, spatter 1.5 teaspoons of the fertilizer around the soil. For more details, check the packet label.
4. Scotts Bulb Continuous Release Plant Food
Scotts Bulb Continuous Release Plant Food is one of the best granular fertilizers for planting Iris bulbs. But that doesn't mean it won't work while flowering. Better check out the details first-
Nutrient Composition
It is the first inorganic fertilizer on my list. Four inorganic products make the blend & those are urea, polymer-coated sulfur-coated urea, potassium chloride & ammonium phosphate.
However, the fertilizer supplies 10% N, 12% P, 10% K & 2.2% S.
Nutrient Analysis
According to Iris's requirements, the fertilizer bears a high N content. But there's a loop. Interestingly, it supplies 4.6 % slow release & 5.4% instant release N to feed Irises for up to 2 months. Now it seems quite fine, right?
Furthermore, along with a decent P & K ratio, the fertilizer also supplies S to the soil. S keeps the soil acidic for Irises & holds up the chlorophyll production & enzyme activity.
Exclusive Highlights
The company ensured no burning if applied in exact doses. And guess what? A 3 lb bag can feed up to 250 Iris bulbs of your garden & this fertilizer has an indefinite shelf life. So you can use it for as long as you want if you preserve it properly.
Furthermore, you can use it for your other bulbous flower plants, such as Tulips, Dahlias, Daffodils, etc.
Applying Method
For in-ground Irises, sprinkle the granules at a half tablespoon per square feet ratio. After that, rake the top 1-3 inches of soil & water thoroughly.
5. Earthpods Premium Bloom Flowering Plant Food
Earthpods Premium Bloom Booster is a unique & mysterious production of a company called Earthworm Technologies. Probably you are thinking what is so unique about this fertilizer? Well, let's see-
Nutrient Composition
While all the plant food-making companies are revealing their formula to be user-friendly, Earthworm Technologies kept their formula a secret & that's why I referred to it as Mysterious. But fortunately, my research turned out to be successful as I got the NPK ratio of each spike & that is .2-.2-.4.
Nutrient Analysis
Each capsule of this fertilizer contains 70+ natural macro & micronutrients to feed your Irises.  Plus it boosts blooms, improves leaf color, excites root maturity, decreases transplant shock, creates resistance to pests, drought & diseases.
Exclusive Highlights
According to many users, these capsules are one of the perfect pet-safe, child-safe, eco-friendly fertilizers for Irises. It is because the spikes are made from all-natural ingredients.
However, this scientist-approved fertilizer also contains organic plant root fungi, bacteria & humic acids to keep the soil enriched & proper root growth.
And finally, this fertilizer applies to a great range of flowering plants like Irises, Begonia, Petunia, Gardenia, Cosmos, Daisy, Daffodil, Roses & so on.
Applying Method
Push 1-2 Earthpos capsules against the soil of a particular Irises plant & then water thoroughly. These capsules will take care of your plants for up to 14-21 days.
6. Jobe's Organics Container & Bedding Plant Fertilizer Spikes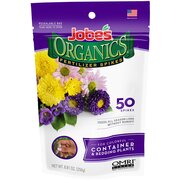 Whether it is a granular or spike fertilizer, you can always count on Jobe's Organics. Likewise, these containers & bedding spikes are perfect fertilizers for annual & perennial flowering plants like Irises, peonies, Lilies, Petunias, etc.
Nutrient Composition
Jobes Organics officially revealed the presence of three macronutrients in the spikes, such as 3% N, 5% P & 6% K. But according to my research, the sources also add some other essential nutrients to the soil.
The good news is, all the nutrients are from 100% organic & natural sources like feather meal, bone meal & sulfate of potash & that's why the fertilizer is OMRI approved for organic gardening.
Nutrient Analysis
You know, Irises need nitrogen for their internal & external development & it is better if the N releases slowly because too much nitrogen is responsible for poor blooming. And interestingly, the spikes contain 1.2% water-insoluble N to feed your Irises for up to 6-8 weeks.
Moreover, bone meal, feather meal & sulfate of potash are excellent nutrient sources for healthy Irises with continuous blooming.
Exclusive Highlights
The spike fertilizers are pre-measured and supply the exact amount of food your Irises need. Additionally, this special formulation guarantees no waste or runoff.
Furthermore, each spike contains a unique blend of beneficial soil inoculants called Jobes Biozome. Thereby, they are very efficient for increasing soil microbial activity to keep the soil wholesome & well-drained.
Applying Method
For 12″ potted Irises, launch 8 spikes near the pot edges. After that, water entirely and relax for the next two months.
7. Jobe's Organics Bone Meal Fertilizer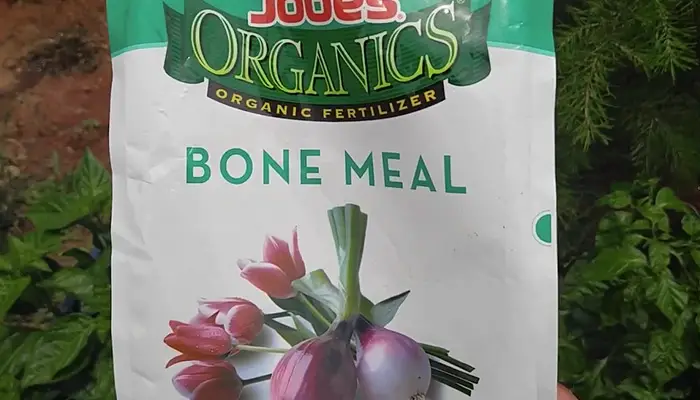 Another Jobe's product shows up. It is a bone meal fertilizer & well-received by gardeners because of its powerful nutrient recipe.
Nutrient Composition
The fertilizer is OMRI listed for organic use as it only uses the organic steamed bone meal to feed your Irises. The NPK ratio of the fertilizer is 2-14-0. Additionally, it contains 15% Ca for the overall sturdy growth of Irises.
Nutrient Analysis
You know, bone meals are an excellent source of P & Ca. Similarly, the fertilizer is rich in P & Ca to encourage firm root systems and excite bigger & better blooms.
Furthermore, all of the N of this fertilizer is water-insoluble. Water-insoluble nutrients are slow releasers & luckily, Irises love to have N slowly for progressive growth.
Exclusive Highlights
Bone meal itself is an exclusive feed for bulbs, roses, trees & shrubs. The fertilize company declares the plant food kid & pet friendly & additionally, they also have manufactured spike formulation of this fertilizer to meet gardeners demand.
Applying Method
The fertilizer is recommended to apply twice a year, mainly during spring & fall. The dose is 1 teaspoon per Iris plant. After feeding, slightly rake the soil & water deeply.
8. Lilly Miller Bulb & Bloom Food
Type "What is the good fertilizer for Irises" on the google search bar & search for it. You will see, a lot of gardeners suggested that 4/5/6-10-10 is a perfect NPK ratio for Irises. In that case, this bloom booster probably is what you are looking for-
Nutrient Composition
The NPK ratio of the fertilizer is 4-10-10. Along with N, P & K, the fertilizer carries 6 more macro & micronutrients, which are- 6% Ca, 0.02% B, 0.10% Fe, 0.05% Mn, 0.0005% Mo & 0.05% Zn.
Interestingly, it is a semi-organic bloom booster as it contains both organic & synthetic products, such as Bone Meal, Dried Poultry Waste, Alfalfa Meal, Super Phosphate, Ammonium Phosphate, Muriate of Potash, Calcium and Sodium Borate, Ferrous, Manganese, Zinc Oxides & Sodium Molybdate.
Nutrient Analysis
The bulb & bloom food provides 1.5% instant & 2.5% slow-release N from four different sources to encourage longer-lasting growth of Irises. Moreover, the higher amount of P & K is just perfect for Irises to bloom their brightest and grow their best.
Furthermore, other minerals work side by side & ensure that your Irises never get hungry.
Exclusive Highlights
The company has added natural ingredients to the plant food to help the bulbs with a head start. Its unique formula nourishes the bulbs for the brightest blooming of Irises.
Applying Method
Spatter Lilly Miller Bulb & Bloom Food in a circle around the plant & the dose is 1-2 Tablespoons per Iris plant. For more details, follow the product directions.
How To Choose The Perfect Fertilizer For Irises?[Buying Guide]
To choose the perfect fertilizer for Irises, you must know the answer to the following two questions-
What are the nutrient requirements of Irises?
Iris requires nearly 18 essential nutrients including, primary, secondary & micronutrients to complete its life cycle. But scientists have found that Nitrogen, Phosphorus, Potassium, Calcium & Boron are five crucial nutrients for Irises. So whenever you think about Iris's fertilizer requirements, these five nutrients should be your prime concern.
What is the best fertilizer for Irises?
Shortly, the ideal Iris fertilizer contains a comparatively higher amount of Phosphorus & Potassium than Nitrogen & supplies both instant & slow-release Nitrogen along with other essential macro & micronutrients like Boron & Calcium.
Once you get these answers, you would be pretty much clear about what you are looking for. Just a few more findings & you are done.
Organic, Synthetic, Or Semi-organic
As long as the fertilizer supplies necessary nutrients in the required amount, any fertilizer is okay. So choose as you prefer.
Granular, Liquid, Capsule, or Spike
It depends on multiple factors, such as your preference, what type of applying machine you have, how much time you want to spend with fertilization, etc.
But from my experience, I prefer granular fertilizer for in-ground Irises & liquid, capsule & spike for containers.
Special Features
Several fertilizers offer unique features, such as bone meal, blend of beneficial soil microbes, etc. I think It is good to have such additional advantages from plant foods. So, look for them too.
When To Fertilize Irises?
The best time to fertilize Irises is just before the blooming season. As most of the Iris varieties start blooming from mid to late spring, it is better to start fertilizing during early spring or approximately 6-8 weeks before the blooming.
However, many varieties require fertilization again after the blooming period is over. That's why keep observing the soil nutrient status & also keep following the product direction like when to apply again.
How To Fertilize Irises?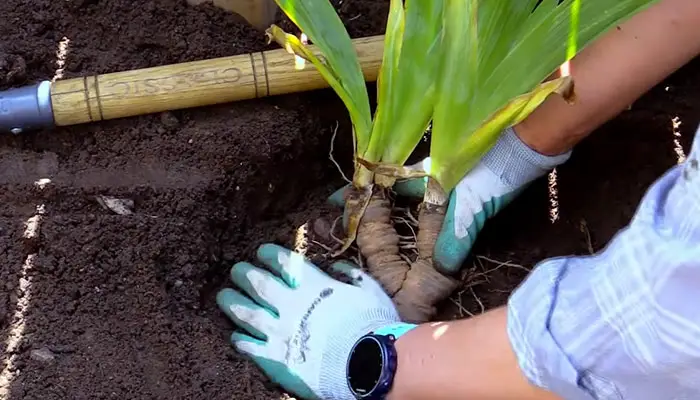 There is a proper guideline in the product label to tell you how to fertilize Irises accurately. But I have tried to outline the basics here so that you can understand the product direction properly.
Granular Formation
Read the product label & take the exact amount of granules.

Cover the drip zone evenly by spattering granules. But some fertilizer recommends applying following the drip line as a circular application.

Mix the granules with the topsoil & water deeply.
Liquid Formation
Prepare the liquid by mixing the exact dose of fertilizer with water.

Follow the product label & soil drench or spray over your Irises.
Spike & Capsule Formation
Take spikes or capsules according to the direction & push them against the soil. In-ground Irises require spikes or capsules in the drip line and for pots, place them near the edges.

Water entirely.
How To Increase Iris Blooms?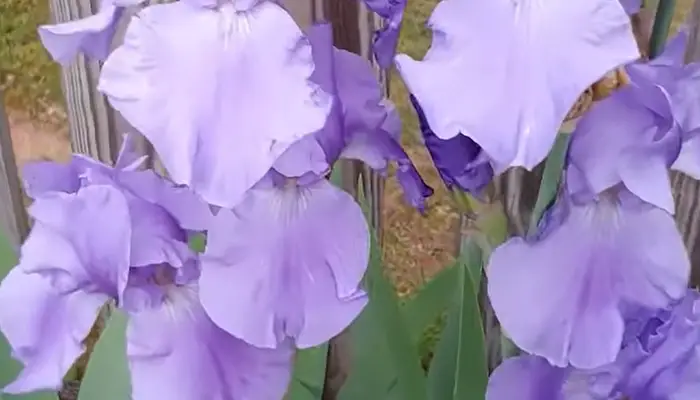 There is no way that one can bypass the divine harmonies of Irises. Probably that's why gardeners try to encourage Irises to bloom more. Howbeit, to get bumper blooming, play safe with the following issues-
Sunlight
Iris requires direct sunlight to bloom to its fullest. And the sunlight duration is almost half of the day regularly. So, check if your Irises are getting enough sunlight or not.
Water
Watering has a direct impact on blooming & it might be confusing but, different varieties of Iris share divergent watering requirements. For example- Reticulated Iris varieties like Natascha, Lady Beatrix Stanley, Gordon, George & such others need water once a week.
On the other hand, German or Bearded Iris requires water only when the topsoil starts turning dry. Interestingly, Southern Blue Flag Iris or Iris Virginica requires continuous moist soil for abundant blooming.
Fertilizer
During the growing season, Irises require a proper amount of feed to start blooming. That's why choose an ideal fertilizer for your Iris Bulbs that is not too high in Nitrogen but carries a decent amount of Phosphorus & Potassium. Additionally, other macro & micronutrients should be present too.
Dividing Rhizomes
German Iris, Japanese Iris, Louisiana Iris, Siberian Iris, Yellow Flag Iris, and some other Iris varieties are grown from rhizomes & require dividing the rhizomes every three or four years for perfect blooming.
These are the primary factors that you might want to check first. But don't forget to prevent pest attacks too.
How To Care For Irish Plants?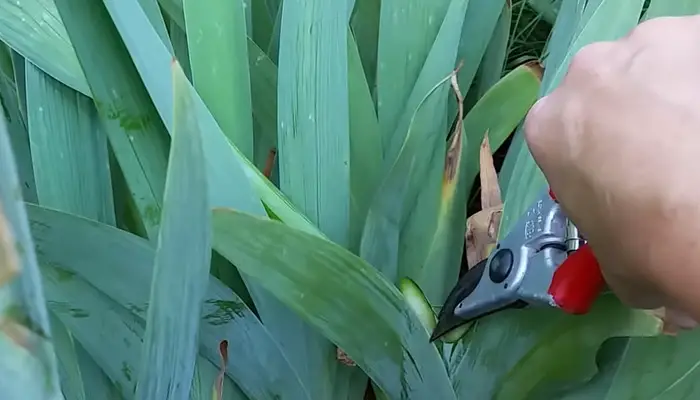 If you ever ask a successful Iris grower for caring tips, you will get the following bits of advice for sure-
Make sure your Irises are getting at least 6-8 hours of direct sunlight daily.

Fertilize your Irises with a phosphorus-rich fertilizer during the early spring.

Do not overwater your Irises or rhizomes will end up rotting.

Keep the rhizome exposed to the sun but cover it with mulch during winter.

Do not mulch too much during sunny days.

Once the blooming period is over, cut down the flowering stalks at their bases.

Deadhead the faded flowers.

Remove seeds or capsules of the Irises.

After a heavy frost, prune the foliage to about 6 inches.

Use proper pesticides to prevent pests like Iris borers.

Divide rhizome every 3  to 4 years in late summer.

Ensure accurate spacing between two Iris plants. Apparently,

Bearded Irises require more space than Dwarf Irish plants.
Homemade Fertilizer For Irises
Ingredients:
Cowdung Powder

Milk

Epsom Salt

Water
Steps:
Take 1 Liter chlorine-free water in a bucket & add 200g cow dung powder into the water. Mix it with a stick & keep it covered for seven days for the fermentation process.

7 days later, filter the mixture and that's your compost tea. After that, dilute it by mixing 200 ml of compost tea with 1 liter of clean water.

Take a bucket & pour 1-liter clean water into it.

Mix 200 ml milk, 1 teaspoon Epsom salt & 1 liter of compost tea with the water & there you go.
Note: It is a magical liquid formula only for the foliar spray to your Iris Plants. All the ingredients supply both macro & micronutrients like N, P, K, Ca, Mg, S, etc for your Iris plants.
Frequently Asked Questions
Is Bone Meal Good For Irises?
As an organic source, bone meal is good in proper doses. It supplies P, Ca, K, Na, Mg & some other elements that Irises require heavily. But an overdose may make the soil alkaline & ends up making an unfavorable condition for blooming.
Is Miracle Grow Good For Iris?
Miracle-Gro performance organic blooms Plant nutrition Granules are very effective for Irises. This plant food offers 5% N, 7% P, 10% K & 3 other macronutrients. The most interesting part is, you will start noticing the positive effect of this plant food within a week.
Is Epsom Salt Good For Irises?
Irises grow vigorously with a shiny leaf color if Epsom salt is applied once every month. It supplies Mg & S to the soil. Mg greatly improves Iris's ability for blooming while S helps in related enzyme activity & chlorophyll formation.
Are Coffee Grounds Good For Irises?
Coffee grounds supply 2% N, 0.06% P, & 0.6% K. They also contain some other micronutrients. As coffee grounds are high N containers, you should be aware of the exact doses. Moreover, it acidifies the soil which is good for your Irises.
Final Words
Throughout my entire research, I have gone through my list several times & compressed it as far as possible. Ultimately, these eight items are the best fertilizers for your Irises that I couldn't ignore.
Moreover, I have added a necessary description of all the products to help you with a logical & effective purchase. So, pick one that matches your Irises the best & start feeding them.
I wish you a bright summer ahead with blooming Irises. Keep in touch & let me know the results. Happy Gardening.