Have you ever thought about why Mandevilla is so popular among flower lovers? It is because you can see those alluring flowers almost every day during the blooming period.
But the backstage story is not that much alluring. Perfect blooms need perfect fertilizers.
Searching for the best Fertilizer for your Mandevilla is not a piece of old tackie.
Along with proper nitrogen & potassium percentage, the ideal fertilizer for Mandevilla will contain a higher amount of phosphorus & other macro & micronutrients. Although, a balanced NPK fertilizer can also be effective for Mandevilla blooms.
Keeping all this in mind, I have enlisted the 7 most perfect fertilizers for your Mandevilla or Dipladenia, or Rocktrumpet.
Why don't you give it a look? Let's get going-
Top 7 Fertilizer For Mandevilla – Comparisons
| Fertilizer | NPK | Form | Type | Price |
| --- | --- | --- | --- | --- |
| Dr. Earth Flower Girl Fertilizer | 3-9-4 | Granular | Organic | |
| Jobe's Fertilizer Spikes | 8-9-12 | Spike | Synthetic | |
| Bayer Advanced Flower Care Granules | 6-9-6 | Granular | Synthetic | |
| Miracle-Gro Flower Food | 15-30-15 | Granular | Synthetic | |
| Espoma Flower-Tone Plant Food | 3-4-5 | Granular  | Organic | |
| Nelson Flowering Vines Food | 17-7-10 | Granular | Synthetic | |
| J R Peters Blossom Booster Fertilizer | 10-30-20 | Granular  | Synthetic | |
Top 7 Fertilizer For Mandevilla- Reviews
1. Dr. Earth Flower Girl Fertilizer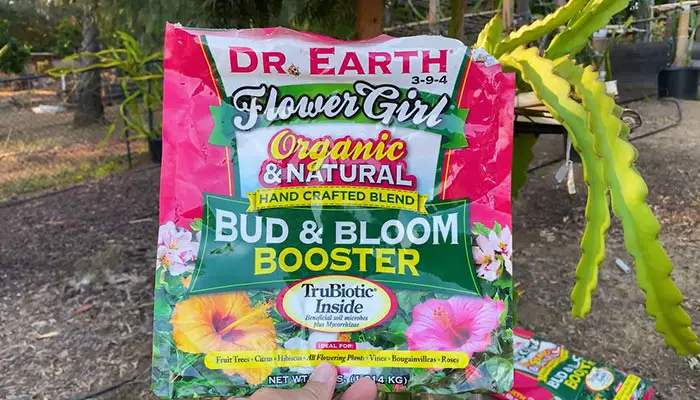 Dr. Earth Flower Girl fertilizer is a widely used bloom booster. This OMRI-listed fertilizer has plenty of specialties to be the best organic fertilizer for Mandevilla
Nutrient Composition
Preserving 100% organic nature, Dr. Earth has derived the nutrients from Fishbone meal, Bone meal, Alfalfa meal, Potassium sulfate, Feather meal, Kelp meal & Kelp flour.
These sources supply primary macronutrients (Nitrogen, Phosphorus & Potassium that are required in higher quantities). The NPK ratio of this fertilizer is 3-9-4. That means it includes 3% Nitrogen, 9% Phosphorus & 4% Potassium.
Do you know the best part? Along with high phosphorus content, all 3% of its Nitrogen is water-insoluble. It ensures a slow release & continuous supply of nitrogen for the proper growth of Mandevilla.
Though the company hasn't declared the presence of other nutrients, I have researched a bit. Guess what? The sources also supply Calcium, Magnesium, Sulfur, Manganese, Copper, Iron & Zinc.
So about nutrients, Dr. Earth has got you covered.
Now let's see what else the flower girl has-
Special Features
You know; beneficial microbes like bacteria & fungus improve the fertility of your garden soil by decomposing organic matter.
The good news is the bloom booster carries "Trubiotic". It is a blend of beneficial soil microbes (Bacillus bacteria & Mycorrhizal Fungi) that takes care of your garden soil.
The organic sources also supply vitamins & growth hormones for your Mandevilla. Quite interesting, right?
And remarkably it contains 6% Humic acid that helps Mandevilla to tolerate droughts & uptake nutrients properly.
Applying Procedure
For established inground climbing Mandevilla, 2 cups for every inch of trunk diameter is the exact dose. Sprinkle the booster evenly following the dripline & before thorough watering, work into the soil a little bit.
To fertilize established potted Mandevilla, use 4 tablespoons for a 12″ pot & apply again after every 2 months.
And lastly, don't forget to check the packet label for a more detailed applying method.
2. Jobe's Hanging Baskets and Potted Plants Fertilizer Spikes
Mounding Mandevillas are best for pots & hanging baskets. Jobe's Organics has manufactured this amazing fertilizer formula for especially hanging baskets or potted plants.
So, If you are looking for the ideal fertilizer for potted or hanging plants, then give it a shot.
Nutrient Composition
The nutrients are derived from inorganic sources like Ammonium sulfate, Ammonium phosphate, Potassium sulfate, Potassium nitrate & Chlorine. Therefore it is an inorganic fertilizer.
But wait- don't just bypass it because of its inorganic nature. I am recommending this fertilizer for some reason. Hear me out first-
The spikes maintain an NPK ratio of 8-9-12. Don't get confused with the higher percentage of Nitrogen & Potassium. Hanging potted plants require more nutrients than in-ground plants due to less amount of soil.
Want to know the best part? It is a slow-release fertilizer. The spikes carry 6% Nitrogen, 6.6% phosphorus & 8.4% potassium that are occluded for slow-releasing. So, a continuous supply for your Mandevilla is guaranteed. And that makes it the best slow-releasing fertilizer for Mandevilla.
Moreover, the spikes supply Nitrogen in 2 different forms- Nitrate & Ammonium. Like all other plants, Mandevilla can uptake both of these forms of nitrogen. It ensures 100% optimization of available nitrogen. Not bad, huh?
Special Features
Spike fertilizer itself is a special feature. Its premeasured formula lessens the guesswork & makes fertilizing easier.
The key feature of these spikes is "Jobe's BIOZOME". It is a special blend of beneficial bacteria, Mycorrhizal fungi, and Archaea which improves the soil quality of your Mandevilla.
Spikes supply nutrients directly to the root zone which makes nutrient uptake easier for Mandevilla. And finally, Jobe's Organics guarantees no runoff because of its spike formation.
 Applying Procedure
Push 1 spike at the edges of your 8 inches diameter pot or 2 spikes per square foot of your Mandevilla flower bed. After that, water thoroughly & repeat it after 2 months.
3. Bayer Advanced All in One Rose and Flower Care Granules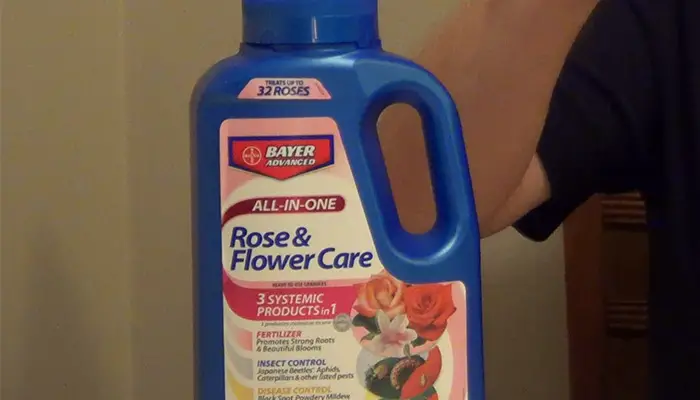 If you are looking for one particular product that will take care of your Mandevilla entirely then hang on. Bio advanced All-in-one Rose & Flower Care is what you're seeking.
Along with fertilizing, it is also effective in insect & disease control. So the bottom line is, it is a jam that you can't resist.
Nutrient Composition
Well, like the Jobe's spikes, It is an inorganic fertilizer too. All the nutrients are obtained from safe inorganic sources like Ammonium Sulfate, Ammonium Phosphate & Muriate of Potash.
With the NPK ratio of 6-9-6, it guarantees strong roots, shoots & blooms. But wait, I urge you to apply the fertilizer precisely. As all of its nitrogen content is a combination of Urea & Ammonium Nitrate, an overdose may cause fertilizer burn.
It also contains 2% sulfur to support Mandevilla with certain enzyme activity & many more.
Special Features
You already know the specialty. Yeah, Its three-way protection is the key feature.
This Flower care carries 1.06% Tebuconazole. Tebuconazole is a systemic fungicide that effectively protects your Mandevilla from fungal diseases like Anthracnose, Leaf spot, Fusarium rot, etc. Moreover, Tebuconazole is best known for its both curative & preventive capabilities. Quite a great deal, right?
Mealybugs, scale insects, whiteflies, aphids, etc are the common insects of Mandevilla. The fertilizer contains systemic insecticides named Imidacloprid (0.11%) & Clothianidin (0.05%) to protect your tree from these insects.
Applying Procedure
Sprinkle the granules evenly around the base of your Mandevilla. The exact dose is 1/2 capful per foot of plant height.
Repeat the fertilizing after every 6 weeks & every time after fertilizing, gently work into the soil & water thoroughly.
4. Miracle-Gro Water-Soluble Bloom Booster Flower Food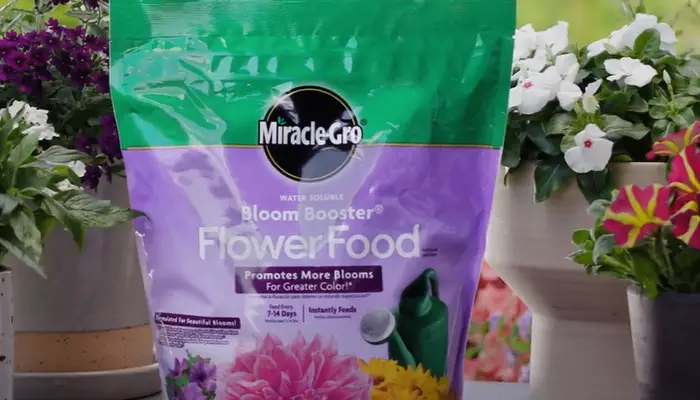 Miracle-Gro-  a very popular name to gardeners. Its miraculous formulas have brought smiles to many of them.
Well, Miracle-Gro Water Soluble Bloom Booster is a widely used fertilizer. Its deep-dyed Nutrient configuration makes it the best water-soluble fertilizer for Mandevilla.
Nutrient Composition
This bloom booster is also inorganic. Nutrients are derived from safe & non-toxic inorganic sources like urea Phosphate, Copper Sulfate, Iron EDTA, etc.
It contains both water soluble macronutrients- Nitrogen (15%), Phosphorus (30%) & Potassium (15%) & micronutrients- Boron (0.02%), Copper (0.07%), Iron (0.15%), Manganese (0.05%), Molybdenum (0.0005%) & Zinc (0.06%). Water solubility of the nutrients open instant uptake facility for your Mandevilla.
Special Features
The nutrient compositions seem pretty enriched, right? Let me show you some more interesting facts-
The high percentage of phosphorus tells you, "Hi there, I am a bloom booster. I am here to glow your Garden".
It also contains both ammoniacal nitrogen (5.8%) & Urea Nitrogen (9.2%). Ammonical Nitrogen ensures fast Nitrogen availability for Mandevilla. Good news for the leaves.
Another good thing is, both Iron & Manganese are present in chelated form. That means they are coupled with an organic chemical called "Chelate". It helps them to remain in available form so that your Mandevilla can uptake.
Applying Procedure
For inground Mandevilla, make the solution by mixing 1½ tablespoons per 1½ gallons of water. Spray the solution around the base evenly.
Being a water-soluble fertilizer, it gets uptaken quickly. That is why you have to fertilize more frequently every two weeks.
5. Espoma Flower-Tone Plant Food, Natural & Organic Fertilizer for Abundant Blooms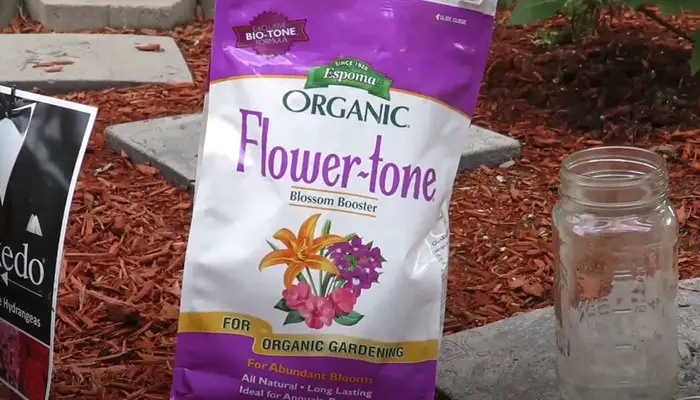 This time I have come up with an organic one. But tell me first-are you looking for the best natural fertilizer for Mandevilla? If so, check this out. This can be your pick.
Nutrient Composition
Espoma flower tone is a natural & organic fertilizer. All the nutrients are derived from organic sources like feather meal, bone meal, Alfalfa meal, Greensand, Sulphate of Potash & Sulphate of Potash Magnesia.
The fertilizer maintains an NPK ratio of 3-4-5. It also contains secondary macronutrients & micronutrients including Calcium (5%), Magnesium (0.5%) & Sulfur (1%).
Well, the specialty of this composition is, it contains 2.2% water-insoluble nitrogen, 0.6% water-soluble nitrogen & 0.2% Ammoniacal Nitrogen. So apparently it provides both slow-release nitrogen & instant nitrogen for your Mandevilla.
Special Features
Do you know what flourishes this fertilizer? That is Espoma's exclusive "Bio Tone" formula which is icing on the cake! Bio tone is a special blend of colony-forming beneficial microbes. They improve soil quality, increase root mass & make your Mandevilla healthy.
Applying Procedure
For your established inground Mandevilla, sprinkle 1/4 cups of flower tone around the plant & then water thoroughly. Feed your Mandevilla monthly during the growing season.
6. Nelson Bougainvillea & All Flowering Vines Food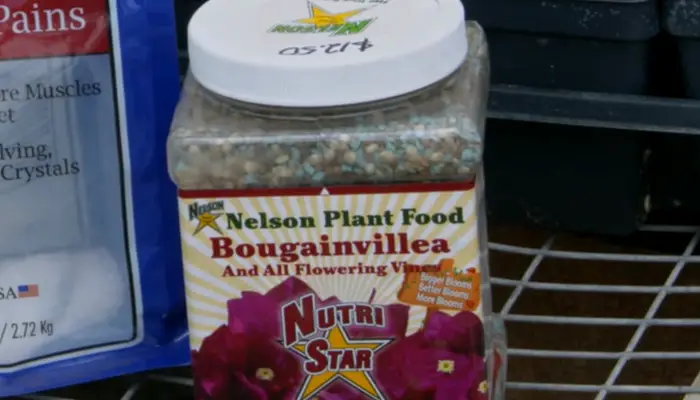 Nelson Plant Food's products are trusted because of their deep research. The specialty is they design fertilizers targeting the particular type of plants. As it is vine food, you might want to take a look.
Nutrient Composition
This plant food contains both Macronutrients- Nitrogen (17%), phosphorus (7%), Potassium (10%), Magnesium (0.80%), Sulfur (9%) & Micronutrients- Copper (0.05%), Iron (2%), Manganese (0.15%), Zinc (0.20%).
The nutrients are derived from safe & non-toxic inorganic sources like urea form, Mono-Ammonium Phosphate, Zinc Sulfate, Potassium Sulphate, etc.
The good news is It contains both fast-releasing & slow-releasing nitrogen. Thus adequate & continuous nitrogen supply ensures gradual strengthening  & increase of Mandevilla vines.
Special Features
As you know, Nelson Nutristar products are formulated based on proper research. They have come up with the exact formula that your Mandevilla thrives.
Want to know the best part? Well, it contains Epsom Salt. We all know the effect of Epsom salt on blooming, right? Along with ensuring plenty of blooming, it also increases nutrient uptake of Mandevilla.
Applying Procedure
To feed your inground established Mandevilla, sprinkle ½ cup of the fertilizer evenly over 10 square feet of surface area around the plant. And after that, don't forget to water thoroughly.
7. J R Peters Blossom Booster Fertilizer
Here is another bloom booster for you. Its easy application method & prominent nutrient composition will make you think twice.
Nutrient Composition
J R Peters has relied on inorganic sources to produce this blossom booster. But there's nothing to worry about as all of them are completely safe for you Mandevilla. For example- Mono-Ammonium phosphate, Potassium Sulfate, Calcium Carbonate, etc.
They have included both macro & micronutrients in the formula.
The NPK ratio is 10-30-20. Apart from this, it also contains Magnesium (0.50%), Boron (0.02%), Copper (0.05%). Iron (0.10%), Manganese (0.05%), Molybdenum (0.009%), Zinc (0.05%).
Interestingly, most of the micronutrients are in chelated form. Which means they are combined with an organic chemical to get uptaken easily.
Special Features
This blossom booster is specially designed for frequent blooming & bright colors to your garden. I mean, look at the nutrients present in it!! It contains almost all the nutrients required to bloom supremely.
This giant configuration of nutrients is enough to mark it as the best liquid fertilizer for your Mandevilla.
Applying Procedure
You know, water-soluble nutrients are easy to uptake for plants. That's why you have to apply frequently after every 7-14 days.
The Applying dose for inground established Mandevilla is ½ teaspoon per gallon of water.
When to Fertilize Mandevilla?
The growing & blooming period of Mandevilla is late spring to Autumn. They came up with new growths at the start of summer. And that is the best time for feeding Mandevilla or  Rock Trumpet because they need proper nutrients for growing & blooming.
 Word to the wise- continue fertilizing during the entire growing period for plenty of blooms.
 How to Use the Fertilizer on Mandevilla?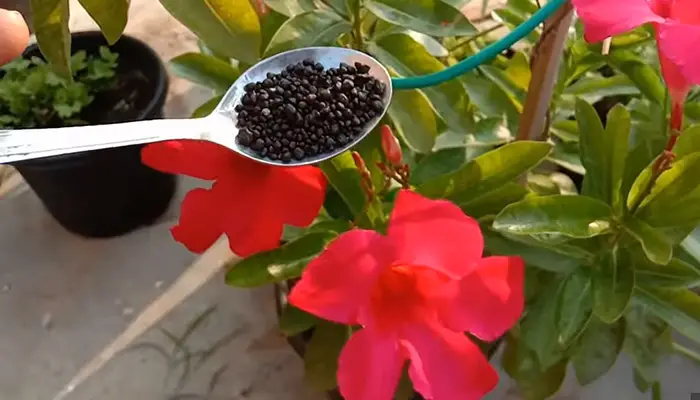 You know that there are three types of fertilizer to use on your Mandevilla. Granular, Spike, or Liquid/Water Soluble fertilizer.
Each of them has different procedures to apply. Follow me step by step-
Step 1: Measure accurate dose
calculate accurate dose(written on packet label) considering your medium whether it can be ground or container & the age of the plant. For liquid/water-soluble fertilizer, you have to dilute it with the appropriate amount of water.
 Step 2: Apply fertilizer properly
Granular Fertilizer
Sprinkle evenly around the Mandevilla maintaining a prescribed distance from the stem. After that, work into the soil gently & water thoroughly.
Liquid or Water-soluble fertilizer
Simply pour the pre-made solution at the base of the Mandevilla. Don't forget to check whether it has a recommendation for foliar spraying or not!
Spike fertilizer
Push the exact dose of the spike into the plant soil for about 2 inches & water thoroughly.
 

How to Care for the Mandevilla Plant?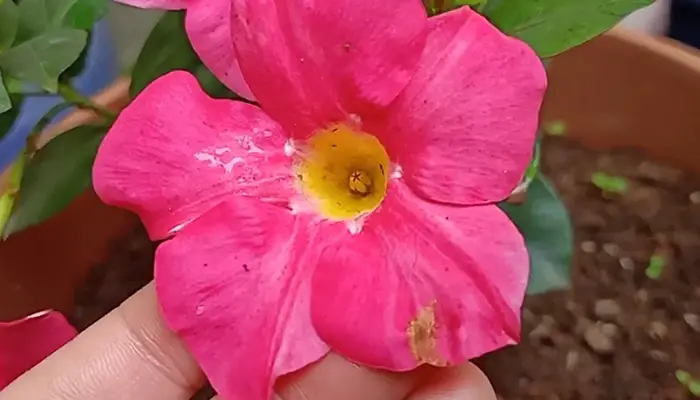 The best part of Mandevilla is once your plant starts blooming, you will never see it without flowers until winter. But the question is how do I get my Mandevilla to bloom?
The answer is with proper care and a little bit of luck. Your Mandevilla will keep blooming as long as you take care of the following facts-
Maintain a well-drained & bit of sandy soil.

Mandevilla likes moist soil. Water thoroughly once a week.

If possible, arrange 6 hours of direct sunlight for your Mandevilla daily. It loves full sun to partial shade.

Fertilize your Mandevilla during the growing season & throughout the blooming period as needed.

Provide support for the vine to grow

Pince the brunch head for more blooms & a bushy appearance.

Protect your Mandevilla from insects and pests by foliar spraying with organic neem oil. And lastly,

During too cold a temperature, keep it indoors if possible.
Maintain these issues properly and get tons of Mandevilla blossoms.
Frequently Asked Questions
#Is bone meal good for Mandevilla?
Yes. If you search for it, you will see almost all the branded organic fertilizers or bloom boosters add bone meal to their formula. It is because bonemeal supplies phosphorus which helps your Mandevilla to bloom plentifully.
#Are coffee grounds good for Mandevilla?
Why not? Coffee grounds supply Nitrogen, Potassium, Phosphorus,  Magnesium, and Copper. And the best part? It releases the nutrients slowly. Your Mandevilla will love to have some coffee grounds. But over-fertilizing with coffee grounds may induce fungus attack. So, keep it behind the line.
#Is Epsom salt good for the Mandevilla plant?
Well, it will not directly help your Mandevilla to bloom but it enhances uptake of nutrients like Nitrogen, phosphorus, etc. Moreover, it supplies Magnesium & Sulfur to the soil. And thus combinedly Epsom salt helps in the blooming of your Mandevilla.
#How much Epsom salt is for Mandevilla?
For your Mandevilla, mix 6-8 grams of Epsom salt with 1 liter of water & gently spray over the foliage.
Or take 1 tablespoon of it & sprinkle over the soil. But don't forget to water thoroughly. In both cases, you can apply twice a month.
Conclusion
For flower lovers, Mandevilla is an absolute choice. It makes your indoor or garden glow nearly 8 months of the year.
To appreciate this elegant beauty, little care is not much to ask, right? After thorough research, I've gathered these 7 best fertilizers for your Mandevilla. Along with proper growth, they are specially manufactured for plenty of blooms.
I hope you get the right one & help them to glow. 
Happy gardening.