"Rosemary doesn't need fertilizer"- growers often get misguided by this amateur saying. Whoever started this probably had amazingly enriched soil but, that is not the same case for every gardener.
I admit that Rosemary has fewer fertilizer requirements than many other herbs. But, they do need proper fertilization for a minimum two-year lifespan. And if you don't know what the best fertilizer for Rosemary plants is, you can end up destroying the rosemary oil quality due to inappropriate fertilization.
Fertilizer that has relatively higher N than P & K, contains slightly acidifying agents like S, supplies both macro & micronutrients with a combination of instant & controlled-release feeding is perfect for Rosemary.
Good news, in this article, I have listed the 6 best fertilizers for your Rosemary. I believe, before any purchase, you must familiarize yourself with the following products.
Top 6 Fertilizer For Rosemary- Comparisons
| Fertilizer | NPK | Form | Type | Price |
| --- | --- | --- | --- | --- |
| Jobe's Organics Herb Plant Food | 4-3-3 | Granular | Organic | |
| Espoma Garden-Tone | 3-4-4 | Granular | Organic | |
| Miracle-Gro Herbs Plant Food | 18-18-21 | Granular | Synthetic | |
| Jobe's Organics Herb Fertilizer | 4-3-3 | Spike | Organic | |
| Dr. Earth Vegetable & Herb Fertilizer | 4-6-3 | Granular | Organic | |
| Earthpods Garden Herbs Plant Food | 2.3-0.2-1.2 | Capsule | Organic | |
Top 6 Fertilizer For Rosemary- Reviews
1. Jobe's Organics Herb Plant Food
Benenden Blue, Flora Rosa, Tuscan Blue or Blue Rosemary, Majorca Pink, Arp, Albiflorus, Huntington Carpet- no matter what variety you grow, Jobe's Organics always snatch out the best result. This herb plant food ranks on my list for several issues. Let's explore-
Nutrient Composition
Jobe's organic has trusted four natural compounds (bone meal, feather meal, processed poultry manure & sulfate of potash) for the classic blend. And the sources supply N (4%), P (3%), K (3%), Ca (8%), Mg (0.5%) & S (1.4%).
While moving forward, you should know that the nutrients that I mentioned earlier were the official guaranteed analysis. But my research shows that the sources also supply micronutrients like Na, Mn, Cu, Zn, Cl, B, Fe & Mo.
Nutrient Analysis
Rosemary is typically grown in containers. They need a comparatively higher nitrogen content during growing & after harvesting. The NPK ratio (4-3-3) of the fertilizer seems quite okay with this.
Moreover, the fertilizer carries both water-soluble (1.2%) & Water-Insoluble (2.8%) Nitrogen for both instant & long-term feeding for up to 6 weeks. Plus, you can see a high amount of calcium present in the fertilizer.
Interestingly, Rosemary is a native to the Mediterranean region, which is naturally high in Ca. So the fertilizer will create a home environment for your Rosemary. Furthermore, this plant food also provides 1.4% S to keep the soil slightly acidic for Rosemary.
Exclusive Highlights
Jobe's products take care of both the plant & soil of your garden. How? Well, it contains BIOZOME- a mixture of colony formic soil inoculants (archaea, bacteria, endo mycorrhizae) to keep the soil organically rich, well-drained & fertile.
Applying Methods
First of all, draw the dripline & measure its diameter. After that, apply one & a half cups per foot following the dripline. If the drip line is bigger than the container, apply fertilizer maintaining the edges & water thoroughly.
2. Espoma Garden-Tone Fertilizer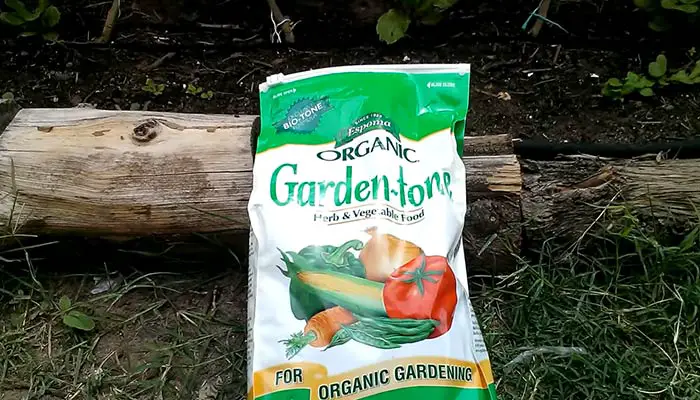 At first, the fertilizer name sounded interesting to me. I was thinking why is it called Garden-tone? Later, I found out that the fertilizer is applicable for nearly 40 herbs & vegetables of our garden including, Rosemary, Tomato, Basil, Lettuce, Peppers, etc.
Nutrient Composition
The fertilizer is a blend of 7 natural compounds, such as feather meal, bone meal, poultry manure, alfalfa meal, greensand, sulfate of potash & sulfate of potash magnesia.
And according to the product label, it supplies 3% N, 4% P, 4% K, 5% Ca, 1% Mg & 2% S.
Nutrient Analysis
The fertilizer supplies both NH4+ & NO3- from two sources for optimum Nitrogen uptake by Rosemary. Plus, it contains 2.2% slow-release Nitrogen to take care of the plant throughout the growing season.
Furthermore, it has 0.3% slow-release magnesium so that chlorophyll production does not get interrupted for up to 4 weeks.
Exclusive Highlights
Exclusive BioTone formula is the key feature of this fertilizer. It is a mixture of 60,00,000 colony-forming units of beneficial soil microbes. This unique blend aids in the breakdown of organic matter & makes the soil well-drained & nutritious.
Furthermore, the fertilizer also provides 1% humic acid to the soil to increase soil fertility, nutrient uptake, drought tolerance & many more.
Applying Methods
Sprinkle 1.5 tablespoons of the granule around an 8″ diameter pot. After that, water entirely.
3. Miracle-Gro Water Soluble Plant Food Vegetables & Herbs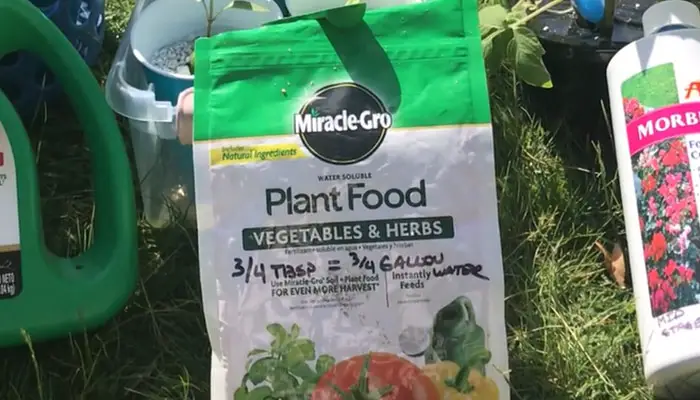 Whenever you make a list of the best plant foods, Miracle-Gro is hard to ignore. Its premium quality fertilizers are worth trying. Otherwise, it wouldn't be so well accepted. Thereby, if you are looking for the best water-soluble fertilizer for your Rosemary, then check this out.
Nutrient Composition
The company has manufactured this fertilizer to supply 10 essential nutrients from diverse safe & eco-friendly inorganic sources. It contains both macronutrients (18% N, 18% P, 21% K, 0.50% Mg) & micronutrients (0.02% B, 0.05% Cu, 0.10% Fe, 0.05% Mn, 0.0005% Mo & 0.05% Zn) to feed your Rosemary.
Nutrient Analysis
The nutrient composition is definitely enriched with the most required nutrients of Rosemary. It supplies N from 4 sources for consistent & optimum uptake. Plus, it contains chelated Fe, Mn & Zn for the continuous availability of these nutrients & to prevent hated soil reactions.
Exclusive Highlights
Along with Rosemary, it's excellent for squashes, tomatoes, cucumber, peppers, carrots, basil, and other herbs and vegetables. Additionally, the fertilizer adds some natural ingredients which take care of the soil. But unfortunately, the company has not revealed the names.
However, the plant food feeds your Rosemary instantly as it is a water-soluble fertilizer. And that's why you may have to apply again in 14 days.
Applying Methods
Mix 1.5 tablespoons of the granules with 1.5 gallons of water & soak the soil near the base of the herb. 1.5 gallons of the mixture can cover nearly 15 square feet of area.
4. Jobe's Organics Herb Fertilizer Spikes
Jobe's Organics hits again. But this time, I have come up with the spike fertilizer. Let's see if we can call it the perfect spike fertilizer for Rosemary-
Nutrient Composition
The company only has mentioned the presence of 4% N, 3% P & 3% K from feather meal, bone meal & sulfate of potash. But my research says it also supplies other nutrients like Ca, S, etc.
Nutrient Analysis
Each spike of this fertilizer is odorless & pre-measured. Therefore, you can use it indoors also. Anyway, the NPK ratio is similar to the previous Jobe's product & every spike contains 2.4% water-insoluble nitrogen for a controlled-release feeding process.
Exclusive Highlights
Each spike is embedded with Jobe's BIOZOME. It is a fusion of colony-forming microbes, such as archaea, bacteria & endo mycorrhizae to keep the soil enriched & balanced for Rosemary. Moreover, it breaks down soil minerals & encourages strong root growth.
Applying Methods
For an 8″ diameter container, place 6 spikes around the edges & water entirely.
5. Dr. Earth Organic Tomato Vegetable & Herb Fertilizer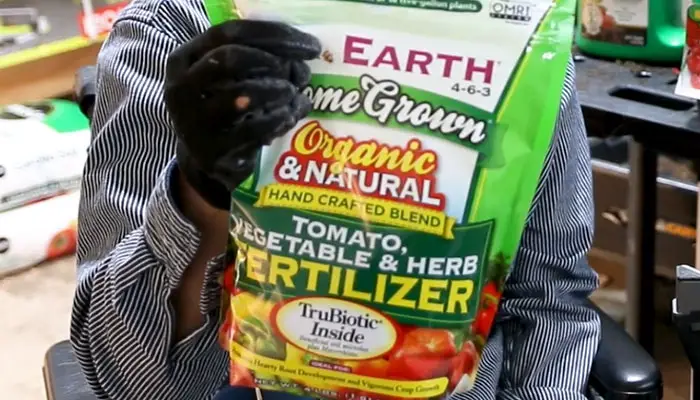 If you are looking for the ideal organic fertilizer for your Rosemary, probably this fertilizer is the best that I can suggest. There are many reasons for that. First of all, the product belongs to Dr. Earth- a famous company worldwide for its well-researched innovative products. Follow me to explore the rest-
Nutrient Composition
The fertilizer is OMRI listed for organic use as it is a handcrafted blend of natural compounds like fish bone meal, bone meal, feather meal, alfalfa meal, kelp flour, etc. And all the sources jointly supply 4% N, 6% P, 3% K & 7.5% Ca.
Nutrient Analysis
The first thing that catches our attention is the higher amount of phosphorus compared to N & K. Well, don't forget that, along with culinary seasoning properties, Rosemary is a flowering plant too. But that's not the only way to explain it.
Surprisingly, all 4% nitrogen of this fertilizer is water-insoluble for slow release. So, your Rosemary will get instant P but the fertilizer would keep feeding N throughout the growing season.
Exclusive Highlights
The fertilizer bears a mixture of beneficial soil bacteria & Mycorrhizae called TruBiotic. It keeps the soil nourished & makes it an outstanding medium for Rosemary.
Moreover, it contains 6% humic acid for increasing the coil microbial activity & stimulating root growth.
Applying Methods
Sprinkle 4 tablespoons of granules over 5 gallons of potting medium. Slightly rake the soil & then water deeply. Apply again after 2 months during the growing season.
6. Earthpods Premium Garden Herbs & Vegetable Plant Food
While I was studying this fertilizer, it was hard to gather information as the company" Earthworm technologies," has not disclosed anything. But people's choice, available information & the company's commitment had forced me to enlist this fertilizer. Let's see what this fertilizer has-
Nutrient Composition
The company confirms that it has used completely organic & natural ingredients which supply 70+ nutrients & minerals to feed your Rosemary.
Interestingly, due to its 100% organic & natural property, experienced growers often refer to it as the best natural fertilizer for Rosemary.
Nutrient Analysis
I don't have much information in hand but it supplies both micro & macronutrients instantly to feed your hungry Rosemary plants. Thus it promotes hearty root and vegetative growth, and stem development.
But most importantly, along with Rosemary, it enhances the taste for all live cooking garden herbs & leafy vegetable plants, such as Basil, Cilantro, Dill, Lavender, Lemongrass, Mint, Parsley, Thyme, Lettuce, Kale, etc.
Exclusive Highlights
This eco-friendly fertilizer comes with a pre-measured capsule form. So, no measuring, no getting dirty. Plus, it has a minimal waste record due to capsule formation.
Furthermore, it contains beneficial root fungi, bacteria & humic acid for optimum root growth, nutrient uptake & soil microbial activity.
Applying Methods
Insert 1-2 Earthpos capsules into the soil for one Rosemary plant. After that, water thoroughly & re-apply in 14-21 days.
When Should or How often Fertilize Rosemary?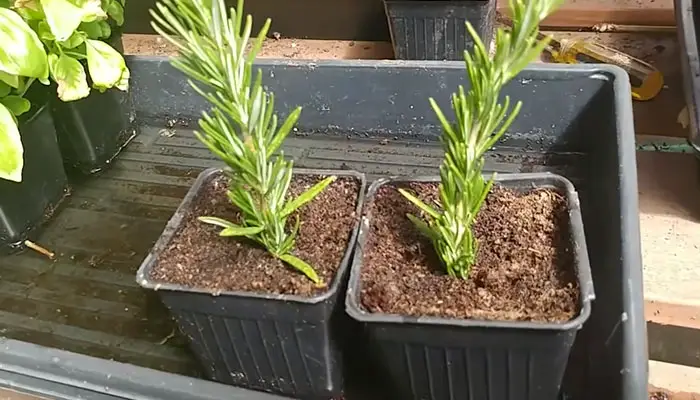 The one-line answer is whenever the soil lacks nutrients. But it is hard to realize what the garden soil is secretly saying to you. And that's why expert gardeners test their garden soil at least once a year.
However, the basic is, you should not miss fertilizing your Rosemary during the following times-
Before the New Growth Begins
Rosemary follows a unique growth strategy. It stays dormant during the frost period, or I should say, Fall & Winter (October to January). But it starts growing actively from early Spring (February to March). During that period, Rosemary requires plenty of nutrients for outstanding growth & abundant blooming.
After the Harvest
Rosemary flowers during summer and it is best to harvest before or during the blooming. After harvest, Rosemary needs some nutrients to recover & that's why scientists suggest a light application of fertilizer after harvesting.
Lastly, keep in mind that, during the dormant period, avoid fertilizing Rosemary unless there is a shortage. Otherwise, you may damage the quality of the essential oil due to over-fertilization.
How To Fertilize Rosemary?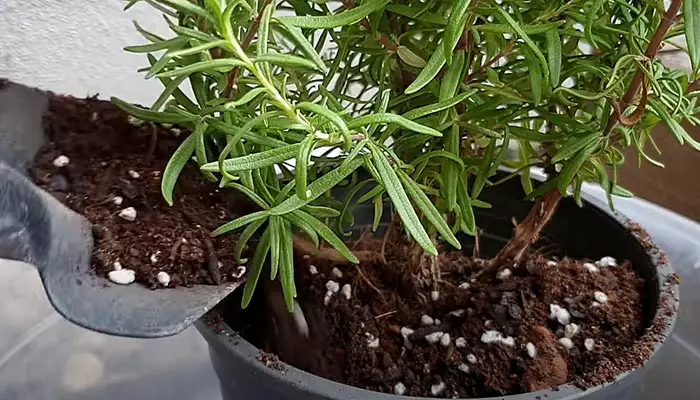 It depends on what kind of fertilizer you are using for your Rosemary.
Generally, you will find three types of Fertilizers on the market.
Granular

Liquid

Spikes or Capsules
Granular fertilizers
First of all, draw the drip line & measure the diameter.

Measure the exact amount of granules following the direction.

Sprinkle evenly inside the dripline circle or following the drip line only as the product prefers.

For containers, if the drip line is outside of the container, apply the granules following the edges of the pot.

Water thoroughly.
Liquid Fertilizers
Similarly, determine drip line diameter or pot size & take the necessary amount of fertilizer.

Mix the granules with the exact amount of water as directed.

Apply at the base of the plant. Foliar application is not recommended.
Spikes & Capsules
Draw a drip line & measure the drip line diameter or calculate the pot size.

Take the accurate number of spikes or capsules & insert those into the soil following the drip line. For containers, insert them near the pot edges.

Water thoroughly.
How To Care For Rosemary Bush?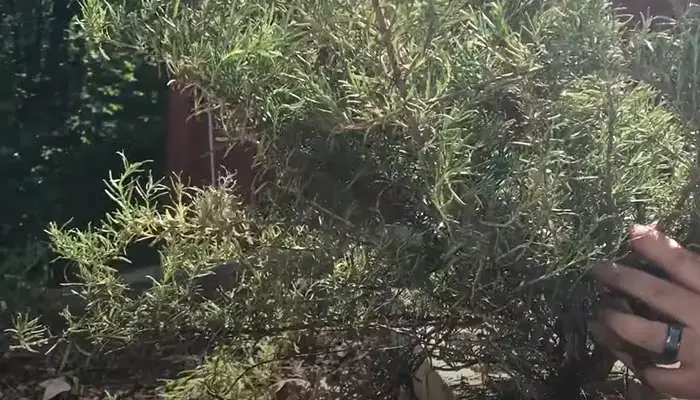 You don't have to be conscious 24/7 but keep checking them regularly. Try to understand what your plants need, meet their requirements & that's all. To make your caring techniques easy, you must know the following issues-
Soil
Rosemary loves well-drained sandy loam soil. On the other hand, it hates waterlogged soil. So keep checking whether the soil is moist or not. Normally, Rosemary lives for up to 2 years. So, choose an optimum size pot so that you don't need to repot after one year.
Sunlight
Rosemary thrives for 6-8 hours of direct sunlight daily. You must ensure that for lushing growth & aroma.
Water
Rosemary requires frequent watering during the growing season. Water your Rosemary whenever the soil dries out.
Fertilizer
Fertilize your Rosemary in early spring before the new growth begins. Pick a fertilizer that is relatively higher N than P & K for vigorous growth.
Insects & Pests
Aphids, Spittlebug, Thrips, Mealybugs, Scale, Root rot, Botrytis blight, Downy mildew, Aerial blight, Bacterial leaf spots, etc are some common insects & diseases of Rosemary. To eliminate them, use pesticides beforehand.
Cultural Operations
Prune your Rosemary frequently to avoid dense foliage. It also makes airflow easier. Additionally, give your Rosemary accurate space to grow freely with abundant airflow.

During winter, bring your Rosemary indoor.
Homemade Fertilizer For Rosemary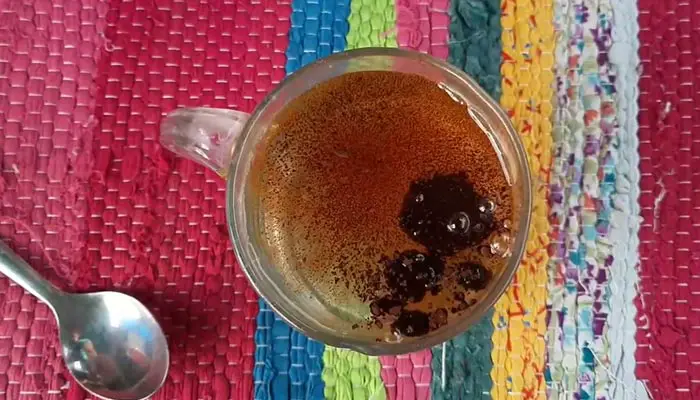 Ingredients:
Brewed Coffee

Vinegar

Water
Procedure:
Add 1 liter of brewed coffee & 1 tablespoon of vinegar into 1 gallon of water. Mix properly and there you go.
Note: This liquid fertilizer would supply nitrogen, potassium, magnesium & such other essential nutrients & make the soil acidic for your Rosemary.
Anyway, to add other essential nutrients, make a granular fertilizer by mixing 1 part dried banana peel, 1 part bone meal, 1 part coffee ground & 1/2 tablespoons of garlic powder.
These two homemade fertilizers will keep your soil nourished & your Rosemary healthy.
Frequently Asked Questions
Are Coffee Grounds Good Fertilizer for Rosemary?
Coffee Grounds are recommended to use for Rosemary in proper doses. It helps in two ways. Firstly, it provides necessary nutrients, such as nitrogen, phosphorus, potassium, calcium, magnesium, boron, copper, etc. And secondly, coffee grounds acidify the soil & make it a better host for Rosemary.
Can I Use Miracle Grow On Rosemary?
Miracle-Gro Water Soluble Plant Food Vegetables & Herbs supplies 10 essential nutrients that Rosemary plants thrive for. Plus, it adds natural ingredients to the soil to make it nutritious. So, you can use Miracle-Gro without any doubt.
Conclusion
Herb growers subconsciously reserve a place for Rosemary in their garden. Its a go to choice for gardeners. You can't ignore any part of Rosemary's attributes . Not the aroma, not the ornamental foliage & definitely not the bloom.
In this article, I have reviewed the 6 best fertilizers for your Rosemary so that the show never stops. So make no mistake, pick the right one & increase the beauty of your garden along with the taste of your food. Happy Gardening.