Can you tell me one vital feature of a Tall Fescue lawn? I am sure that would be a deep green color. And when it comes to the question of uniform greenery, fertilizing is the first thing that comes to mind.
Now, if we talk about fertilizing Tall Fescue, you run into a couple issues. The first one is choosing the right fertilizer & the second is applying it properly.
Well, the good news is, this article comes with the solution to both these problems. Here, you will get well-researched reviews of the 7 best fertilizers for Tall Fescue grass, along with proper application procedure.
Fertilizer that contains a higher amount of nitrogen & potassium than phosphorus with a slow-release mechanism is perfect for established tall fescue lawns. But for fescue seeds or new grass, phosphorus is as important as nitrogen.
So, let's check out the details on some of the best fertilizers I've identified below.
Best Fertilizer For Tall Fescue Grass- Comparisons
| Fertilizer | NPK | Form | Type | Price |
| --- | --- | --- | --- | --- |
| Simple Lawn Solutions Fertilizer | 16-4-8 | Liquid | Organic | |
| The Andersons Complete Fertilizer | 16-4-8 | Granular | Synthetic | |
| Scotts Green Max Lawn Food | 27-0-2 | Granular | Synthetic | |
| Scotts Turf Builder Starter Food For New Grass | 24-25-4 | Granular | Synthetic | |
| The Andersons Organic Fertilizer | 7-1-2 | Granular | Organic | |
| Medina HastaGro Lawn | 12-4-8 | Liquid | Synthetic | |
| Scotts Natural Lawn Food | 11-2-2 | Granular | Organic | |
Best Fertilizer For Tall Fescue Grass- Reviews
1. Simple Lawn Solutions Liquid Fertilizer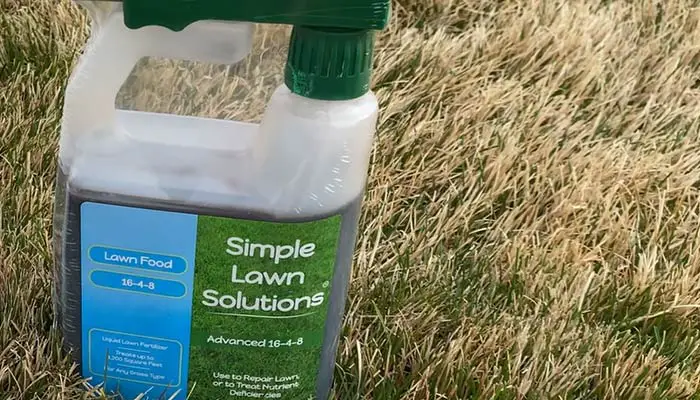 Simple Lawn Solution is a trusted brand in the lawn care arena. They have been serving us for nearly three decades now & have manufactured an advanced lawn solution lineup with 13 premium products. This fertilizer as an excellent example of their work.
Sources & Nutrients
The fertilizer bears high-quality feed-grade ingredients, including organic seaweed & fish emulsion & thus adds 16% N, 4% P & 8% K to your lawn.
Guaranteed Analysis
As you know, Tall Fescue likes fertilizers that are higher in Nitrogen & Potassium than Phosphorus. Therefore, the NPK ratio (16-4-8) is very suitable for Tall Fescues.
With such nutrient composition, this lawn food causes the leaf blades to darken green, strengthen the roots & therefore, make your lawn healthy & catchy.
Striking Properties
Multiple factors triggered me to place the product on top. First of all, the fertilizer is not limited to Tall Fescues only. It will take care of any grass you love, such as Bermuda, St. Augustine, Zoysia(learn more about Zoysia Grass Nutritons), Buffalo, Centipede, Florida Palmetto, Bahia, Fescue, Ryegrass & Kentucky Bluegrass, etc.
Secondly, the lawn food not only increases the grass height but also has effects on both vertical & lateral growth of Tall Fescues. Thus you can get a green, thick lawn of your own.
Thirdly, it magnifies both the quantity & quality of the existing minerals in the soil because of high-quality feed ingredients.
And finally, it is in liquid form with a Ready-To-Spray mechanism. Thus your Tall Fescues can absorb nutrients by both their roots & leaves. Cool, isn't it? Don't you think the fertilizer carries enough to be the best liquid fertilizer for Tall Fescue Grasses?  Well, you are right. It is the perfect one.
Applying Method
It is a Ready-To-Spray Fertilizer. Just plug in the hose & spray evenly onto the surface. But don't forget to water your Lawn within 24 hours of application.
2. The Andersons Professional PGF Complete Fertilizer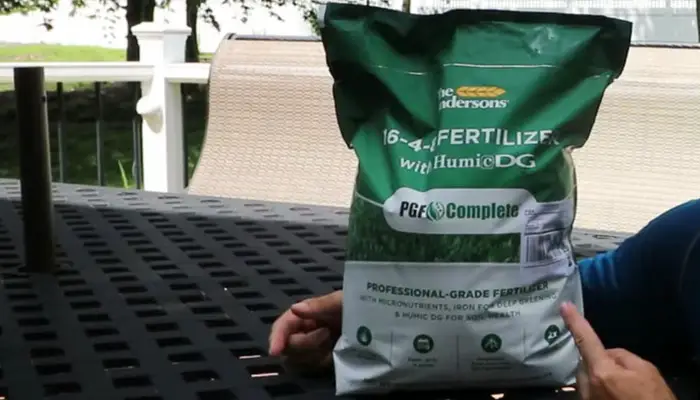 Are you looking for the perfect fertilizer for your Fescue sod? Check out this professional-grade fertilizer. I can't think of a better match than this.
Sources & Nutrients
The Andersons company has added safe inorganic compounds like ammonium phosphate, urea, potassium sulfate, ferric oxide, etc. to blend this fertilizer.
And these compounds supply 16% N, 4% P, 8% K, 2.72% S, 3% Fe, 0.10% Cu, 0.10% Mn & 0.10% Zn. It seems like the company has done its job perfectly to ensure micronutrient availability in the Lawn soil.
Guaranteed Analysis
All the nutrients of this fertilizer are water-soluble except some parts of N. The fertilizer contains 4% slowly available nitrogen to feed your Tall Fescues for up to 8 weeks. With such a quick & long-term feeding mechanism, it is definitely an example of an ideal slow-release fertilizer for Fescue Grass.
Striking Properties
This PGF complete fertilizer contains 7% Humic Acid to make the soil enriched in organic matter & well-drained. Moreover, humic acid increases the soil microbial activity & stress tolerance. Thus this fertilizer takes care of your lawn grasses & the soil of your Fescue sod.
Applying Method
Check out the spreader setting & rate in the product label. Pour the granules into the spreader & then walk at a gentle pace. But make sure the lawn is not wet while spreading.
3. Scotts Green Max Lawn Food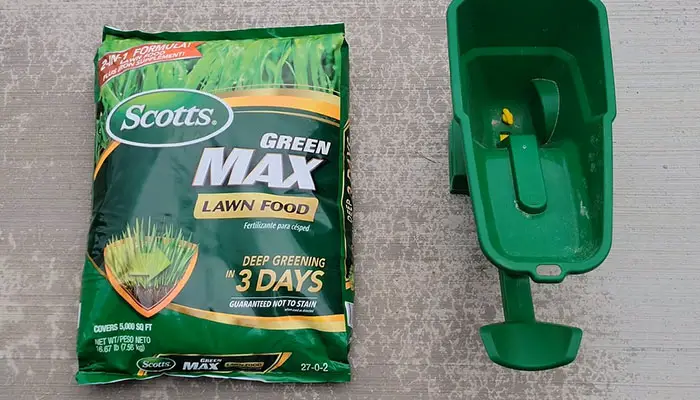 The name exudes confidence by exclaiming that it will ensure maximum greenery on your Lawn. Because it is a Scotts product, there is a great deal of brand trust. But, I am not going to brag about this only because of the brand. Let me tell you why I think this product is 100% trustable & effective for Tall Fescues.
Sources & Nutrients
The company only used five synthetic sources (ammonium nitrate, methylene urea, urea, potassium sulfate & iron sucrate) to form this premium blend. And therefore, the fertilizer supplies 27% N, 2% K, 10% S & 5% Fe.
Guaranteed Analysis
Something you should notice about this product, the fertilizer does not supply any phosphorus. This makes it best for a late winter or fall fertilizer with established tall fescue.
Secondly, the fertilizer contains a high amount of S to feed your grasses & keep the soil pH in range for Tall Fescues.
Striking Properties
The fertilizer is best known for its 2 in 1 formula. So, what is this formula about? Well, you know it is Lawn food. But the company additionally has added an Iron supplement in it. Thus it feeds your Tall Fescues & Iron supplement to ensure instant greening of leaves within 3 days. And keep shining even on hot summer days. Isn't it great?
Applying Method
It is a granular fertilizer. So, set the spreader & spread. Reapply in 6-8 weeks & for more details, check out the label directions.
4. Scotts Turf Builder Starter Food For New Grass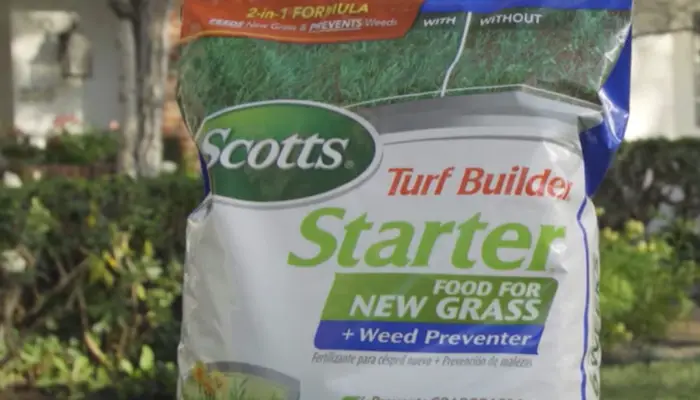 Another Scotts product shows up. And this is the opposite of the previous one. This turf builder fertilizer is best for new Fescue grass seed, over seeding Fescue, or in other words, the best starter fertilizer for Tall Fescue. Let's check out why.
Sources & Nutrients
The fertilizer has derived all its nutrients from safe inorganic sources like methylene urea, urea, potassium chloride & ammonium phosphate. And the nutrients are 24% N, 25% P & 4% K.
Guaranteed Analysis
This is the difference between general lawn food & starter lawn food. Starter lawn fertilizers carry a high amount of phosphorus as seeds, or new grasses or sods need the proper amount of N, P & K to grow vigorously with strong root establishment.
Additionally, the fertilizer contains 6.2% slowly available nitrogen. Thus it can feed both instantly & slowly for a long time.
Striking Properties
The best feature of this fertilizer is, its advanced composition can grow your Tall Fescues 35% quicker & 75% thicker.  Think about it. That is exactly what we want for seeds or new grasses. But don't apply starter fertilizer to the established ones. A common problem would be frequent mowing.
Applying Method
For Scotts drop spreaders, the recommended rate is 6. After applying, water thoroughly.
5. The Andersons Organic Fertilizer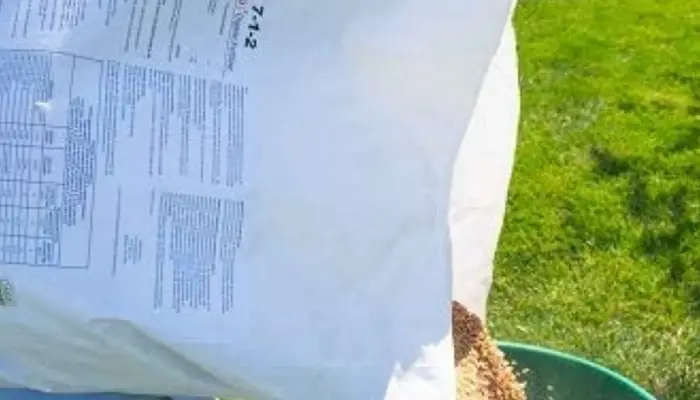 We have talked about an Andersons Product before. Here's another one. For over 70 years, The Andersons company has been manufacturing lawn foods of unmatched quality. Otherwise, I wouldn't have enlisted two of their products. Anyway, let's see what this fertilizer has.
Sources & Nutrients
Andersons Innova organic fertilizer is a plant-derived fertilizer & obtains all of its nutrients from soybean meal. This OMRI-approved fertilizer supplies 7% N, 1% P & 2% K.
Plus, while most organic fertilizer has a bit of an unusual smell due to its sources, this fertilizer does not contain biosolids, manure, composted waste products, or animal parts. Therefore, you won't be experiencing any obnoxious odor.
Guaranteed Analysis
With such a high N content, no doubt it is perfectly suitable for Tall Fescue. Additionally, it contains 6% water-insoluble N. You know, water-insoluble N takes time to get released to the root zone & thus can feed your Fescues for a long time.
Striking Properties
For several reasons, The Andersons Innova Organic Fertilizer is a popular public choice. I can start with its homogeneity. Its low-dust, homogeneous granules won't burn your lawn. Moreover, this fertilizer is composed to excite healthy soils and plants by providing highly absorbable carbon to feed beneficial soil microbes. So, it would take care of both the soil & grasses of your lawn.
And the most important part is, the fertilizer is easy to apply & totally safe to use around kids & pets.
Applying Method
For an Established lawn of Tall Fescue, Apply 3.5 – 11 lbs. per 1,000 sq. ft. after every six weeks during the early fall to late spring.
6. Medina HastaGro Lawn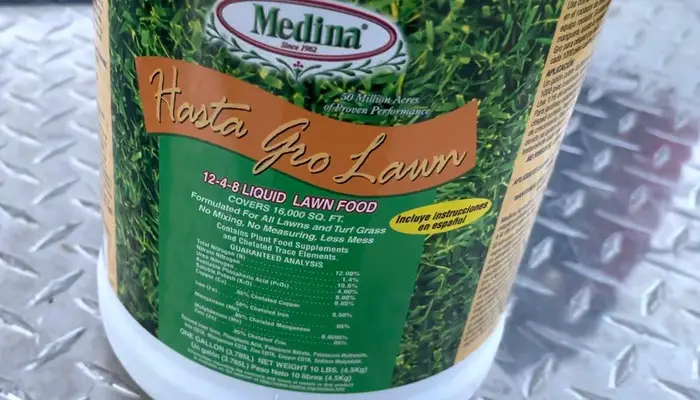 The journey started back in 1962 with a desire to make a microbe stimulator, still running as Medina Agricultural Products Co. Inc. This company has manufactured the finest products of the Lawn food market & Medina HastaGro Lawn food is one of them.
Sources & Nutrients
It is an inorganic fertilizer as all the sources are of synthetic origins, such as urea, phosphoric acid, EDTA iron, sodium molybdate, etc. But don't worry. All of them are safe to use & combinedly supplies both macros (123% N, 4% P, 8% K) & micronutrients(0.05% Cu, 0.50% Fe, 0.05% Mn, 0.0005% Mo, 0.05% Zn).
Guaranteed Analysis
The fertilizer is mostly water-soluble & thus feeds your lawn instantly. I know the NPK ratio (12-4-8) is just perfect, but the micronutrient content has taken my attention.
Medina HastaGro Lawn food contains chelated Fe, Mn & Zn. You know, chelates are organic matters that remain combined with particular nutrients & keep them available for grasses to uptake. Moreover, it reduces the chance of undesired soil reactions that can be destructive for Tall Fescue.
Striking Properties
Humic acid is an excellent root growth stimulator. It also makes the soil active in nutrient uptake, increases microbial activity & enhances drought tolerance. The good news, this lawn food contains 0.50% humic acid to cover these functions.
But the company not only depends on humic acid. It has added an exclusive Medina Soil Activator to the blend to nourish natural soil organisms. Thus the lawn food makes the soil fertile & a good host for lawn grasses.
Applying Method
It is a Ready-To-Use fertilizer. Thereby, no measurement, no mixture. You are all set beforehand.
7. Scotts Natural Lawn Food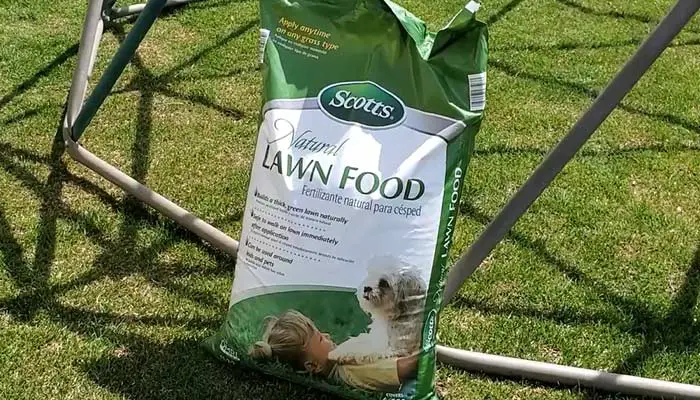 On the front cover of the product, you will see a girl playing with her dog. That's a sign in the Lawn Care field. It indicates that you can fertilize your Lawn & just after, you can walk on the lawn too. No waiting, a worry free application.
Sources & Nutrients
If you are using organic sources such as hydrolyzed feather meal, bone meal, meat meal, blood meal, and sulfate of potash to create your fertilizer blend, it is important to have an OMRI approval. In the case of fertilizers, an OMRI approval indicates that the product meets the organic standards for use in organic crop production.
This product fortunately is listed as an OMRI product and safe for pets and children right after application.
These natural sources supply several macro & micronutrients, but the company only declared the presence of 11% N, 2% P, 2% k, 1.5% Ca & 1% S.
Guaranteed Analysis
It is a kind of fertilizer that you apply on established Tall Fescues. Why? Because once rooted, Fescue grass doesn't require much P & K but a high amount of N for sure.
Moreover, Tall Fescue thrives for slow-release fertilizers & guess what? This plant food contains 10% slowly available water-insoluble nitrogen to feed your Tall Fescues for a long time.
Additionally, the fertilizer carries Ca & S to both feed your Grass & keep the lawn soil acidic for Tall fescues.
Striking Properties
No planning, no waiting, no worry, Guaranteed! That's what Scotts Natural Lawn Fertilizer promises to you. It guarantees a thick & green Lawn naturally & you don't have to go through a definite fertilizer schedule For your Tall Fescues. You can simply follow the directions of the product & that's it.
Additionally, the fertilizer spreads no unpleasant odor & which is surely a plus.
Applying Method
The application rate for Scotts Rotary Spreader is 7.5 & It can cover up to 4000 sq, ft.
When To Fertilize Tall Fescue?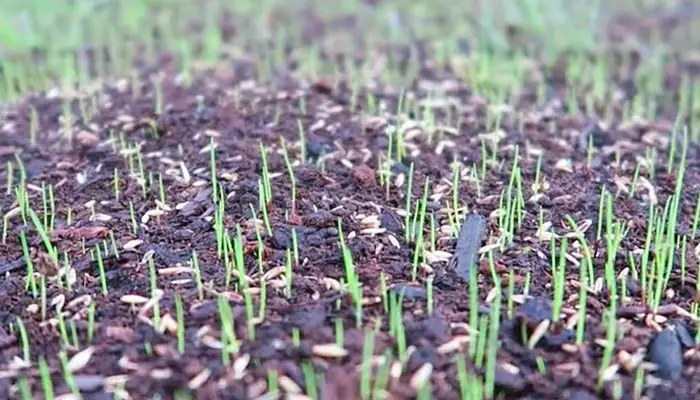 Tall Fescue is a cool-season grass. You may have noticed that Tall Fescue lawn grows best during late summer to early fall & again in early spring. During these times, Tall Fescues strengthen the root system, green the leaf blades, increase heights, etc. And this is the perfect time to fertilizer your Tall Fescue. For a better & easy Understanding, here is a Tall Fescue fertilizer schedule for you:
Fall (September, October, November)

Late Winter (February)

Mid Spring (April)
Additionally, according to the research of the University of Arkansas, the ideal months to fertilize Tall Fescues are October, November & April.
How To Fertilize Tall Fescue Grass?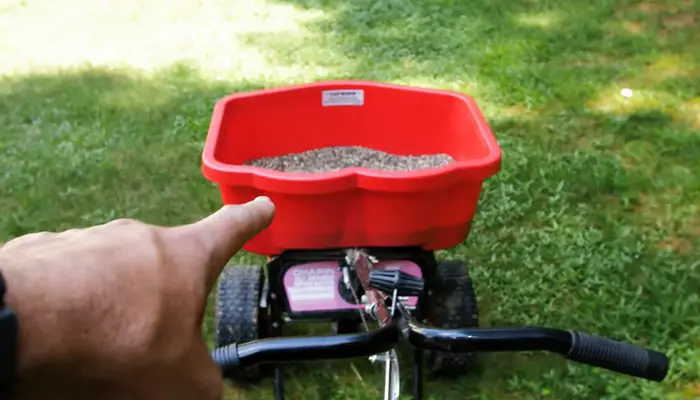 Normally, you'll find two types of lawn fertilizers in the market. Either granular or liquid. Let's have a look at how to apply them to your Tall Fescue grass.
Step 1: Prepare The Lawn
A common practice is to water your Tall Fescue lawn before applying fertilizer. But take a look at the product label first. Some fertilizers don't require a wet lawn.
Step 2: Prepare Yourself
Stay safe with boots & gloves. Wearing glasses is not a bad idea either.
Step 3: Prepare Accessory Machines
Prepare your broadcast or drop spreader by cleaning it. Make sure the tires are equally pumped. Or for liquid fertilizers, arrange water if needed or connect the hose with the water source.
Step 4: Set The Machines
Pour the required amount of granules on the spreader & set the directed spreading rate. In the case of liquid fertilizers, dilute it with water if needed & pour it into a spreader with an accurate spreading rate. Or for ready to spray liquid fertilizers, connect the hose with the product container & set the spreading rate.
Step 5: Apply The Fertilizer
For Granular
Walk at your normal pace with the spreader.

Make a little overlap at the edges of the broadcasted patches.

Turn off when you reach the end strip & when you are turning.
For Liquid
Spray all over your lawn evenly. It is a little tricky because you have to depend on your eye measurements but, once you are habituated, it is the easy one.
How To Keep Fescue Green In Summer?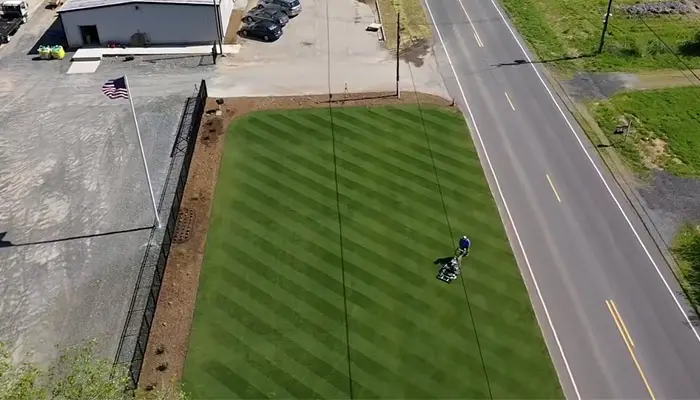 As I said earlier, Tall Fescue is cool-season grass. Normally, during the summer, these grasses pass into a semi-dormant stage. Therefore it is hard to keep them green under the scorching sun. But here are some tips that may get you able to keep it green even during the summer.
First, take care of your lawn regularly. Watering, weeding, Applying herbicides & pesticides, fertilization, do all these operations properly & in time

.

Secondly, during late spring, provide fertilizer with Iron supplement. It will keep the Fescue green even in the summer.

Look out for brown patches(Here are a few fungicide for brown patches on Tall Fescue). You can always overseed the dead areas & thus keep it green for a while.
How To Make Tall Fescue Dark Green?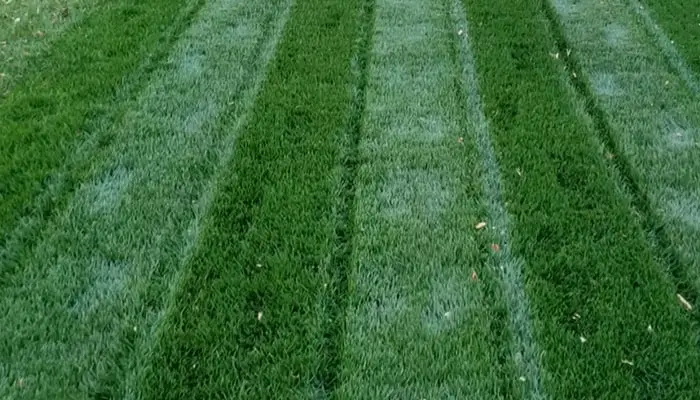 A dark green lawn is something that you may cherish throughout the year. Naturally, you may not be able to get it because every grass has a dormant period. But during the growing season, naturally, it should posses a green color.
Tall Fescue grows well from Fall to spring & is a pale green and sometimes yellow during that time. What if you cherish darker green than usual during this dormant phase? In that case, you should take care of the following issues.
Watering
Watering is the fundamental operation to get dark green Fescues. Tall Fescue grass requires deep irrigation twice a week (Minimum 1 inch weekly). But if it is a hot summer, water thrice a week.
Fertilization
Fertilizing your Tall Fescue is critical. Not only does fertilizer matter but also how good you are at applying fertilizer matters. However, The nutrient requirement varies according to the age of Tall Fescues.
For example, an established lawn does not require phosphorus that much but seeds or new tall fescues need a higher amount of phosphorus. Therefore, choose fertilizer accordingly & apply in the autumn, winter & spring.
Furthermore, Nitrogen is the much-required element for Tall Fescue grass. Make sure your lawn is getting both slow-releasing & quick-releasing Nitrogen for continuous growth.
Keep Blades Sharp and Mow Properly
Often lawn owners don't cut, but rather tear their Tall Fescue grass because of the blunt mower blade. Tearing is destructive for grasses & causes discoloration & disease. Therefore, make sure that the blades are sharp enough, should keep your grass healthy and resistant.
How Much Nitrogen For Fescue?
You know, Tall Fescue typically requires three applications of fertilizer in a year. And in three applications, you have to provide 3-5 pounds of N per 1000 square feet of your lawn.
Last Words
A lawn is something that directly affects the curb appeal of your home. It is like the first impression of your home & sadly, slight discoloration or brown patches (Learn More about brown patch control) can destroy the appeal of the entire landscape.
Tall Fescues can add life to an otherwise lifeless lawn in the winter when the rest of nature lies dormant. So its important to fertilize and care for it properly to maintain a consistent curb appeal throughout the year.
Therefore, take proper care of your lawn. Mow & water frequently & fertilize accurately with the best fertilizer for Tall Fescue Grasses.