Do you know what's wrong with the lawn fungus? One morning, it's just some brown or yellow leaves, the next morning, there's a patch & within a week, it's all over the lawn. They spread like air or something.
Last winter, I went through the same with my Tall Fescue. Thank god, Mr. Roger gave me the right advice. So, if you are going through the same & looking for the best fungicide for your Tall Fescue, you are in the right place, my man.
But before I take you straight to the review, here's a brief about what fungicides are recommended for Tall Fescue. In Short, fungicides that contain Azoxystrobin, Myclobutanil, Propiconazole, etc as the active ingredient are perfect to go.
So, let's jump to the review. Go through it properly to understand what you should look for in a perfect fungicide.
Top Fungicide For Tall Fescue- Comparisons
| Fungicide | Active Ingredient | Form | Type | Price |
| --- | --- | --- | --- | --- |
| Bonide Copper Fungicide | Copper Octanoate | Concentrate | Organic | |
| Spectracide Immunox Fungicide | Myclobutanil | Concentrate | Synthetic | |
| Bonide Infuse Systemic Fungicide | Propiconazole | Concentrate | Synthetic | |
| Garden Safe Brand Fungicide | Clarified Hydrophobic Extract of Neem Oil | Ready-To-Use | Organic | |
| BioAdvanced Disease Control | Tebuconazole | Concentrate | Synthetic | |
| Grower's Ally Fungicide | Citric Acid | Concentrate | Organic | |
| Daconil Fungicide | Chlorothalonil | Concentrate | Organic | |
Top Fungicide For Tall Fescue- Reviews
1. Scotts DiseaseEx Lawn Fungicide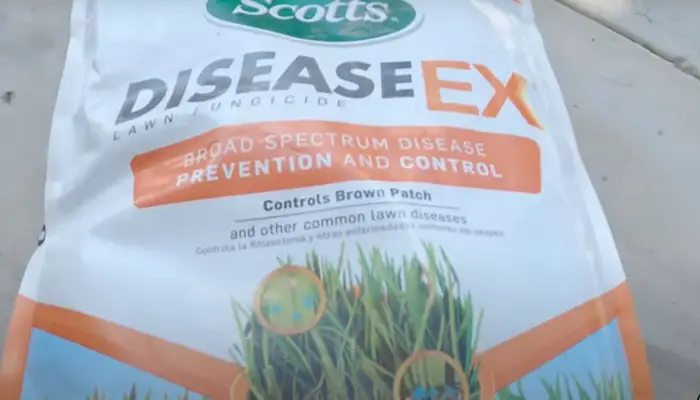 A product's quality is not something that the supplier puts in. It is something that the buyer gets out and is willing to pay for. And interestingly, Scotts DiseaseEx Lawn Fungicide has been a popular choice of lawn owners for a long time.
Active Ingredient
0.31% Azoxystrobin drives DiseaseEx towards a perfect action against destructive fungi. It is a broad-spectrum fungicide that starts working within 24 hours of application & makes your Tall Fescues disease-free.
Now, a question arises, how Azoxystrobin kills fungi? And here's the mechanism-
For development, reproduction & fitness, fungi need a sufficient amount of energy & they get the most of it from their mitochondrial respiration. And that is what Azoxystrobin targets. It inhibits mitochondrial respiration & thus stops fungal spore germination & cell growth.
Mode of Action
DiseaseEx comes with the best action method that you can get for your Tall Fescue. It is a Systemic fungicide that not only prevents but also cures your lawn of existing fungal diseases. So this is what happens when you apply DiseaseEx to your Tall Fescues-
First of all, the granules get in contact with water & come into a soluble form. After that, tall fescue uptakes the fungicide through the root & it runs through the water & food conducting system of Tall Fescue.
Generally, systemic fungi rely on the water & food conducting tunnel for food & that's when it comes into conduct with the fungicide. Thus, the fungicide kills internal pathogens. Plus, it also eliminates any soil dwellers that come into contact.
Striking Properties
Scotts DiseaseEx Lawn Fungicide is a preventive & curative fungicide that controls 26 types of fungal diseases including, Brown Patch, Leaf Spot, Pythium Blight, Necrotic Ring Spot, etc.
Additionally, it is well-known for its long-lasting systemic action of 28 days straight.
Why For Tall Fescue
Rhizoctonia solani, a destructive foe of Tall Fescue & causes Brown Patch. The fungicide simply kills it without leaving any trace.
Application Method
Let's say you have a 1000 sq. ft. lawn. For preventive measures, you would need 2 pounds of DiseasesEx & the Scotts Drop Spreader setting is 4.
2. BioAdvanced Effective Fungicide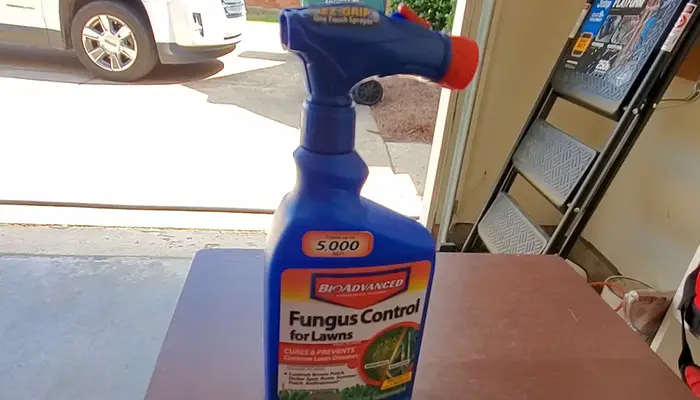 There are some fellas I know who buy other branded fungicides only when BioAdvanced is unavailable. And that is what happens when a company continuously upgrades its customer dealing system & product quality. I believe BioAdvanced Effective Fungicide will amaze you also.
Active Ingredient
BioAdvanced Effective Fungicide contains 2.42% Propiconazole as the Active Ingredient. It is a DeMethylation Inhibiting chemical that hinders the enzymatic action of 14- alpha demethylase. So, what is this enzyme & why is it important?
Well, you know, Ergosterol is a major sterol of the fungi cell membrane that regulates the membrane's permeability, fluidity & a bit of genetic coding for the next generation.
So, without an adequate amount of Ergosterol, the fungal cell won't survive much because of cell membrane destruction.
However, to form the Ergosterol, there is a precursor step called demethylation. The fungicide stops this step by hindering the regulatory enzyme called 14- alpha demethylase.
Mode of Action
BioAdvanced fungus control provides weatherproof protection for up to 1 month. That means the rain or dews can't wash it away. Additionally, it is not only protective but also curative. By then, I think you understand it is a systemic fungicide.
The liquid gets absorbed inside the plant tissue & then stops fungal infestation, cures the disease & prevents the further fungal attack.
Striking Properties
Ready-to-Spray fungicides always come with a benefit & that is, no measuring. But that is just a physical benefit. Chemically, the fungicide can stop, cure & prevent nearly 15 most common diseases of lawn, such as Brown Patch, Gray Leaf Spot, White Patch, Dollar Spot, Rust, Powdery Mildew, etc.
Why For Tall Fescue
The very common Tall Fescue diseases are Brown Patch, white Patch, Gray Leaf Spot, etc. BioAdvanced Effective Fungicide has all these diseases on its list.
Plus, you can use this product any time of the year. Whether it is Spring, Summar, or Fall, you see disease, BioAdvanced is there.
Application Method
Just hook the hose & start spraying at a gentle pace. However, if you prefer granular formation, the same product comes in a granular version too- BioAdvanced Fungus Control Fungicide (Granular).
3. Bonide Infuse Lawn & Landscape Systemic Disease Control
Since 1926, the Bonide brand has been producing top-class products for gardeners & lawn owners. The Infuse Systemic Fungicide is no different. The features of this product exclusively portray the top-notch research & experience of the brand. Have a look-
Active Ingredient
Propiconazole hits again. The fungicide contains 1.55% of it as the active ingredient. You already know about Propiconazole.
It is a triazole fungicide that eventually inhibits Ergosterol formation in the fungal cell membrane. And without this significant sterol, fungi won't be able to reproduce & run further cell growth.
Mode of Action
It is a Systemic Fungicide. After applying, Tall Fescue leaf blades absorb most of the chemical within a few hours. Once the fungicide is in, it stops, cures & prevents any fungal cell growth, spores germination & spreading.
On top of that, due to systemic action, the rain or irrigation sprinkles won't wash off the fungicide. Thus the chemical provides 100% rainproof protection once absorbed.
Striking Properties
The fungicide is a lawn & landscape control. So, along with Tall Fescues, it will cover your other garden plants like flowers, Ornamentals, Trees, Shrubs & Fruit, and Nut-bearing trees.
Bonide Infuse not only makes your Tall Fescue lawn disease-free but also encourages better rooting for an ideal establishment.
Furthermore, the fungicide can fight against 30 listed fungal diseases of lawns & landscapes including Powdery Mildew, Dollar Spot, Rust, Brown Patch, Anthracnose, Take-all Patch, and more. No wonder it is a broad-spectrum fungicide.
Why For Tall Fescue
The fungicide is specially made to stimulate newly planted cool-season lawns. So, no matter what you have, turf, sod, or seeds, the fungicide will look after your Tall Fescue. Plus, it is very effective against two common diseases of Tall Fescue- Brown Patch & Gray Leaf Spot.
Application Method
The fungicide is a Ready-To-Use product. Thereby, just hook the hose & spray. The good news is, a granular version of this fungicide is also available. Bonide Infuse Systemic Disease Control Granular comes with 2.08% Thiophanate-methyl as the active ingredient. So, choose according to your preference.
4. Spectracide Immunox Multi-Purpose Fungicide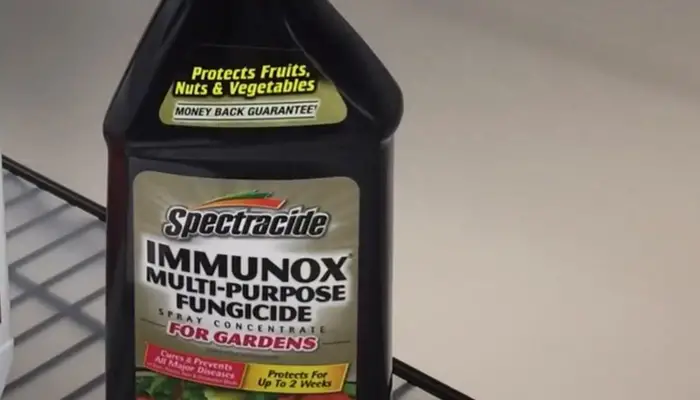 Lee Iacocca of Ford Pinto cars once said, "When the product is right, you don't have to be a great Marketer." Not that I am saying the Spectracide brand is a  bad marketer, but I am really focusing on the "Product" part. Let's take This fungicide as an example-
Active Ingredient
The main ingredient that fuels the action of Spectracide Immunox is 1.55% "Myclobutanil." So, what is Myclobutanil?
Well, it is a triazole chemical that blocks the enzyme activity during the Ergosterol formation.
Ergosterol is a leading sterol of fungal cell membrane & without it, fungal cell damage with no reproduction & thereby complete destruction occurs.
Mode of Action
The product is called multi-purpose probably, because of its mode of action. Immunox is a systemic fungicide. That means it works both as a preventive & curative measure for Tall Fescue.
Some fungi cause diseases internally residing in the plant tissue, while some other types of fungi stay outside & cause damage. This fungicide can kill both of them & provides further protection.
No wonder it is a multi-purpose fungicide!
Striking Properties
To start with, the fungicide is highly effective against 13 major lawn diseases including, Brown patch, Copper spot, Dollar spot, Leaf spot, Melting out, Crown rot, Leaf smuts, Powdery mildew, etc.
Not only that, it can cure & prevent nearly 40 types of vegetables, berries, nuts, roses & other ornamentals.
Additionally, its systemic nature makes it rainproof once dried & keeps protecting your Tall Fescue for the next 14 days.
Why For Tall Fescue
Does Brown Patch kill Tall Fescue? If this question hits your mind, either you are walking towards experiencing fatal damage or, you are certainly precautious. Let me clear it to you-
Brown Patch is deadly during extended hot & humid weather. It will destroy the green sight of your lawn first & then kill the affected Fescues.
However, Myclobutanil is a recommended chemical to control Brown Patches & including other features, I think this is the best fungicide for Brown Patch of Tall Fescue.
Application Method
For 500 sq. ft. of tall Fescue lawn, apply properly every 14 days using 7 fl. oz per gallon of water mixing ratio.
5. Dow AgroSciences Eagle Fungicide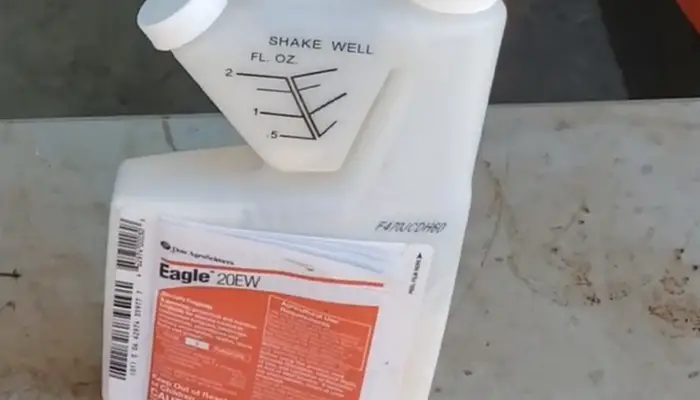 Dow Agrosciences Eagle Fungicide is a commercial fungicide & by "Commercial" I meant that along with residential turf, this product has a wide range of customers from Golf clubs, Commercial Turf, Nursery, etc.
Active Ingredient
Dow Agrosciences has used Myclobutanil to run this fungicide effectively. Normally, companies use  1-3% active ingredients in their fungicide, but Dow Agrosciences contains 19.7% Myclobutanil as the active ingredient.
Myclobutanil is a DMI fungicide. It works by stopping the biosynthesis of Ergosterol & leads to fungal cell damage, suspended reproduction system & overall spreading.
Mode of Action
Eagle fungicide works systemically to control & prevent fungal diseases. Due to its systemic action, there is little to nil risk of washing away by rain or irrigation water.
In this process, the active ingredient guards the food & water-conducting canal of your Tall fescues by killing fungi that live inside the grass tissue.  Not only that, it works as a protective layer of leaf surface too.
Therefore, once applied, it will cure existing diseases & prevent further penetration of fungi. And if I am not wrong, that is something that every lawn owner wants.
Striking Properties
Before I talk about the good stuff, I want to warn you about something. This fungicide contains a high amount of poison & that's why it is only suitable to use on established Tall fescue & other grasses. Now, here's come the good stuff-
Eagle Fungicide provides comparatively long protection of 28 days with just one application. Due to its systemic nature, the fungicide moves upward & ensures protection of the new leaf blades too.
About diseases, it guarantees 100% recovery & protection from 15 fungal diseases including,  Anthracnose(Learn more about Anthracnose), Blight, Blossom Blight, Brown Patch, Brown Rot, Copper Spot, Crown Rot, Dollar Spot, Leaf Blight, Leaf Spot, Powdery Mildew, etc. & also suitable to apply on more than 40 ornamental plants.
Why For Tall Fescue
The fungicide contains petroleum distillates that ensure the persistence of this chemical on your Tall fescue lawn & cures common diseases such as Brown Patches, Leaf spots, etc.
Application Method
.35 teaspoons per gallon of water are the recommended mixing ratio for cool-season grasses like tall Fescues.
6. Monterey Fungi-Max Multi-Purpose Lawn & Garden Fungicide
A fungicide list is incomplete without a product of the Monterey brand. Plus, its multi-purpose nature adds extra value to it.
Anyway, there are plenty of such products in the market. But let me explain why I have chosen Monterey over others-
Active Ingredient
The driving power of Fungi-Max is Myclobutanil, specifically 2% Myclobutanil. It is a group 3 fungicide that works as a DeMethylation Inhibitor (DMI). It inhibits the enzyme activity necessary for Demethylation, a precursor for Ergosterol synthesis.
Now, the question is, what will happen if Ergosterol does not synthesize? Well, only three things will happen. Firstly the fungal cell membrane will lose its potential to protect the fungal cell.
Secondly, the fungus will experience cell damage & thirdly, the fungus will die or won't be able to reproduce.
Mode of Action
Myclobutanil is a systemic chemical. It enters into the leaf tissue or sometimes gets uptaken by the root. Then it moves upward through the xylem of the leaf & on its way, it kills the fungi that are damaging from the inside.
At the same time, it shows a protective behavior by making a layer on the leaf surface to defend against further fungal attacks.
Striking Properties
First of all, along with Tall Fescue & other lawn grasses, you can use it on other garden plants like ornamentals, fruit & nut trees, berries & even vegetables. A little overview- the fungicide has listed nearly 100 flowering plants & around 15-20 fruits & vegetable plants each which can be cured by this product.
Furthermore, its multi-purpose nature with the systemic mode of action ensures 100% protection for up to 2 weeks.
Why For Tall Fescue
During spring & fall, you may have noticed small brown spots with yellow margins in the leaf. That is called Net Blotch of Tall Fescue. And this fungicide could be a perfect cure for this disease along with Brown Patch & Leaf Spot.
Application Method
Mix 5 fl. oz of the fungicide with 1 gallon of water to treat 500sq.ft. of Tall Fescue lawn. Repeat the same in 2 weeks.
7. Heritage G Fungicide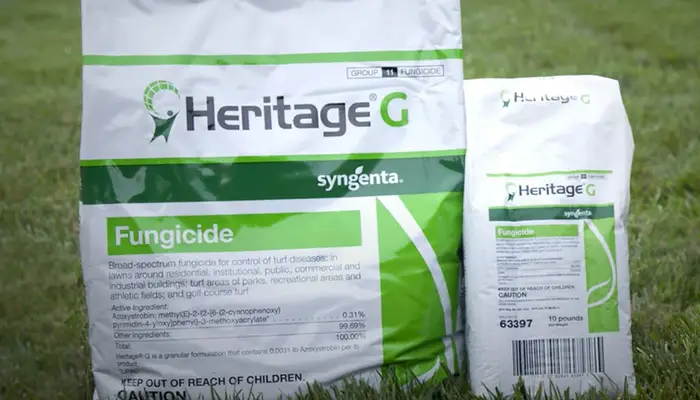 Liquid fungicides are easy to apply & probably that's why lawn owners prefer liquids more than granular ones. Well, it is definitely a personal choice, but let's be honest, I don't want you to ignore a good quality product over a personal preference.
Active Ingredient
The active ingredient is 0.31% Azoxystrobin, the most used & effective chemical in the pesticide world.
What Azoxystrobin does is cut the power source of fungi so that it gets weak & dies. Well, the powerhouse is fungal Mitochondrial Respiration & Azoxystrobin blocks it to stop fungal spore germination & cell growth.
Mode of Action
The fungicide is highly systemic. Though most of its active ingredient remains on the leaf surface, it is still one of the best systemic fungicides for Tall Fescue. You may ask, why?
Well, upon application, some part of the fungicide gets absorbed & the rest remains on the leaf surface & provides a protective layer for some time. With the help of rain or irrigation, the chemical of the leaf surface reaches to the soil & gets uptaken. The rest is a rough ride.
The active ingredient immediately starts moving upward & killing every fungal body on the path. Thus it uniformly covers from root to leaf tip.
Striking Properties
First of all, it is a broad-spectrum fungicide that can cure more than 20 turfgrass diseases, including Brown Patch, Pythium blight, and Snow Mold. Secondly, the Tall fescues can absorb it by leaf blade, tiny stem, or even through root systems.
Thirdly, it comes with granular, ready-to-spread, liquid, or dry sprayable formulations. So, you can choose as you prefer. Fourthly, it keeps your lawn protected for up to 28 days.
Why For Tall Fescue
The most common diseases of tall Fescue are Brown Patch, Pythium Blight, Net Blotch, White Patch & Gray Leaf Spot. And this fungicide covers all.
Moreover, after mowing, it can even take care of the mowing injury. I must say, that's a lot from a single packet!
Application Method
Read the product label for the accurate dose & setting for your Tall Fescue. For example, 2-4 lbs of granules per 1000 sq. ft. lawn are perfect to avoid Brown patches.
How Do You Get Rid Of Fungus On Fescue Grass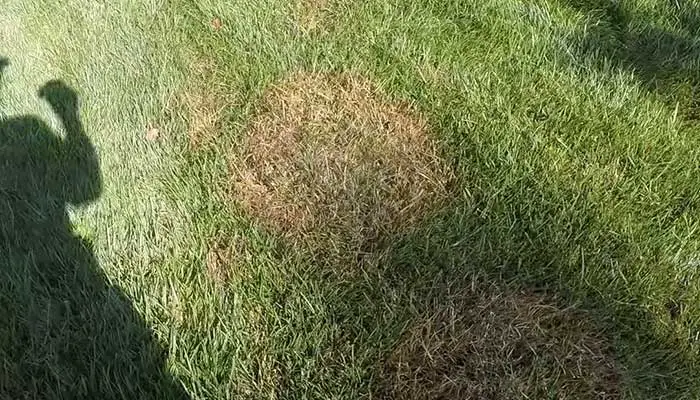 Getting rid of an already existing fungus attack is tough. So, if you are thinking of getting rid of them, you better think of it as a preventive measure. Here are some pro tips that you can follow to keep the fungus away.
First thing first, maintain a tight preventive fungicide application schedule.

Keep your lawn & associated garden neat. Don't just leave the clippings after mowing. Remove them & destroy them.

Do not overwater. It is a kind of invitation to fungal spores. Tall Fescue requires 1 inch of water per week.

Choosing an exact type of fungicide is very important. A native variety can withstand several negative issues.

Don't over fertilize or wrong-fertilize. Both make the Fescues weak & destroy their potential to fight against fungus.

Proper mowing is important. Mowing means cutting, not tearing. A wrong mowing leaves Tall Fescues exposed to the fungal spores.

Last but not the least, pray for better luck with the lawn. Sometimes that helps a lot, trust me.
Last Words
While purchasing, some of us like to try new products, while some others stick to trusted ones. Well, in this article, I have listed & reviewed the 7 best fungicides for Tall Fescue based on trusted brands with top-notch quality.
Now you may ask why I didn't give a chance to the new products. The answer is, I would definitely suggest new products but not in case of a fungal attack.
You know, the fungal attack is deadly. You don't get a quality product, you lose your lawn. That's why I have kept it safe this time.
Hopefully, my research will be helpful to you. At least you got a hint of what to look for in a perfect fungicide for Tall Fescues. And that's enough for me. Good luck.