I think summer lawns are more engaging than winter ones. With vacations, parties & all, summer is a chilling time. And a neat & shiny Zoysia lawn will definitely make your summer more engaging.
Since the summer is coming, you better start planning the whole caring process. And I believe, the need for an efficient fertilizer is the first thing that has popped up in your mind.
Well, to get the best, you must know what is the right fertilizer for Zoysia Grass?
Shortly, any fertilizer that contains a high amount of Nitrogen in both slow & quick releasing form and a little potassium & phosphorus is perfect. But for newly planted lawns or sods, make sure the phosphorus content is high.
Good news, to ease your picking process, I have come with a complete package that includes well-researched reviews of the 10 best fertilizers for Zoysia grasses, when & how to apply.
So, let's not waste another moment & start the screening process for picking the perfect one.
Top 10 Fertilizer For Zoysia Grass- Comparisons
| Fertilizer | NPK | Form | Type | Price |
| --- | --- | --- | --- | --- |
| Scotts Turf Builder Weed & Feed | 28-0-3 | Granular | Synthetic | |
| Simple Lawn Solutions Lawn Food | 16-4-8 | Liquid | Organic | |
| Scotts Turf Builder Southern Triple Action | 29-0-10 | Granular | Synthetic | |
| The Andersons Professional Fertilizer | 16-4-8 | Granular | Synthetic | |
| Super Juice Lawn Fertilizer | 14-2-4 | Granular | Synthetic | |
| The Andersons Innova Fertilizer | 7-1-2 | Granular | Organic | |
| Scotts Turf Builder For New Grass | 24-25-4 | Granular | Synthetic | |
| Dr. Earth Super Lawn Fertilizer | 3-0-1 | Liquid | Organic | |
| Lawnstar Balanced Nutrient Fertilizer | 16-4-8 | Liquid | Synthetic | |
| Milorganite Organic Fertilizer | 6-4-0 | Granular | Organic | |
Top 10 Fertilizers For Zoysia- Reviews
1. Scotts Turf Builder Weed & Feed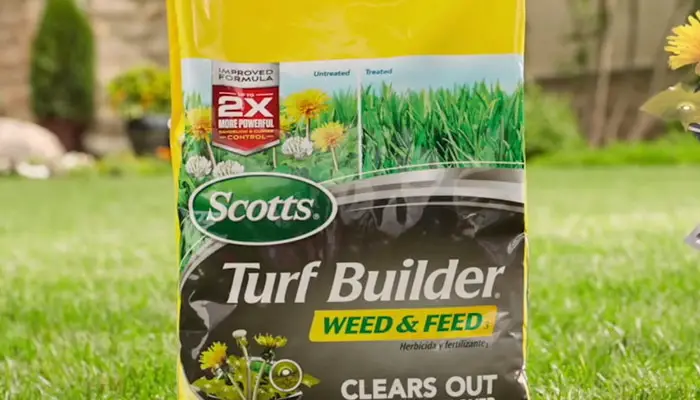 Do I have to introduce "Scotts" to you? I don't think so. We all know that it is a leading plant food company which does believe that GOOD CAN GROW ANYWHERE. Probably that's why I have several Scotts products on my list. And thereby, I am starting with a double-action formula- weed & feed fertilizer for Zoysia. Let's have a look-
Sources & Nutrients
This fertilizer is not only food for your Zoysia but also kills 50+ weeds of your garden including, Dandelions & clovers. So, the sources can be a bit intense with a killer chemical added to the feed. But, as long as you are applying it at least 25 feet away from any water body, it is absolutely safe.
So, what are the sources? The company used methylene urea, urea, potassium sulfate & ammonium sulfate to supply the nutrients. And the fertilizer provides 28% Nitrogen, no Phosphorus, 3% Potassium & 4% Sulfur.
Furthermore, for weeds, the fertilizer contains a powerful blend of 2 4- D (1.21%) & Mecoprop-p(0.61%). If you are not familiar with these weed killers, check out the analysis.
Guaranteed Analysis
Well. 2 4-D & Mecoprop- p are two effective weed killers that combinedly disrupt the natural growth of weeds by altering hormonal activities. Thus they cause weed's leaf twisting, cupping, stem cracking & eventually death.
Now, let's talk about the NPK ratio (28-0-3). With such huge Nitrogen content, no doubt it is a perfect fertilizer ratio for established Zoysia grasses. Since it doesn't carry any phosphorus & little potassium, you don't use it on seeds or newly placed sods. It is recommended to use at least after four mowings.
About Nitrogen, it is available from four different sources among which 8.5% is slowly available & 0.9% is water-insoluble. And that ultimately meets the thrive of a slow-release fertilizer for your Zoysias. Plus, we have 4% Sulfur here which does two things- feeds your grasses & keeps the soil slightly acidic- just like the Zoysia needs.
Striking Properties
You know, most of the weeds grow during the spring & that's why it can be a perfect spring fertilizer for your Zoysia Grasses. Plus, this fertilizer is also effective for other lawn grasses like Kentucky bluegrass, Fescue, Ryegrass, Centipede, Bahia grass & Bermuda grass.
Additionally, the fertilizer comes with a weedgrip technology that can eliminate any weed on your lawn, whether you see it or not. And thus its improved formula can reward you with a thick Zoysia lawn. With all these premium features, I can't think of a better fertilizer & weed killer for your Zoysia Grasses.
Applying Procedure
First of all, water your lawn slightly & leave it for an hour. After that, pour the granules on your spreader & set the application rate. For example, an application rate of 5 is recommended for Scotts drop spreader. Now spread properly & don't water for the next 24 hours. For more details, check out the product label.
2. Simple Lawn Solutions Lawn Food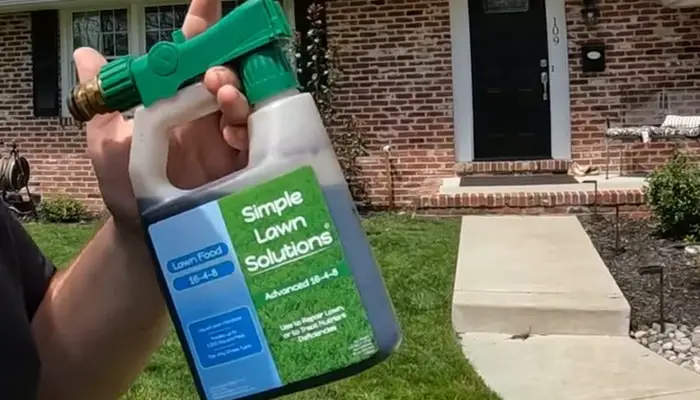 Maintaining a lushing thick lawn is not that simple. A slight diversion of color can wrap up the smoothness of the whole picture. That's why when I first saw the name of this fertilizer, I was thinking- how simple the lawn solutions can be? Well, I must say, with such configuration & advanced features, it's not that difficult.
Sources & Nutrients
This 32 Oz liquid fertilizer is a blend of high-quality feed-grade ingredients like seaweed, fish emulsions & other natural & organic sources. Thus, Simple Lawn Solutions Lawn Food can feed up to 3200 sq ft. of Zoysia lawn by supplying macronutrients like 16% Nitrogen, 4% Phosphorus & 8% Potassium.
Guaranteed Analysis
You know, 4:1:2 is the completely balanced fertilizer ratio for any established grass type & if you multiply each number with 4, you will get what this fertilizer has. Now, you may ask, why 16:4:8 is ideal? Well, several researchers have found that this ratio works best in emphasizing growth & greening, root strengthening & boosting turf hardiness.
However, the best thing about this fertilizer is probably the immediate mode of action. Some users had a positive result overnight, while for some, it took one or two weeks. And that's how much time it takes to solve your Lawn problems depending on your grass condition & how good you are at applying lawn fertilizers.
Striking Properties
Simple Lawn Solutions Lawn Food tops the market as it is one of the most used Lawn foods all over the United States. Why won't that be? There are some reasons why it is the best organic liquid fertilizer for Zoysia lawns. For example-
Its mode of vertical & lateral action improves both the height & thickness of Zoysia, just like you want for a dreamy lawn. Plus, its premium feed ingredients enhance the mineral content in the soil & make it a better host for Zoysia grasses.
Furthermore, along with Zoysia grass, the fertilizer is suitable for Fescue, Bermuda, St. Augustine, Buffalo, Centipede, Florida Palmetto, Bahia, Ryegrass & Kentucky Bluegrass too. And additionally, it comes with a Ready-To-Spray formula that makes the application a lot easier.
Applying Procedure
As I said, Ready-To-Spray formulation makes the application smooth & easy. Just plug in the hose pipe, set the application rate & spray evenly. As it is a liquid fertilizer, Zoysia grasses will uptake nutrients both by roots & leaves. Therefore, don't water just after the application.
3. Scotts Turf Builder Southern Triple Action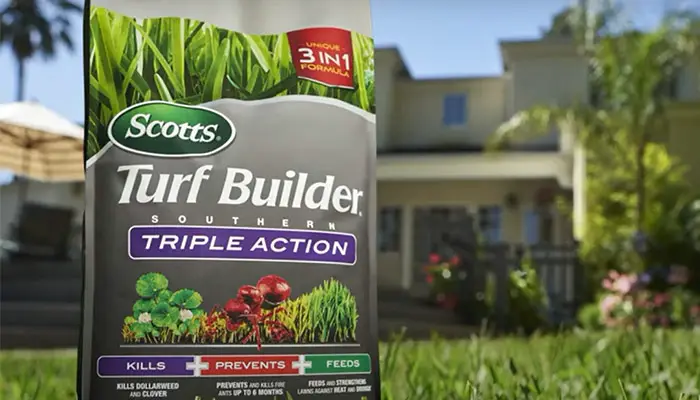 The "Triple Action" attracted me. And trust me, this is the most you can get out of a bag of Lawn Food. So, once again, Scotts product is under the light. And you can't really doubt a company's experience of over 150 years!
Sources & Nutrients
Ammonium sulfate, methylene ureas, urea, potassium sulfate & polymer-coated urea- these five synthetic compounds were used to blend this fertilizer.
You can see there are a lot of Nitrogen sources. No wonder, 29% of the packet weight is Nitrogen. But that's not all. It also contains 10% Potassium & 4% Sulfur.
Guaranteed Analysis
Once established, Zoysia needs a decent amount of Nitrogen to keep the lawn neat & catchy. Well, the fertilizer offers exactly what they need. If you have just done with the third mowing, this fertilizer is your pal.
Not only the high nitrogen content is a luxury. It also ensures 14.6% slowly available & 0.8% water-insoluble nitrogen to keep feeding your Zoysias for up to 6 months. Plus 10% potassium & 4% sulfur helps with the hardiness & accurate soil pH.
Striking Properties
Kills, prevents, feeds- this is the "Triple Action" that I have mentioned earlier. Along with nutrient sources, the fertilizer also contains 1.352% Atrazine & 0.139% Bifenthrin. So, what are these?
Atrazine is an effective weed killer that causes normal growth retardation & killing of 25+ common weeds including Dollarweed, Clover, Dandelion, etc. And Bifenthrin is a powerful insecticide that attacks the nervous system of 20+ insects including common fire ants & prevents your lawn from insect attack.
Furthermore, the fertilizer also protects your lawn from excessive heat & helps the Zoysia grasses to overcome draughts. So, it keeps the lawn green, kills weeds, and prevents insects & which makes it the highly recommended fertilizer for Zoysia Grass.
Applying Procedure
For Scotts Drop Spreader, the recommended setting is 8.5. Apply the fertilizer when the lawn is dry & water properly after the application.
4. The Andersons Professional PGF Complete Fertilizer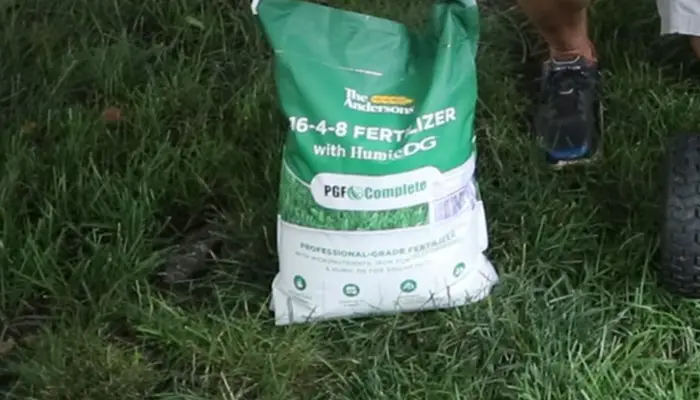 A lot of lawn owners use different fertilizers for their lawns in different seasons. For instance, one fertilizer for spring & another for summer.
Good news- The Andersons PGF complete fertilizer can relieve you from choosing different ones. It is the perfect yard fertilizer for Zoysia grass that can be used in all the seasons like spring, summer & even fall for winter dormancy. Now I understand why PGF has such a huge user coverage. However, moving on-
Sources & Nutrients
Another reason that works behind its popularity is PGF's enhanced nutrient composition. Though the fertilizer is a blend of safe inorganic compounds, it supplies both macro (16% N, 4% P, 8% K, 2.72% S ) & micronutrients (3% Fe, 0.10% Mn, 0.10% Zn) for your Zoysia Grasses.
Guaranteed Analysis
As I said, 16-4-8 is the perfect ratio for established Zoysia lawns, the PGF fertilizer is no different than that. Moreover, it contains 4% slowly available & 2.80% water-insoluble Nitrogen to ensure a long time feeding of 8 weeks.
Furthermore, the fertilizer also supplies 2.72 % S for both feeding & pH balancing purposes.
Striking Properties
First of all, I want to mention the Special DG technology that has been used in this fertilizer. With perfectly fine granules, the fertilizer ensures double coverage & evenly distribution.
After applying, once the granules come into contact with water, they turn into Dispersible Granules (DG) by breaking down into thousands of microparticles. Thus the fertilizer acts directly at the root zone.
Secondly, this lawn food contains 7% humic acid to make the soil enriched & fertile with a load of organic matter. And finally, the fertilizer is not limited t0 Zosia only. It covers all the turf grasses of the United States.
Applying Procedure
For Scotts Drop Spreader. 6.5 is the recommended application rate. Make sure the lawn is not wet while applying & walk at a gentle pace. That's all.
5. Super Juice All In One Soluble Supplement Lawn Fertilizer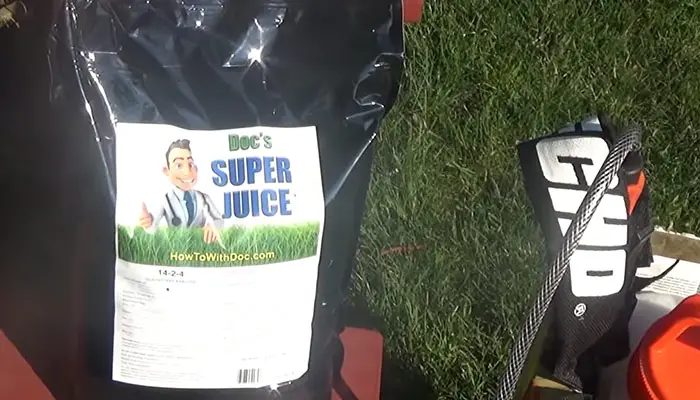 Super Juice is probably the most controversial lawn product in recent times. Well, it is not easy to believe that a 13.6 lbs food can feed 1 acre of lawns.
When the product was first launched in the market, users went crazy. Several users even tasted this fertilizer on their lawn & got disappointed. So, Why the hell am I recommending this?
The first reason is, it is more of a supplement fertilizer than the regular ones. So, You can't expect the result that a usual lawn food provides. You got to use it along with lawn food for an improved outcome.
Sources & Nutrients
The fertilizer is a "The Andersons" product & claimed to be the very first All-In-One complete fertilizer for all types of grasses.
However, to feed your Zoysias, this lawn food supplies a wide range of nutrients including, Primary (14% N, 2% P, 4% K), Secondary (1% Mg, 1.50% S) & Micronutrients (0.10% Cu, 4% Fe, 1.50% Mn, 0.001% Mo, 0.20% Zn).
About the sources, Super Juice is a dry formulation of inorganic compounds like urea, ammonium phosphate, potassium nitrate, zinc EDTA, iron DTPA, etc.
Guaranteed Analysis
The manufacturing company took 2 years to develop this Super Juice formula & they introduced it as a Multi-Vitamin food for any type of Lawn.
Well, as a supplement fertilizer, the NPK ratio & overall nutrient composition is definitely enriched. Plus, It can be applied in a 14-2-4 ratio for 1 acre of lawn, or you can use it at half strength in a 7-1-2 ratio to cover 2 acres of lawn.
Furthermore, there is no water-insoluble Nitrogen in this fertilizer. That's why it is best for instant greening up. Additionally, it contains Cu, Fe, Mn & Zinc in chelated form. Thus, these nutrients remain available at the root zone rather than being involved in harmful soil reactions.
The best thing is, this supplementary food bears 4% Iron that makes your lawn dark green within a very short time.
Striking Properties
The fertilizer contains 1.20% humic acid & sea kelp. These non-plant food ingredients enhance the nutrient uptake ability of your Zoysia grasses. Not only that, they improve the structure, organic content & stress tolerance of your lawn soil.
Applying Procedure
For applying, you need to do a little math here. First of all, measure your Lawn area. Now calculate the fertilizer amount by maintaining the following base point- "43,560 sq. ft. can be covered with 13.6 lbs". Once calculated, mix the granules with the appropriate amount of water & spray with your spreader.
6. The Andersons Innova Premium Organic Fertilizer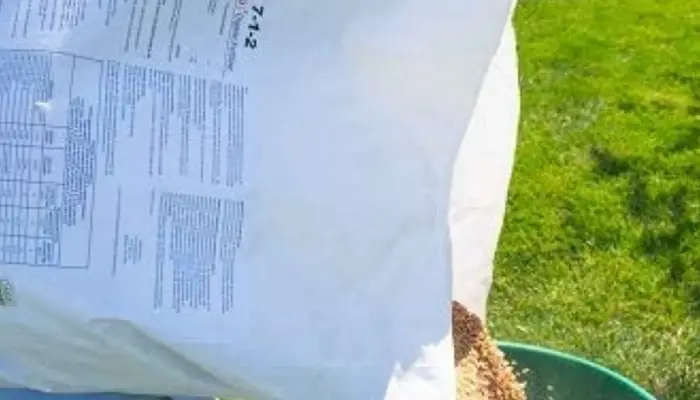 The Andersons product hits again. You may have noticed, I have enlisted several Andersons products in my review. Well, let's just say, it is hard to ignore such innovative formulas. Experience does pay off!
Sources & Nutrients
Innova organic fertilizer is OMRI approved for organic use & interestingly, the company has derived all the nutrients from soybean meal. That's why it is a 100% plant-derived fertilizer with no wastes, manures, or biosolids.
Anyway, the fertilizer supplies 7% N, 1% P & 2% K to make your Zoysia lawn darker, thicker & hardy than ever. Plus, if you have turf inside your home, feel free to use it because you won't experience any unpleasant odor.
Guaranteed Analysis
The NPK ratio (7-1-2) is perfect for established lawns. Additionally, the fertilizer contains 6% water-insoluble & 1% water-soluble Nitrogen.
Water-insoluble Nitrogen will be released slowly for uptake & keep feeding your Lawn for a long time while water-soluble Nitrogen will start working instantly. Since Nitrogen is the prime concern for lawns, I think it is a pretty good configuration.
Striking Properties
The Andersons Innova Organic Fertilizer contains low-dust, homogeneous granules that won't burn your Zoysia lawn. Moreover, this fertilizer contains profoundly absorbable carbon to feed beneficial soil microbes. Thereby it takes care of both the soil & grasses of your lawn.
And finally, its organic & natural source is totally safe for kids & pets. Therefore, you won't have to wait to walk on your lawn.
Applying Procedure
For established Zoysias, apply 3.5 – 11 lbs. per 1,000 sq. ft. every six weeks during the summer.
7. Scotts Turf Builder Starter Food For New Grass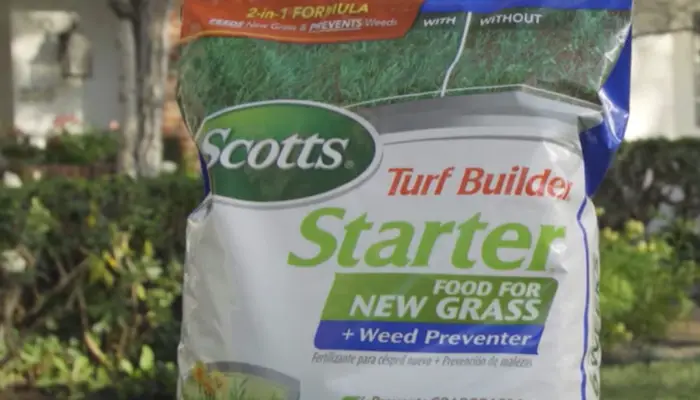 So far, all that I have reviewed was for established Zoysias. But this one is for the seeds. I was very concerned about picking the best fertilizer for Zoysia grass plugs & seeds because a perfect establishment needs an ideal start. And I think you can trust this Scotts product without any doubt.
Sources & Nutrients
Scotts Turf Builder Starter food is an inorganic fertilizer as it is a blend of urea, methylene urea, potassium chloride & ammonium phosphate.
And these sources supply 24% N, 25% P & 4% K for healthy root growth & overall nourishment.
Guaranteed Analysis
I think the most noticeable point is the high phosphorus content. Well, that's the difference between a starter & regular lawn food. You know, new seeds or sods need more phosphorus than the established ones for enhanced root growth & vigor.
Additionally, the nitrogen content is pretty handsome. After all, it is the first requirement. Plus, the fertilizer contains 0.6% water-insoluble & 6.2% slowly available nitrogen to feed your Zoysias for up to 2 months.
Striking Properties
What is the first thing we want after applying seeds or plugs, or sods? We want them to grow quickly in a thicker form, right? This starter food clicks on that particularly. The company has ensured a 70% thicker & 35% quicker growth than unfed lawns.
Furthermore, this fertilizer is not only for Zoysias. It covers all the common lawn grasses. So, if you change your taste of grasses, there is no need to get a new product.
Applying Procedure
For Scotts Drop Spreader, the recommended application rate is 6.
8. Dr. Earth Super Natural Lawn Fertilizer
Whether it is a veg food, bloom booster, or lawn fertilizer, Dr. Earth always comes with the highest level of organics to make your garden & yard greener than ever. Their highly researched formulas guarantee the landscape you are cherishing.
So, without further ado, let's check out how "Super" this super-natural lawn fertilizer is.
Sources & Nutrients
The fertilizer is OMRI listed & CDFA registered for organic use because the company has used digested food materials & food byproducts as the blending ingredients. No wonder it is a super-natural fertilizer!
Anyway, these organic sources add 3% N & 1% K to your Lawn soil.
Guaranteed Analysis
All 3% N of this fertilizer is water-soluble & thereby ensures instant feeding. So if your Zoysia needs a quick boost, you have the best in your hand.
You may have noticed that the fertilizer does not provide Phosphorus. So, in case the soil test says a deficiency, you may have to add some phosphorus sources personally.
Striking Properties
I think the best feature of this fertilizer is its flexibility. The super-natural fertilizer is suitable for both warm-season & cool-season grasses like Zoysia, Fescue, Bluegrass, Ryegrass, St. Augustine, Bermuda Grass, etc.
Not only that, You can apply it in both established & new lawns for a quick promotion in growth & ultra-green color. Plus, this premium quality fertilizer doesn't contain any synthetic or GMO-infested manures. So, totally environmental.
Applying Procedure
It is a Ready-To-Spray fertilizer. Just plug in the hose pipe & you are good to go.
9. Lawnstar Balanced Nutrient Liquid Fertilizer
Empire Zoysia, Southern Zoysia, Emerald Zoysia, or Zeon Zoysia, no matter what cultivar you are growing, this fertilizer is perfect for every one of them. Lawnstar balanced fertilizer is a next-generation lawn food that guarantees way greener Zoysia grass than you can think of. More details-
Sources & Nutrients
The fertilizer has derived all of its nutrients from urea, urea triazone solution, potassium hydroxide, sulfuric acid & Ascophyllum nodosum seaweed. Since most ingredients are inorganic, you can call it a synthetic fertilizer.
And for your Zoysia grasses, Lawnstar Lawn Food supplies 16% N, 4% P & 8% K.
Guaranteed Analysis
You know the most balanced ratio for any established grass is 16-4-8. So, you get the ideal nourishment from it. Moreover, we often seek slow-release of N for Zoysia grasses. Well, this fertilizer carries 6% of it, while the remaining 10% is available for immediate action.
With this model nutrient combo, you will get a thicker & lusher Zoysia lawn with an improved stress tolerance ability.
Striking Properties
Lawnstar nutrient liquid fertilizer strikes in several factors. Firstly, the fertilizer contains urea triazone solution- the most effective nitrogen form that can be uptaken by foliages rapidly.
Secondly, it supplies biostimulants derived from seaweed extract. It ensures the bioavailability of the nutrients & improves the soil quality to the pro mode.
And finally, it is a liquid formulation. That means your Zoysias can uptake nutrients both by roots & foliages.  Impressive, right?
Applying Procedure
It is Ready-To-Use fertilizer. So shake it properly, plug the hose & spray in a side-to-side motion. For severe nutrient deficiency, try to apply 5-10 oz per 1000 sq. ft. of lawn.
10. Milorganite Organic Fertilizer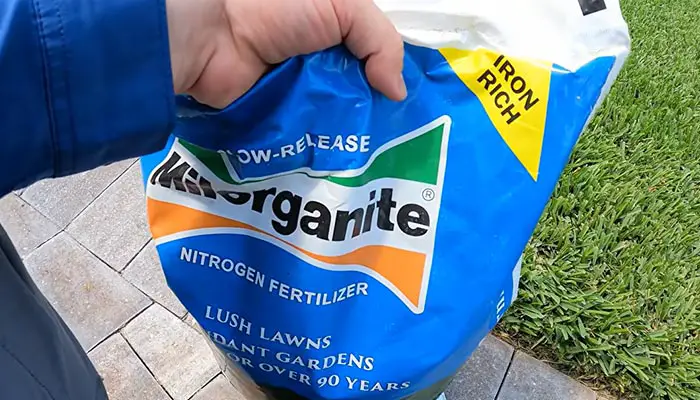 Milorganite has recycled nearly 10 billion pounds of waste from landfills since 1926. No wonder this company is the oldest recycling effort in the USA.
However, Milorganite nitrogen fertilizer is a proven product for nearly 90 years. The unique composition & manufacturing process of this fertilizer is so unique that you will be amazed!
Sources & Nutrients
The fertilizer company has created an uncommon process of nutrient gathering. What they do is, gather wastewater in the Jones Island water reclamation facility. After that, they add microbes & let microbes eat all the water nutrients.
They also add binding agents in the water so that the microbes clump together & settle down at the bottom. The final step is separating the microbes & drying them for general use. So, Milorganite is a bag of nothing but dried clumps of nutrient-rich microbes.
However, the fertilizer adds 6% N, 4% P & less than 1% K. That's why it shows 0% K in the product label.
Guaranteed Analysis
The fertilizer contains 85% organic matter, which improves the color & growth of Zoysia grasses along with soil quality. The best thing is, it is a slow-release fertilizer. Almost 80% of the Nitrogen is water-insoluble & thus, the nutrients remain available for nearly 10 weeks after application.
Striking Properties
Milorganite Nitrogen fertilizer adds organic matter to the soil & reduces leaching & wash off prime nutrients. Plus, it contains an appropriate amount of iron to make your Zoysia lawn dark green without any stain.
Applying Procedure
Milorganite requires an appropriate application for the best result. They also have provided a ready-made schedule to ease your task. However, you will also get the spreader setting from their product label. For example, application rate 10 is recommended for Scotts Drop Spreader.
What Type Of Fertilizer Does Zoysia Grass Need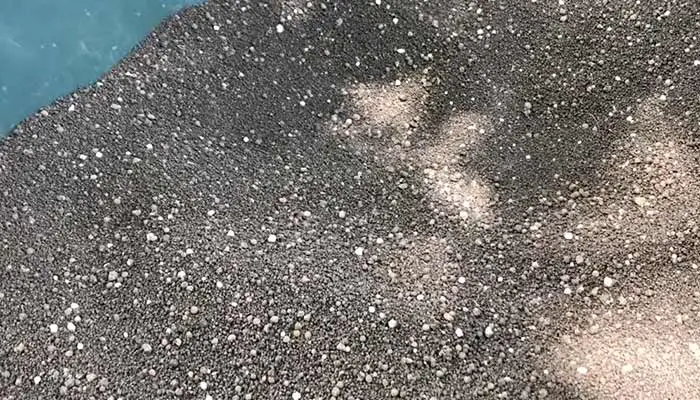 I think you already know a little about this. The fertilizer requirement of Zoysia Grass is pretty much the same as other warm-season Grasses. Things that you should care about Zoysia grass fertilizer are-
High Nitrogen Content

Comparatively low Phosphorus & a little higher Potassium than Phosphorus. Several scientific researches have shown that 4-1-2 is the ideal NPK ratio for Zoysia Grasses. 

For new lawns, seeds, sods, or plugs, you should get a starter fertilizer. The difference between starter & regular fertilizer is, starter fertilizers carry a lot more Phosphorus than regular ones. Sometimes more than Nitrogen!

Presence of Iron for dark green lawn.

Presence of Ca, S & such nutrients that make the soil acidic apart from feeding.

It is better if the fertilizer takes care of the soil too.
When To Fertilize Zoysia Grass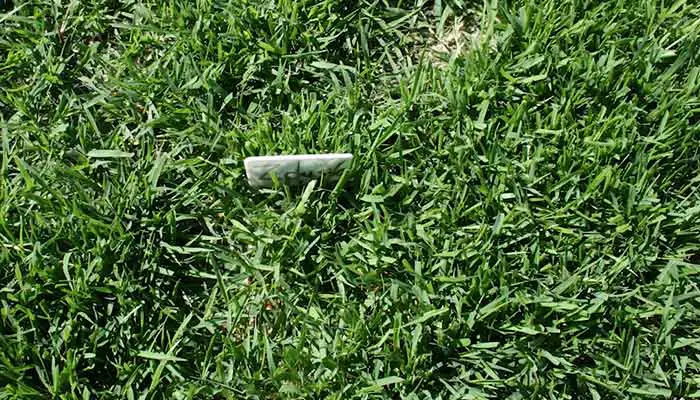 Fertilization of Zoysia Grasses may not result according to your expectation if you don't do it timely. But don't worry. Here's a ready-made Zoysia Grass fertilization schedule for you-
Mid-Spring:

Apply your fertilizer when the soil temperature is 65F & rising. Such weather usually shows up in April.

Summer:

June, July & August- the three best months for fertilizing Zoysias. Keep applying fertilizer throughout the summer after every 4-6 weeks.

Early-Fall:

In September, fertilize your Lawn in preparation of winter dormancy. Nitrogen application is not recommended.
Most expert lawn growers suggest providing a maximum of 2-4 pounds of actual Nitrogen yearly on the Zoysia lawn. So adjust your dose of the application accordingly.
How To Fertilize Zoysia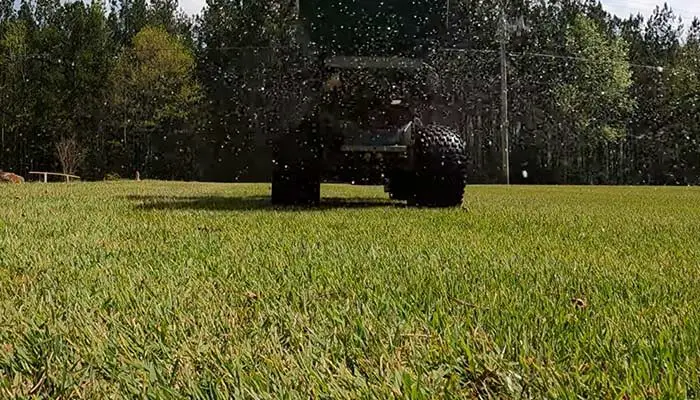 I have suggested mainly two types of fertilizer formulation for your Zoysia Lawn. These are-
Granular Fertilizer

Ready-To-Spray Liquid Fertilizer
For Granular Fertilizer
Look at the product label if the fertilizer needs to be applied dry or in liquid formation. In case of liquid formation, you would have to mix the granules with water.

Now, take the exact amount of granules according to your lawn size. In most products, you will notice a writing like "X lbs feeds 1000 sq. ft. of lawn". And that is your clue. After that, pour the granules or liquid into the spreader. It can be a backpack, drop, or rotary spreader.

Look for the setting for your spreader in the product label. Set the accurate one & start applying. That's all.
For Ready-To-Spray Liquid Fertilizer
You almost have nothing to do but plug the hose. Most ready-to-spray fertilizer contains an automatic dilution system with the water. So, it's easier to set. But one thing I must say is that liquid fertilizers are way more difficult in terms of evenly applying.
Finally, different fertilizer requires a different state of the lawn for better action. For instance, several lawn foods work perfectly when the lawn is dry while some others need a wet lawn. So, keep this issue in mind before applying fertilizers.
How To Green Up Zoysia Grass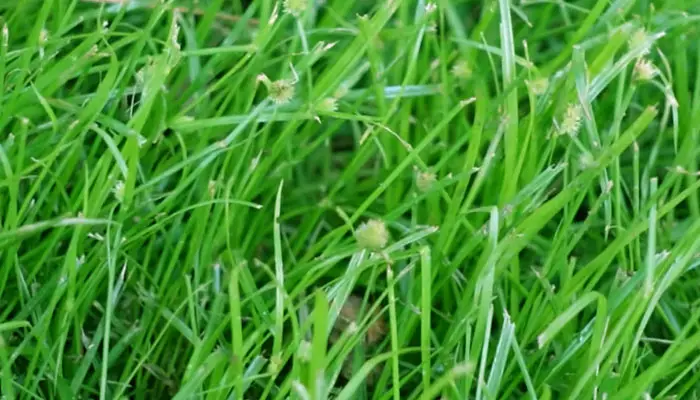 During spring (after the winter dormancy) Zoysia grass often shows a faded green color with thin leaf blades, which literally destroys the first impression.  So, if you don't know how to make your Zoysia Grass greener & thicker, here are some tips-
Early scalping is a common problem of late greening. Wait until the soil temperature hits 60 F. Before scalping, aerate & dethatch properly.

Along with scalping, you should pay attention to the mowing frequency & height too. Allow your Zoysia to grow 1.5 inches & then mow up to 1 inch. Let them grow up to 3 inches in fall to survive the winter dormancy.

Take proper care by watering, providing weed & insect production & preventing fungus attacks.

Treat brown patches by overseeding the destroyed area & thus keep it green for a while.

Fertilize your lawn timely & precisely with the recommended fertilizer for Zoysia.
Homemade Recipe For Green Zoysia Grass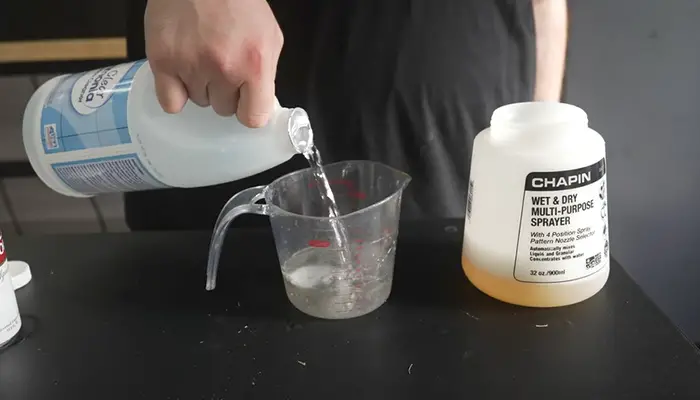 If you have a little cute Zoysia lawn, you can skip the whole choosing & buying process & make an effective fertilizer yourself. Here's a recipe that I call "Beer For Zoysia"–
Ingredients
Beer

Baby Shampoo

Club Soda

Epsom Salt

Household Ammonia
Making Procedure
Mix 1 bottle of beer, 1 cup baby shampoo, 1 cup club soda, .25 cup & 1 cup of household ammonia together. Mix it properly & you are good to go.
Applying procedure
Set 3/4 oz per gallon & spray evenly.
Frequently Asked Questions
Is Scotts Turf Builder Good For Zoysia?
Both Scotts Turf Builder Weed & Feed & Southern Triple action is perfect fertilizer For Zoysia Grass. They not only feed your lawn but also kill weeds & prevent destructive insects. So, those fertilizers are not just good, they are the best.
Does Zoysia Grass Require Lots Of Water?
No, not a lot. Weekly 1-2 inches of watering is just fine. But, stick to the schedule. An irregular watering does more harm than less watering.
How Much Fertilizer Per Acre For Zoysia Grass?
It varies according to fertilizer brand. But the standard quantity is 150-200 lbs. That much fertilizer would definitely shine on your 1 acre of Zoysia Lawn.
When To Fertilize New Zoysia Sod?
If you have fertilized the lawn properly while setting the sods, let's leave them alone for 6-8 weeks. Suppose you have planted them in June. So the first application should be in August. Expert lawn growers even fertilize after the first mowing.
When to Plant Zoysia Grass?
The best time to plant Zoysia Grass is late spring to early summer, which means in between May to July.
Final Words
Purchasing the right fertilizer for your Zoysia can be a little confusing.  Why? It is because all the market products are good. Not only good, Wondrous! Even if you are currently using a fertilizer that works just fine, there could be better. You never know.
The good news is, if you have been through my reviews, you are already familiar with the best fertilizers for Zoysia Grasses that are currently bossing over the market.
Hopefully, you will get the best for your lawn & a wonderful summer ahead. Good luck.